Some plants have the ability to increase and stimulate hormones that help in enhancing the chances of conceiving and having a successful pregnancy. Essential oils are the pure and highly concentrated form of these plants that are attained in oil form. These specific plants are known as phyto-hormonal as they have plant hormones that are similar to ours, hence have many beneficial properties.
Traditional medicines have always incorporated the use of essential oils to treat various health ailments from the ancient times. The use of essential oils varied from culture to culture, and they have multiple uses for various purposes. Specific combinations of essential oils are prepared depending on the use and this has given rise to the very popular aromatherapy.
How Does One Use Essential Oils?
These multipurpose oils are administered in various ways as per the nature of the ailment. From being an air purifier, to being inhaled or being applied directly to the skin, essentials oils can be used depending on ones preference . For ones who prefer to breathe in these oils, they could opt for oil diffusers that are readily available. Ones who prefer it skin deep could have a massage done.While we look at the essentials oils that are beneficial for fertility and pregnancy, it is important to know that depending on the area of concern, the application of essential oil varies.
Impeccable Essential Oils For Fertility And Pregnancy
To help our lovely ladies, on how best they could use these essential oils to enhance their chance of conceiving, we have listed the top 10 essential oils that could work wonders for you. Have a look and make the most of aromatherapy.
1.  Geranium Oil:
This essential oil is found most effective in regulating the menstrual cycle and in balancing hormone levels. Hormonal imbalance is one major reason for a lot of women to not conceive and have complications during their pregnancy too. While there are a lot of medications that can be administered, most of these artificial hormones have many severe side effects.
Germanium oil increases the fertility level without having any adverse effect. It helps in relieving stress and calming mood swings. It is extremely effective for women with endometriosis in which tissue that usually grows inside the uterus tends to grow outside the uterus, making it difficult for a woman to conceive.
2. Damiana Oil:
This essential oil supports the endocrine system function thus regulating the menstrual cycle. The aphrodisiac qualities of the oil is beneficial is controlling and regulating the cycle, that is extremely important for a woman who plans on having a baby.
3. Myrrh Oil:
Enriched in phytoestrogens, myrrh essential oil helps regulating scanty periods and is effective in removing obstructions in the womb that could hinder the pregnancy. The phytoestrogens help in balancing the estrogen level that helps in pregnancy, that enhances the strength of the womb. (5)
4.  Ylang Ylang Oil:
This oil also has aphrodisiac qualities that helps in energizing the reproductive organs and is efficient in balancing hormones. Like the other oils that aphrodisiac quality, ylang oil too is efficient in regulating the menstrual cycle.
5. Calendula Oil:
A blend of calendula and almond oil makes it an anti-inflammatory essential oil. This helps regulate the menstrual cycle helps in reducing an internal inflammation or swelling. Being a skin sensitive oil, a lot of women prefer this blend of oils for their new born. This essentials is always to be used with a carrier oil, which enhances its effectiveness and usability.
6. Clary Sage Oil:
With the ability to influence levels of estrogen in the body, this oil balances hormones naturally and regulates them. It is widely used as a libido booster, that helps in enhancing the desire of intercourse thus increasing chances of conceiving. It is also helpful for treating male infertility and impotence.
7.  German Chamomile Oil: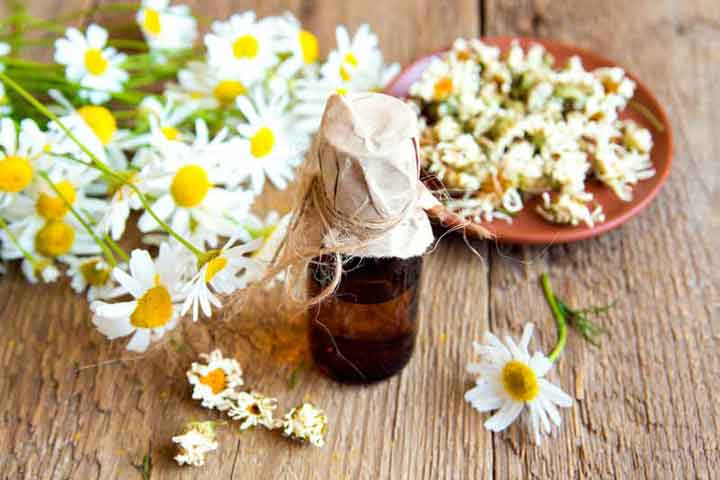 This oil has natural anti-inflammatory properties that helps in reducing pain caused by inflammation in cysts and fibroids. This oil helps in increasing the ability to conceive and also. helps in strengthening the womb to retain and develop the fetus better.
8.  Tarragon Oil:
Tarragon oil also helps in increasing fertility by regulating erratic menstrual cycles and reducing menstrual pain.Erratic or irregular periods can be serious cause of concern when planning a baby. Hence, the first and foremost step in increasing the chances of conceiving are by taking measure to regulate the cycle and tarragon oil is extremely effective in doing so.
9. Rose Otto Oil:
Known for its ability to relax the uterus and also regulate the menstrual cycle, rose otto oil is extremely beneficial for conceiving. This oil effectively improves cervical mucus that reliefs discomfort during intercourse and enhances the libido levels. However, the application should be only restricted to conceiving and pot ovulation it shouldn't be used at all. It is not safe during pregnancy.
10.  Yarrow Oil:
This essential oil is known for its detoxifying effect and is extremely effective and profound in relieving any pelvic congestion. This oil also has anti-inflammatory properties that help in reducing inflammation, helping in hassle free conceiving. It is also found to be beneficial for the digestive and urinary tracts.
These are the top 10 essentials oils that can enhance the chances of conceiving and improves fertility in women. However, the following should be kept in mind while using these oils.
Most oils are effective throughout the pregnancy, however some aren't meant to be using post ovulation. Before using any oil, one should the procedure and time of use.

These oil are applied topically by diluting with a carrier oil like almond or coconut. Applying these oils directly can burn the skin and cause severe scarring.

While massaging the pelvic region during pregnancy, it is important that the oil is massaged in a certain way and pattern, that one can benefit the most out of it. Hence, taking advice from a professional therapist is important and extremely essential while considering these oils.

Keeping these three things in mind, would suffice to get the maximum of these oils and help one in improving fertility and in having a healthy pregnancy.
Read Also:
Image source : 1 , 2 , 3 , 4, 5 , 6, 7 , 8 , 9 , 10 , 11 , 12 , 13 ,SHARE THIS STORY ON FACEBOOK