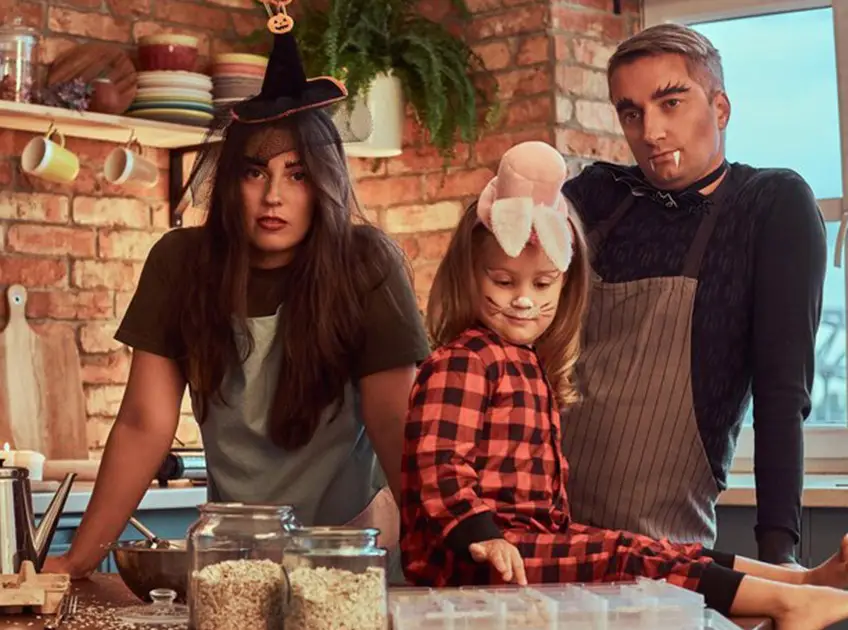 Matching outfits or costumes are not just for couples but for families, too. In fact, family costumes are a current trend for Halloween parties, photo shoots, and other special occasions. It is also an entertaining family bonding experience.
Dressing up isn't solely a childhood pastime. In fact, dressing up as an adult and coordinating costumes with the rest of your family can be double the fun and a memorable family activity. It's also a great time for sharing stories from your childhood, reminiscing about the dress-up occasions of your youth.
21 Family Costumes Ideas
If you are looking for some inventive family costume ideas, this post is just what you need. Here are 21 best family costume ideas.
Disney Family Costumes Ideas.
Walt Disney has created some iconic cartoon characters. Adored by both adults and children, they give us plenty of ideas for family costumes.
1. Moana family costume:
Another addition to the Disney princess clan is Moana, the Polynesian princess. The mother or the daughter can be Moana or the goddess Te Fiti, while the father can be the mighty demi-god Maui. For other family members, you have the ditzy rooster, Hei Hei, and grandma, Tala.
2. Up family costume:
Remember the cranky old man and the adorable kid duo from the movie "Up"? This is a precious family costume idea for 3. You and your partner can be the adorable couple, Ellie and Carl, while your child dresses as Russell.
3. Mickey Mouse Clubhouse family
This family costume idea is probably the cutest as all the characters are simply lovable. If you are a family of 5, this is a great option, with each dressing up as Mickey, Minnie, Donald Duck, Daisy, and Goofy.
4. Aladdin family costume:
This is a Disney family costume for four or five members. You and your partner can dress as Princess Jasmine and Aladdin, while your kids dress as they choose from the mischievous monkey Abu, the obnoxious parrot Iago and the Genie.
5. Frozen family costume:
Remember your kids nudging you to buy "Frozen" bottles, toys, bedsheets and more? Why not thrill them with this costume idea? There are plenty of characters, including Princess Elsa, Princess Anna, Christoff, Olaf, and Sven.
Superhero Family Costume Ideas
If you have kids or teenagers in your family, they might want to get dressed as their favorite superhero. Why notjoin them to help complete the league? Here are a few superhero costume ideas for your family.
6. Marvel's Avengers family
Avengers by Marvel is one of the most popular family costumes today, offering several character options. Dress yourselves and your kids as the superhero you'd most like to be!
7. Super Mario family costume:
He may not be like all the other superheroes, but Super Mario is adorable, and a fun character choice. The rest of the family can select from the other Super Mario video game characters such as Luigi, Princess Peach, King Koopa, mushrooms, etc.
8. Incredibles family costume idea:
If you are looking for a family costume for 5, then here is one more idea for you. You and your partner can be Mr. and Mrs. Incredibles, while your kids can dress up as Violet, Dash, and the super cute Jack-Jack.
9. Batman family costume:
The "Batman" series and movie have the crime-fighting crusader, along with his cohorts, Robin and Batgirl, saving the world. You might use this caped team of superheroes as your family costume idea. The parents can dress as Batgirl and Batman, while the children disguise themselves as Robin and the Joker.
10. Superman and Wonder Woman family costume:
Here's another family costume idea for four. You and your partner can dress as Superman and Wonder Woman, while your children dress as the mini versions.
Halloween Family Costume Ideas
Halloween is the best excuse for dressing up, and coordinating outfits will double the fun. Here are some Halloween family costume ideas for you to try.
11. Beekeeper and bees:
This is an adorable idea in which the dad dresses up as a beekeeper, the mom is either the beehive or queen bee, and the children are worker bees carrying small pails labeled 'honey'.
12. Scary family costume:
Goold school with this classic Halloween costume idea. Parents can dress as Dracula and his bride and the kids can be cute zombies, skeletons or witches.
13. The Frankenstein family costume:
Scare your neighbors by dressing up as Frankenstein and his wife; the kids can be the Egyptian mummies.
14. Ratatouille family costume idea:
This is another simple idea for a family costume for three. Inspired by the movie, both you and your partner can dress up as Linguini and Collette and turn your kid into the master chef mouse Remy.
Unique Family Costume Ideas
Here are some unique ideas, which are just too interesting to miss. If you want your family to stand out from the crowd, then pick one of these ideas.
15. Flintstones family costume:
The 90s kids are quite familiar with this rock age family, who lives in the city of Bedrock. Introduce your kids to this classic cartoon by dressing up as Fred, Velma, Pebbles and Bam Bam.
16. Monsters Inc. family costume:
A Halloween costume needs to be scary as well as colorful. Here is a costume idea inspired by Pixar's "Monsters Inc." You can choose from the movie's several beloved characters, such as Sully, Mike, Boo and Boo's door.
17. Star Wars family costume:
May the force be with you with this Star Wars family costume idea. Pick among the most popular characters such as C3P0, Princess Leia, Darth Vader, and Luke Skywalker.
18. PJ Masks family costume:
This is a popular kids' show. Toddlers are sure to love dressing up as their favorite "PJ Masks" superhero. This idea works well for a family of three, as you can dress up as Amaya, Connor, and Greg.
19. Weird scientists' family costume:
If you are a family of science lovers and are looking for a costume idea, this is a perfect idea. You can get as creative as possible with this one.
20. Alice in Wonderland family costume:
This popular childhood classic has many quirky characters such as Alice, the Mad Hatter, the White Rabbit, the Queen of Hearts, Cheshire Cat, and more.
21. Harry Potter family costume idea:
Step into the world of witches and wizards by dressing up in some of the famous Harry Potter movie costumes. This is an idea that works easily for a family of 3, 5 and even more.
With just a small amount of planning, you can seize the chance to dress up with your family and create lasting memories. You, your kids, and your friends will also enjoy the time spent with your inner child. Take some photos and hold on to those happy moments forever.
Have an idea for family costumes? Share it with us in the comments section below.
Image Credit: freepik
You Might Also Like: