Lives after marriage have you imagined ever? More are facing those steps who are already married and others are taking experience from others. The married persons are going through those all ups and downs of marriage's lifestyle while some other bachelor people they always consider about it. This is true that after marriage the responsibilities increase and the things what you did in your past that you avoid and what you avoided that you deal with them. As responsibility increases so, lots of ups and downs keep entering into your lifestyle. Your life turns to different style what you never wanted to do that you have to do now just after marriage life has completely transformed.
Here you can see below illustrations how life changes entirely after marriage?
Here, in above picture can you see any difference? A man who every day used to go gym before marriage and enjoy his great lifestyle but now after marriage no time for gym instead of lifting lifter he is now carrying all household items like vegetables, fruits for his family. This person looks distressed carrying the baggage.
Wow! Before marriage a man enjoys the atmosphere with his girlfriend by seating her in behind of cycle and they are holding tightly to each other. But another picture changes only and only family wife and kids are sitting in cycle. Oh! Where I just got trapped.
At the time of bachelor without marriage refrigerator was always empty but now no one will listen to you and every time with proper systematic process it is compulsory to load your refrigerator with food, drinks and other eatables. Best example to see in freeze how it makes difference before and after marriage.
Really how with relaxful that man is completing his sleep before marriage but after getting married he has to sleep with not only wife even, kids and pets also. Frequently he has to breaks his sleeping night because of kids and pets.
There was no tension for luggage for travel only one backpack was enough when you were bachelor and just after marriage lots of assets or luggage you have to carry including kid's bag, wife's bag, cosmetic box is separate one and food bag, and many more. When again the luggage loads will be reduced? It will increase not reduce.
With very comfortable manner in a car you travel alone with girlfriends without any stuff but now when you get married you are only carrying more stuffs or goods or luggage every time when you go for outing.
How was your great day when you spent your half of the days in pub, disco and music but now there is no option like that and you have to travel with your children and wife in zoo and family park.
In alone lifestyle before marriage whatever you eat is ok or fine no tension in eating what you would like to eat you did like fast food. You can see below picture numbers of food items are increased where your wife has another dish choice and kids eat other food items.
Before marriage your washroom had only your toothbrush and toothpaste nothing else but as you got married your washroom is always full of many cosmetic and sanitizing products that you can look at the picture below.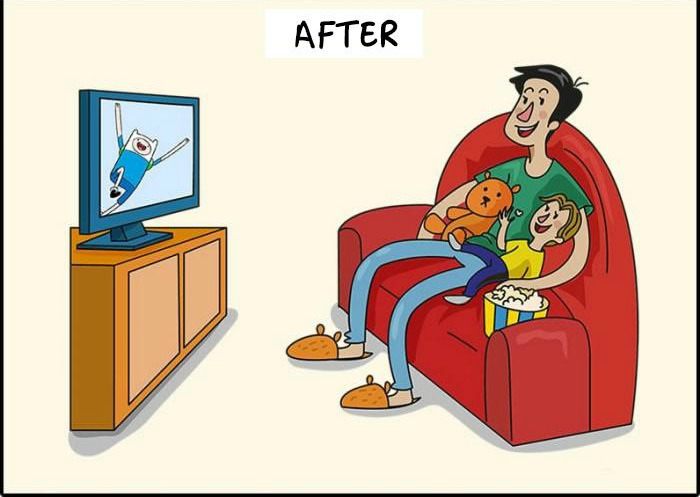 Greatly you enjoyed watching T.V alone and whatever was mood to watch you just moved to other channels and after marriage without any own selection you have to depend on your kids' moods and have to watch cartoon and other desired channels according to your family. So, changed the lifestyle after marriage.
Is there alternative to recover same lifestyle again?
Please comment