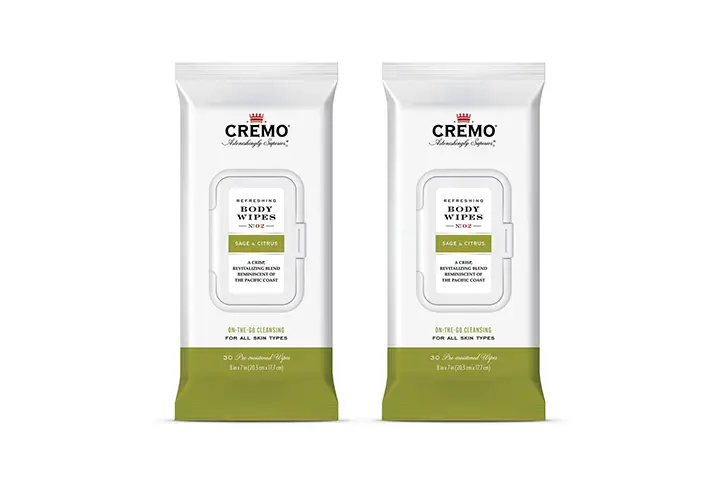 It is very important to take personal hygiene seriously. We all carry our sanitizer wherever we are going. Why we should not carry our body wipes for a weekend trip in our bag. Yes! Cremo body wipes are easy to carry and give refreshments wherever you need.
These wipes hydrate your body by removing dirt, sweat, odor and give refreshness. They also moisture, dry quickly and leave you to be crisp.
Cremo Refreshing Sage & Citrus Body Wipes
How it Works:
Cremo body wipes are a revitalizing combination of bright mandarin, dry herbs and white cedar.
They are able to clean you and make you fresh.
They are made of a good absorbent material so they quickly clean all over the body.
The cedar, sage, citrus wipes clean away heavy dirt, grease, sweat and odor and leaves a fresh and clean scent.
Pros:
Perfect for on the go cleaning.
It is a pocket shower can carry wherever you need.
Suitable for all skin types.
They are soft and absorbent.
Removes sweat, odor and leaves you with a premium cremo scent.
Cons:
Some may find it thinner than they expected.
Rating: 4.5 out of 5
Cleaning yourself is easy by using Cremo refreshing body wipes. You feel amply cleansed and moisturized without shower. Cremo body wipes are the best choice for your next camping trip.
Frequently Asked Questions (FAQ's)
Q. Is this pack resealable?
Ans: Yes it is resealable.
Q. Is it fragrance free?
Ans: No it is not fragrance free.
Alternate Products:
You Might Also Like: