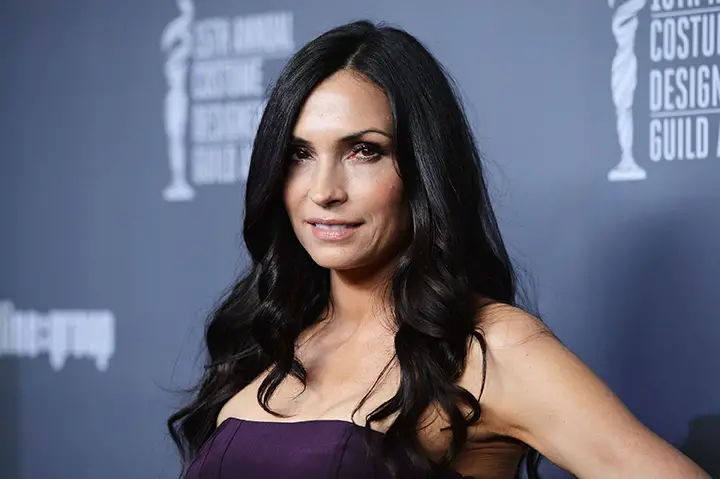 The real identity of Famke Janssen is Famke Beumer Janssen was born on 5th November 1964. She is a mesmerizing Dutch actress, director as well as a former fashion model. Her notable films and television series are "Golden Eye" in 1995, "X-Men" film series from 2000 to 2014, "Nip Tuck" from 2003 to 2010, and "Taken" from 2008 to 2014. In 2007, she acted in "Truth the River" for the role she was awarded and got acclaim at Hamptons International Film Festival for Best Actress. In the year 2008, she was appointed by United Nations as a Goodwill Ambassador for Integrity. She starred in "The Blacklist: Redemption", an NBC crime thriller in 2017.
Famke Janssen – Height, Weight, Age, Movies & Family – Biography
Famke Janssen Childhood accomplishments
Framke Janssen was born in Netherlands to the parents Beumer and Janssen. She has two siblings and switched to America in 1980, where she worked as a model on a New York Channel. Then she took a break from modeling and joined Columbia University to pursue her major in Literature. She turned from a model into an actress in early 1990. Janssen's first film was "Fathers & Sons" in 1992. Subsequently, she played the enemy of James bond in "Golden Eye" in 1995. Her profession has bloomed after she acted in "House ok Haunted Hill", "Hide and seek" and "X-Men" series.
Famke Janssen Awards and achievements
Famke Janssen won the Golden Starfish Award at Hamptons International Film Festival under the category of Career Achievement for the American romantic movie "The Treatment" in 2006.
In the year 2006, She has won the Susan B. Anthony "Failure is Impossible" Award at High Falls Film Festival for the American romantic movie "The Treatment".
She has received the Scream Awards jointly with Mr. Hugh Jackman for the superhero movie "X-Men: The Last Stand" under the category of Best Flesh Scene in 2006.
In 2007, She has won Special Recognition and Special Prize at Hamptons International Film Festival for the movie Turn the River.
She won the Saturn Award in 2007 under the genre of Best Supporting Actress for the superhero movie "X-Men: The Last Stand".
She and Pierce Brosnan jointly got the People's Choice Award Nomination at People's Choice Awards, USA under the category of MTV Movie Award for Best Fight for the spy movie "GoldenEye" in 1996.
She has received the Blockbuster Entertainment Award Nomination under the category of Favorite Supporting Actress – Horror for the American supernatural horror movie "House on Haunted Hill" in 2000.
She has gained the Blockbuster Entertainment Award Nomination in 2001 for the American Superhero movie "X-Men" under the category of Favorite Supporting Actress – Science Fiction.
In 2016, She has got nominated for Gold Derby Award under the genre of Best Drama Guest Actress for the American legal thriller Television series "How to Get Away with Murder"
Best known for
Famke Janssen is best known for her outstanding character in "Hemlock Grove", "X-Men" film, and also "How to Get Away with Murder"
She is also well known for her directorial ability in " Bringing Up Bobby" in 2011.
Famke Janssen Body Measurements
| | |
| --- | --- |
| Height | 5 ft 12 in / 182 cm |
| Weight | 137 lb / 62 kg |
| Breast Size | 36 in / 92 cm |
| Bra Size | 40 B (US) / 90 B (EU) |
| Cup Size | B (US) |
| Body Measurements | 36-25-35 in | 92-64-89 cm |
| Chest Size | 36 in / 92 cm |
| Waist Size | 25 in / 64 cm |
| Hips Size | 35 in / 89 cm |
| Shoe Size | 11 (US) |
| Dress Size | 4 (US) or 36 (EU) or 8 (UK) |
| Eye Color | Hazel |
| Hair Color | Dark Brown |
| Natural Breasts or Implants | Natural |
Interesting facts about Famke Janssen
Famke Janssen wished a Happy women's day to all beautiful ladies
She shared the picture from "Hansel & Gretel: Witch Hunters"
Famke with popular X- Men film actor Hugh Jackman
Famke with " It" movie famous Bill Skarsgard
She has taken photography with Sebastian Stan
Famke Janssen at Golden Televizier – Ring
She released a picture with actress Anna Paquin
Famke Janssen Personal Info
| | |
| --- | --- |
| Full Name | Famke Beumer Janssen |
| Nickname | Famke |
| Occupation | Actress, Former Model, Director, Screenwriter |
| Religion | – |
| Date of Birth | 5 November 1964 (age 57 years) |
| Birthplace | Amstelveen, Netherlands |
| Zodiac Sign | Scorpio |
| Sibling Names | Antoinette Beumer (Older Sister), Marjolein Beumer (Younger Sister) |
| Spouse | Tod Williams (m. 1995–2000) |
| Children | None |
Famke Janssen Pre-relationships
In 1995, Famke Janssen was married to Kip Williams. Their life has gone happily. In the year 1998, they worked jointly on the movie "The Adventures of Sebastian Cole". She does not have a plan for a child. So, they did not have any children. Later, a misunderstanding was slowly created between them. Unfortunately, their marriage life has gone to conclude, and they got separated in 1999. Sadly, they got divorced in 2000. After a year, in 2001, she started a date with Ben Affleck. This relationship hasn't gone long and they got separated.
Famke Janssen Family and personal life
Janssen has already tasted the success and got popular with her modeling career but she retired from it and began to appear in films and television series. She was also offered the villainess character in "Men In Black II" unfortunately she can't act in it because of a death in her family. About her physical appearance, she is 5 feet 11.5 inches tall and 62 kg in weight. Currently, she is active on Twitter, Facebook, and Instagram. Speaking about her personal life she married Kip Williams and divorced.
Famke Janssen Most Favorite Things
| | |
| --- | --- |
| Favorite Movies (of her career) | Love & Sex (2000), Turn the River (2007) |
| Favorite Horror Movie | The Shining (1980) |
| Favorite Actor | Jack Nicholson |
| Favorite Actress | Meryl Streep |
| Favorite Perfume | KL by Karl Lagerfeld |
What is the net worth of Famke Janssen?
The net worth of Famke Janssen is around 20 million US dollars.
What are her sources of income?
Famke Janssen has earned huge income from the film industry as a model and stardom actress.
How much is Famke Janssen educated?
As per the reports, Famke Janssen attended the University of Amsterdam and studied economics for a year. Afterward, she was admitted to Columbia University's School and ended her studies in literature and creative writing.
Does Famke Janssen smoke?
In real life, Famke Janssen has a smoking habit.
Controversies of Famke Janssen
Famke didn't act in the new series of "X-Men". And when asked about this, she blamed Hollywood being ageism and sexism. For this particular statement, she was involved in controversies.
How old is Famke Janssen?
She is 57 years old (2022)
is Famke Janssen Married?
Yes. She married Kip Williams in 1995. After five years, they got separated.
Assets of Famke Janssen
She has a lot of assets in the USA as well as in the Netherlands and has several houses in Greenwich, Amsterdam, etc.
She has exotic and luxurious cars like Porsche 911, Ferrari F355, etc.
Does she have any tattoos?
She doesn't have any tattoos on her body.
Does she own any brand?
She was a brand model for Yves Saint Laurent, Channel, and Victoria's Secret.
Famke Janssen Movies List
1992 – Fathers & Sons
1994 – Relentless IV: Ashes to Ashes
1995 – Lord of Illusions, GoldenEye
1996 – Dead Girl
1997 – City of Industry
1998 – Monument Ave., The Gingerbread Man, Deep Rising, RPM, Rounders, Celebrity, The Adventures of Sebastian Cole, The Faculty
1999 – House on Haunted Hill
2000 – Love & Sex, Circus, X-Men
2001 – Made, Don't Say a Word
2002 – I Spy
2003 – X2
2004 – Eulogy
2005 – Hide and Seek
2006 – X-Men: The Last Stand, The Treatment
2007 – The Ten, Turn the River
2008 – The Wackness, Taken, 100 Feet
2010 – The Chameleon
2011 – Down the Shore
2012 – Taken 2
2013 – Hansel & Gretel: Witch Hunters, The Wolverine, The Being Experience
2014 – A Fighting Man, Unity, X-Men: Days of Future Past, Taken 3
2015 – Jack of the Red Hearts
2017 – The Show, All I Wish, Once Upon a Time in Venice
2018 – Status Update, Bayou Caviar, Asher
2019 – The Poison Rose, Primal
2020 – The Postcard Killings, Endless
2021 – The Vault, Dangerous
2022 – Redeeming Love
Famke Janssen TV Shows
1992 – Star Trek: The Next Generation
1994 – Melrose Place, Model by Day, The Untouchables
2000,01 – Ally McBeal
2004,10 – Nip/Tuck
2007 – Winters
2008 – Puppy Love
2009 – The Farm
2013,15 – Hemlock Grove
2015,20 – How to Get Away with Murder
2015 – SuperMansion
2016 – Robot Chicken
2016,18 – The Blacklist
2017 – The Blacklist: Redemption
2019 – When They See Us, The Capture
2022 – Long Slow Exhale
You Might Also Like: