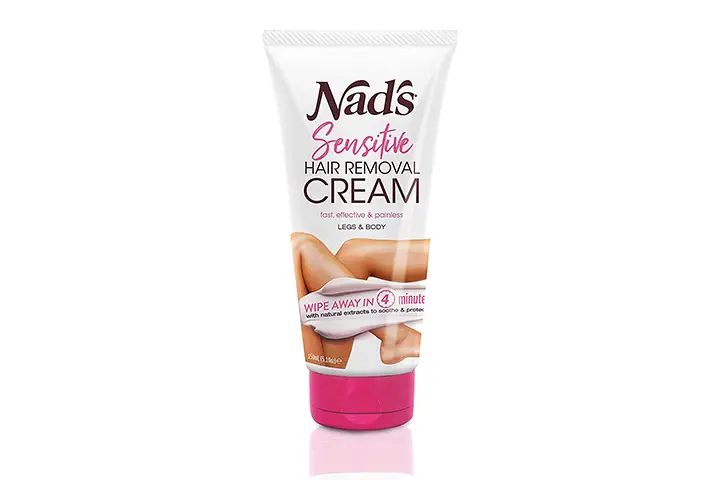 There are many ways to remove body hair such as waxing, shaving, epilating and using a hair removal cream. Nad's is a naturally enriched hair removing cream which is designed to remove hair at home without pain.
It is suitable for all skin types. This cream works quickly and the result lasts longer than shaving. Nad's hair removal cream has new odour elimination technology that means a more pleasant hair removing experience!
Nad's Hair Removal Cream
How it Works:
This cream is formulated with natural extracts of Melon, Aloe vera, Avocado oil and honey.
The natural extracts of these ingredients will help to soothe and protect sensitive skin.
These elements also help you to remove the unwanted hair effectively.
How to Use:
Apply generously on the area to be treated.
Leave cream on for at least 4-minutes.
Wipe cream and hair away with the cloth.
Rinse the treated area with water and dry.
Use Nad's hair removal cream just before shower for more effectiveness.
Pros:
Nad's sensitive hair removing cream works in as little as 4-minutes.
This cream gives best results that last days longer than shaving.
Ideal for body, arm, legs and bikini.
Cons:
Chemicals contained in the cream can cause irritation and discomfort for very sensitive skin.
Risk of ingrown hairs.
Rating: 3.8 out of 5
Nad's sensitive hair removal cream is the dream cream that works gently, fast and gives effective results without pain.
Frequently Asked Questions (FAQ's)
Q. Can this be used on the face?
Ans: I do not recommend it. While it is a gentler product than other hair removal creams, it is too harsh for the face or armpit.
Q. How much time do we have to wait after applying the cream?
Ans: Minimum of 4-minutes but no longer than 10 minutes.
Alternate Products: