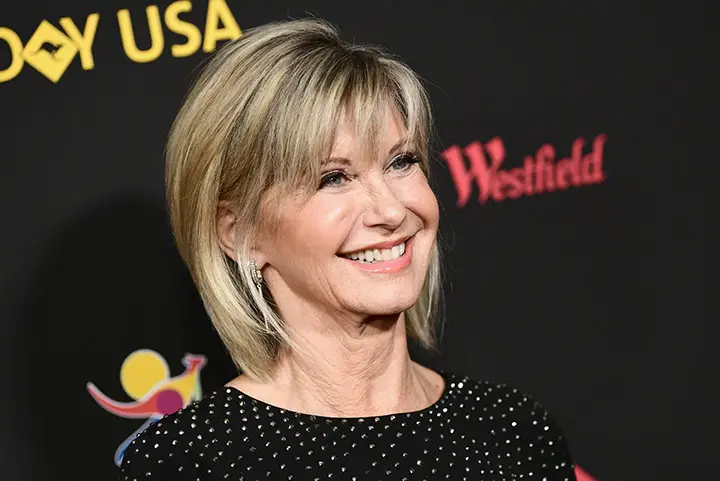 Olivia Newton John, born on 26 September, 1948 in Cambridge, UK is a British-Australian singer, songwriter and actress. She is one of the most famous musicians from the mid-20th century till present.
Olivia Newton-John – Height, Weight, Age, Movies & Family – Biography
Olivia Newton Childhood Accomplishments
Olivia formed an all-girls group at age 14; Sol Four, they used to perform at her brother-in-law's coffee shop.
She performed regularly on the Australian radio and television shows like HSV-7's The Happy Show where she performed as "Lovely Livvy"
She won the singing reality show "Sing Sing Sing" in 1965 and got a trip to Great Britain as a free prize.
Olivia Newton Awards and Achievements
She has been nominated 12 times for a Grammy and has won 4 times.

Her 11 singles and 14 albums have been certified Gold by the Recording Industry Association of America (RIAA)

For 45 years, Olivia held the Guinness World Record for the shortest gap (154 days) by a female between new Number 1 albums.

She has also received various accolades for her work on spreading awareness about breast cancer, animal rights and as an environment activist.
Best Known For
Olivia is best known for her soundtrack and her portrayal of "Sandy" in the movie "Grease". Her song "Physical" was at the top of the Billboard for 10 weeks. "Xanadu" and "Physical" are one of her best-selling albums. Her first solo album "If Not for You" title track was her first international hit.
Olivia Newton-John Body Measurements
| | |
| --- | --- |
| Height | 5 ft 6 in / 168 cm |
| Weight | 128 lb / 58 kg |
| Breast Size | 31 in / 81 cm |
| Bra Size | 36 A (US) / 80 A (EU) |
| Cup Size | A (US) |
| Body Measurements | 31-24-33 inches or 81-63-86 cm |
| Chest Size | 31 in / 81 cm |
| Waist Size | 24 in / 63 cm |
| Hips Size | 33 in / 86 cm |
| Shoe Size | 11 (US) |
| Dress Size | 2 (US) or 32 (EU) |
| Eye Color | Gray |
| Hair Color | Blonde |
| Natural Breasts or Implants | Natural |
Interesting Facts about Olivia Newton-John:
Olivia appeared in the hit show Glee where she recreated her music video of "Physical" with Jane Lynch.

At the Julien's Auction on November 2, 2019 Olivia's iconic Grease outfit was auctioned for $405,700 and skin-tight pants for $162,000.

Olivia has been diagnosed with breast cancer.

Olivia's German grandfather Max Born is a nobel prize winning physicist.

She was appointed as a Goodwill Ambassador to the United Nations Environment Programme in 1991.

Olivia has a foundation called the Olivia Newton-John.

She released her memoir "Don't Stop Believing".
Olivia Newton-John Pre-Relationships:
In 1968 Olivia got engaged to already-married Bruce Welch, in 1972 she ended the relationship and Bruce Welch attempted suicide. She also dated Patrick McDermott who went missing while on a fishing trip, he was assumed to have drowned but after an investigation it was found that he was alive and living in Mexico for 12 years, he faked his own death to get insurance money.
Olivia Newton-John Family and Personal Life:
Olivia was born in Cambridge, UK. Her father is Brinley Newton-John who was an MI5 Officer and Headmaster of the Cambridge High School while her mother is Irene Helene. Newton's grandfather was a nobel-prize winning physicist who fled Germany before WWII to escape the Nazis.Olivia is the youngest of the three children. Her brother Hugh Newton-John is a medical doctor and her sister Rona is an actress. Her family emigrated to Melbourne, Australia when she was 6.
Olivia Newton-John Personal Info
| | |
| --- | --- |
| Full Name | Olivia Newton-John |
| Nickname | Livvy, The Goddess, Lovely Livvy, Olivia Neutron-Bomb, ONJ |
| Occupation | Singer, Songwriter, Actress, Entrepreneur, Activist |
| Religion | Christianity |
| Date of Birth | 26 September 1948 (age 73 years) |
| Birthplace | Cambridge, England, United Kingdom |
| Zodiac Sign | Libra |
| Father Name | Brinley "Bryn" Newton-John |
| Mother Name | Irene Helene |
| Sibling Names | Hugh Newton-John (Older Brother), Rona (Older Sister) |
| Spouse | John Easterling (m. 2008), Matt Lattanzi (m. 1984–1995) |
| Children | Chloe Rose Lattanzi |
What is Olivia Newton-John's Net Worth?
Olivia Newton-net John's worth is believed to be $60 million.
What is her source of income?
Music, movies, television, and her own business are all sources of revenue for her.
Olivia Newton-John Education:
Olivia attended Christ Church Grammar School and University High School near Ormond College. She received an Honorary Doctorate of Letters from La Trobe University recognising her work in promoting cancer research.
Olivia Newton-John Interview:
In an interview with the Guardian Olivia said, 'I don't wish cancer on anyone else. But for me, it has been a present'.
In an Instagram Live Q&A Olivia said, "John and I have been through a huge, incredible experience together and we care about each other and we'll always be friends."
Olivia Newton-John Smoking:
Olivia Newton-John Makeup Tips by Olivia Newton-John:
Olivia revealed on Instagram her skin care during her cancer battle, she said that her skin care routine included products like soap bars, oils, lotions, and they are completely palm-oil free, vegan, cruelty free, and organic.
She regularly uses products from her skin care line Retreatment Botanics.
Olivia Newton-John Speech:
In her Hall of Fame induction speech Olivia said, "Songs have always found me. Leaking in through a melody as it opens up from one note to the next, or taking my voice for a walk on a narrow path of twists and turns not knowing where it's going."
She opened up about the uncertainties of song writing and how she truly became a songwriter, "really started to become a songwriter when I stopped being stopped by the "I don't know" and I started to embrace the" I don't know yet."
Olivia Newton-John House:
Olivia currently lives in her colourful California House in Santa Barbara.
Olivia Newton-John Car:
Olivia Newton-John Brands
Olivia has her own foundation "Olivia Newton-John Foundation" with the help of which she has opened a Cancer Research Centre in Australia.
She also owns her skin care line Retreatment Botanics.
She and Pat founded Koala Blue which was declared bankrupt in 1992 but they later licensed the brand name for a line of Australian produced wines, confections, and bed/bath products. She has also partnered with Crunch Fitness and Third Love Partner.
Olivia Newton-John Surgeries
Olivia has undergone treatments for breast cancer but she has denied ever getting a plastic surgery.
Olivia Newton-John Social Media Profiles
Olivia Newton-John Movies List
1965 – Funny Things Happen Down Under
1970 – Toomorrow
1978 – Grease
1980 – Xanadu
1983 – Two of a Kind
1990 – A Mom for Christmas
1994 – A Christmas Romance
1996 – It's My Party
2000 – Sordid Lives
2001 –The Wilde Girls
2010 – 1 a Minute, Score: A Hockey Musical
2011 – A Few Best Men
2017 – Sharknado 5: Global Swarming
2020 – The Very Excellent Mr. Dundee
Olivia Newton-John TV Shows
1972 – The Case
1974 – Eurovision Song Contest
1976 – A Special Olivia Newton-John
1977 – Only Olivia
1978 – Olivia
1980 – Hollywood Nights
1982 – Let's Get Physical, Saturday Night Live, Olivia in Concert
1988 – Olivia Down Under
1990 – Timeless Tales from Hallmark
1995 – The Man from Snowy Rive, Ned and Stacey, Is This Your Life?
1997 – Tracey Takes On…, Murphy Brown
2001 – Bette
2002 – A Night with Olivia
2003 – Live in Japan 2003
2003/07 – American Idol
2008 – Sordid Lives: The Series
2009 – Kathy Griffin: My Life on the D-List
2010 – Glee
2015 – RuPaul's Drag Race, Dancing with the Stars