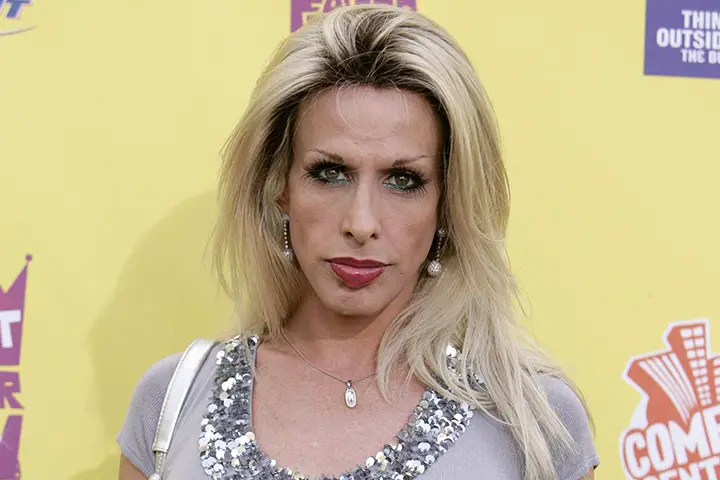 Alexis Arquette is an American actress born on 28th July 1969 in Los Angeles, USA. Her father, Lewis Arquette, was an actor and director, and her mother, Brenda Olivia, worked as an actress, poet, activist, acting teacher, theatre operator, and therapist. Alexis had four siblings, and she was the fourth child of her parents.
Although the surname Alexis was originally Arcouet, she got Arquette from her grandfather's name, Cliff Arquette, who was a comedian. Her grandfather was popular with the stage name Charley Weaver. Alexis was related to many great personalities like actors Rosanna Richmond, Patricia, David, and American explorer, Meriwether Lewis.
In the later part of her career, Alexis declared that she is into sex reassignment surgery, and the process of the same has begun. She made it public that she considers her gender to be female.
Alexis Arquette – Height, Weight, Age, Movies & Family – Biography
Alexis Arquette Childhood Accomplishments
When Alexis was only 12, she made an appearance in 'She's a Beauty,' a music video by The Tubes. She goes with the gig, 'this little kid who's on a ride with all these women and whatnot.' Soon after the music video, she got an offer to play a role on the big screen.
Her debut on the big screen was with Down and Out in Beverly Hills, in which she played the role of Max Whiteman, an androgynous friend, and bandmate of a sexually ambivalent teenager. The role got her stereotyped in a particular role. During the early days of her career, Alexis was often seen playing the role of a female impersonator with the name 'Eva Destruction.'
Alexis Arquette Awards and Achievements
Fangoria Chainsaw Awards as Best Actor in 1994.

L.A. Outfest's Outstanding Actor in a Feature Film in 1997.

She also won accolades for films like Jack Be Nimble and Never Met Picasso.
Best Known for
Playing the role of a trans sex worker in Last Exit to Brooklyn at the age of 19.
Portraying the role of a teenage boy seeking revenge for a horrible childhood in the film, Jack Be Nimble.
A murderous drag queen in the comedy 'Killer Drag Queens on Dope.'
Most of the films done by Alexis were low-budget or independent films. She also worked on several television shows, music albums, and videos. Some films under her umbrella include Children of the Corn V: Fields of Terror, I Think I Do, and Sometimes They Come Back… Again. She was cast against Tim Roth in the film, Jumpin' at the Boneyard, which gave her the recognition.
Apart from playing lead roles in certain movies, she also in supporting roles in films like Threesome, Pulp Fiction, and Bride of Chucky. Her appearance in 'Blended' as Georgina also helped her get her name and fame. After working for some time in Hollywood, she moved back to New Zealand, where she appeared in two episodes of Xena: Warrior Princess.
She appeared as a guest star in the Friends episode 'The One with Chandler's Dad.' Also, she cameoed in 'Son of the Beach.'
Alexis Arquette Body Measurements
| | |
| --- | --- |
| Height | 5 feet 7¾ inches (1.72 m) |
| Weight | 63 kg (139 lbs) |
| Breast Size | 36 in / 92 cm |
| Bra Size | 34 B |
| Cup Size | B (US) |
| Body Measurements | 36-28-64 in / 92-71-92 cm |
| Chest Size | 36 in / 92 cm |
| Waist Size | 28 in/ 71 cm |
| Hips Size | 36 in/ 92 cm |
| Shoe Size | 7.5 (US) / 39.5 (European) |
| Dress Size | 8 (US) |
| Eyes Color | Blue |
| Hair Color | Dyed Blonde |
| Natural Breasts or Implants | Natural |
Interesting Facts about Alexis Arquette
Alexis supported transgender people and actively spoke about them.

Alexis suffered from ill health due to contracting HIV AIDS in 1987.

Alexis's brother David said that Alexis was gender suspicious and felt like both man and woman alternatively.

Alexis made an appearance as a celebrity houseguest in 'The Surreal Life.'

Alexis is also known for her activism and advocacy of transgender issues off-screen.

Due to ill health, Alexis was placed in a medically induced coma, and she died on 11th September 2016.

The official cause of Alexis's death was cardiac arrest due to myocarditis stemming from HIV.
Alexis Arquette Pre-relationships
Although there is no confirmed information regarding Alexis's pre-relationship with anyone, she claimed to have had a fling with actor Jared Leto before her transition surgery.
Family and Personal Life of Alexis Arquette
Alexis has seen many ups and downs in her personal life due to her gender issues. In 2004, she declared undergoing hormone therapy as a part of gender-transitioning medical treatment. After two years, she underwent sex reassignment surgery and was told that she considers herself female.
Alexis's family was highly supportive of every decision she took in her life- be it her interest in acting or taking the gender transitioning medical treatment. Her sister, Patricia Arquette, says that Alexis is her first best friend, and she will support her all through her life.
These life experiences of Alexis were documented in the film Alexis Arquette: She's My Brother. It debuted at the Tribeca Film Festival in 2007.
Alexis Arquette Personal Info
| | |
| --- | --- |
| Full Name | Robert Arquette |
| Nickname | Alexis Arquette, Eva Destruction, Lex |
| Occupation | Actress, Musician, Singer, Cartoonist, Cabaret Performer, Activist |
| Religion | Christian |
| Date of Birth | 28 July 1969 |
| Date of Death | 11 September 2016 |
| Birthplace | Los Angeles, California, United States |
| Zodiac Sign | Leo |
| Father Name | Lewis Arquette |
| Mother Name | Brenda Olivia "Mardi" (née Nowak) |
| Sibling Names | Rosanna Arquette (Older Sister), Richmond Arquette (Older Brother), Patricia Arquette (Older Sister), David Arquette (Younger Brother) |
| Marital Status | Unmarried |
What is Alexis Arquette's net worth?
Making her debut at the age of 12, Alexis enjoyed a long and successful professional career. It is estimated that at the time of her death, her net worth was $3 million.
What are her sources of income?
Working in films, television shows and appearing in different commercials along with endorsement deals are some of its major sources of income for Alexis.
Does Alexis Arquette smoke?
Alexis told in an interview that she used to smoke and eventually moved to drugs.
Controversies of Alexis Arquette
Alexis grabbed the limelight often due to several reasons-
She was ahead of time as a transgender woman.

She brought visibility to transgender people to anyone who saw her in movies, TV, and other forms of media.

She contracted HIV in 1987.

In later years of her career, she took gender transitioning medical treatment that got her the eyes of the paparazzi.
Does Alexis Arquette have undergone any surgery?
Yes, Alexis underwent gender transitioning medical therapy and declared herself as a woman.
Alexis Arquette Movies List
1989 – Last Exit to Brooklyn
1990 – High Score, Terminal Bliss, Gavre Princip – Himmel unter Steinen
1992 – Jumpin' at the Boneyard, Buffy the Vampire Slayer, Of Mice and Men, Miracle Beach
1993 – Ghost Brigade, Grief, Jack Be Nimble
1994 – Threesome, Pulp Fiction, Don't Do It
1995 – Frisk, White Man's Burden, Paradise Framed, Frank & Jesse, Days of the Pentecost
1996 – Things I Never Told You, Sometimes They Come Back… Again, Never Met Picasso, Scream, Teen, Scream, Wigstock: The Movie
1997 – Inside Out, Goodbye America, I Think I Do, Close, Kiss & Tell
1998 – The Wedding Singer, Cleopatra's Second Husband, Love Kills, Children of the Corn V: Fields of Terror, Bride of Chucky, Fool's Gold, The Thin Pink Line
1999 – She's All That, Out in Fifty, Clubland
2000 – Piccadilly Pickups, The Price of Air, Boys Life 3
2001 – Perfect Lover, Audit, Tomorrow by Midnight
2002 – The Trip, Spun
2003 – Killer Drag Queens on Dope, The Movie Hero, Wasabi Tuna
2005 – Lords of Dogtown
2006 – Husky 2: Together Again
2010 – Hard Breakers, Here & Now
2011 – Getting Back to Zero
2013 – Tranzloco
2014 – Blended, Playing the Straight Man
Alexis Arquette TV Shows
1989 – Alien Nation
1991 – American Playhouse
1994 – Lies of the Heart: The Story of Laurie Kellogg
1995 – Dead Weekend, Roseanne
1999 – The Strip
1999,2000 – Beggars and Choosers
2000 – Felicity, Friends
2001 – Friends, Xena: Warrior Princess, Son of the Beach
2005 – Wanted
2008 – Californication