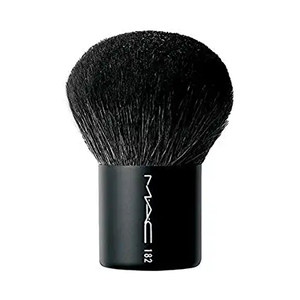 Makeup brushes play a huge role in achieving an airbrushed and flawless look. There are different types of makeup brushes for different uses, and MAC has one for all.
Although MAC makeup brushes are great in all senses, and with them, it becomes easy to attain the right look, they are pricey. It is the only downside that compels people to go for less expensive options.
Mac Brush
Therefore, here we have listed some of the best MAC brush alterniatives that are excellent, high quality, and make makeup an easy art. Before checking them, let's find out a little more about makeup brushes and how important their role is in makeup.

Makeup Brushes
Without the help of the right makeup brush achieving a perfect and unblemished look gets hard. As per the makeup experts, you need a different makeup brush for a different part of your face. It makes things easy. But are you aware of the plethora of brushes available in the market? Do you even know the names and functions of each of them?
Since the list of makeup brushes is pretty long, getting intimidating with their buying is natural. However, if you are an amateur, arming yourself with the right knowledge about makeup brush and their use could be your next step to becoming a pro.
Even though people go gaga over MAC brushes, the beauty budget of everyone doesn't allow having them. At the same time, investigating all types of makeup brushes seems a daunting challenge alone.
Therefore, all you need is to check out the best MAC brush alterniatives that allow for the precision and control you need to achieve a diverse range of looks. They come at an affordable price range and are suitable for all.
5 MAC Brush Alternatives
1. e.l.f. Flawless Face Brush
e.l.f is a trusted makeup brand that sells plenty of makeup products and tools you would love to explore.
It is a soft, synthetic brush that lets you apply product with the lightest touch for a soft, sheer, natural-looking effect.
The slight point at the tip fits nicely into the contours of the face for more precise placement.
Being 2-sided, the brush allows you to use the flat side for all over application of powders, or the skinny side for blush and bronzer.
Made of synthetic, vegan fibres.
2. DUcare Store Foundation Brush
This professional brush from DUcare is perfect for foundation and can be a good substitute for expensive counterparts from MAC.
Consisting of dense, firm, and soft synthetic bristles, it is very soft to touch and apply foundation on your face.
It does not absorb and waste products and applies foundation smoothly & evenly.
Works quickly to achieve a perfect, poreless, and beautiful makeup finish.
The brush leaves no stroking streaks.
It is a good flawless makeup brush for powder, liquid, concealer, cream, blush, concealer, foundation cosmetics.
3. IT Cosmetics Heavenly Luxe Complexion Perfection Brush
IT Cosmetics has been one of the most affordable brands, offering a variety of makeup products and brushes. This brush is perfect for foundations and concealer.
Designed to apply both foundation and concealer for a flawless, airbrushed finish.
The pro-hygienic bristles are extremely soft and great for even sensitive skin.
With 12,800 hair count, the ultra plush, ultra luxe large end allows you to quickly apply your foundation to larger areas for a beautiful airbrushed finish.
Build coverage with liquid or powder and buff away imperfections.
4. Wet n Wild Makeup Brush
Wet n Wild Makeup Brush could be an excellent choice if you are looking for a professional makeup brush at an affordable range.
Designed for the apples of your cheeks, this brush makes your cheeks pop.
It can be used to apply blush, bronzer, & highlighter.
Features synthetic bristles that are soft on skin, and fit perfectly in your hand in order to create a smooth and flawless look without a cakey finish.
Every product from wet n wild is 100% cruelty-free & not tested on animals.
5. Daubigny Makeup Brushes
Being a dual-ended foundation brush, it is perfect for liquid, cream, powder, blending, buffing and concealer application. It can be a good choice or alternative for MAC Brushes.
It is a large, fluffy end flawlessly foundation brush and concealer brush that applies well with your complexion products.
The micro end easily blends away the look of imperfections in harder-to-reach areas.
Designed with dual-ended, one end concealer brush blends your favorite concealer, and the other end foundation brush buffs and blends your favorite liquid, cream, and powder foundations.
Provides weightless, buildable coverage with all your favorite formulas for a dewy, fresher-looking complexion.
Featuring ultra-plush, award-winning heavenly luxe cruelty-free hairs that won't shed, plus precision-cut brush heads for streak-free coverage.