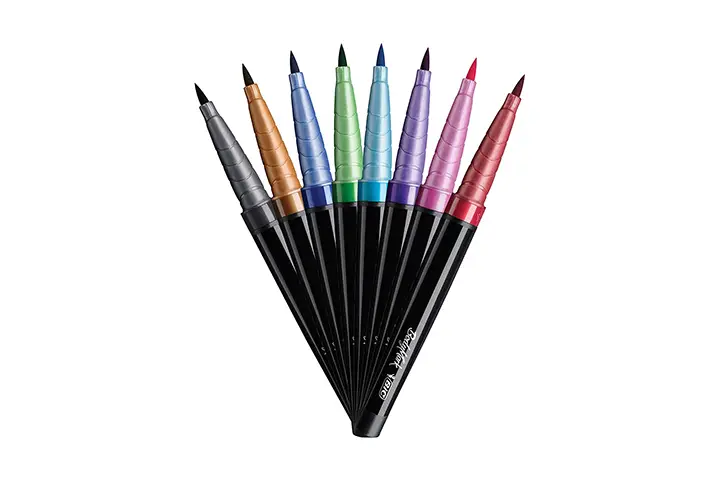 If you are desperate for a tattoo use this BIC BodyMark Temporary Tattoo Marker. You can create your own skin -safe designs with cosmetic – quality temporary tattoo markers.
This is a pack of 8 assorted markers with bright, long lasting colors perfect for creating a wide variety of designs.
BIC BodyMark Temporary Tattoo Marker
How it Works:
It contains a flexible felt tip for thin on or broad lines. You can create your own designs to express yourself.
Unlike permanent markers and other inks, the BIC body marker will allow you to create fun and unique designs that are skin safe.
You can design your own tattoo without pain. Use this marker to give fun for parties, festivals and you can use this at any time.
Pros:
Safe designs can be made on skin without pain.
It is great for special occasions, sporting events, parties, festivals and more.
Each marker features a fine point for precise details.
The designs made by this marker are your favorite.
You can test tattoo design without discomfort.
Cons:
Not suitable for the age under 13.
To remove it may require several washings.
Rating: 4.4 out of 5
Express yourself on skin with BIC BodyMark Temporary Tattoo Marker. These markers are bright and enhance the look. Be creative! Collect all the bright and vivid color options and see what you can create.
 Frequently Asked Questions ( FAQ's)
Q. Why do these contain hydrochloric acid?
Ans: A small amount of hydrochloric acid is added to the tattoo marker inks to adjust the pH (neutralize the ink). You can find hydrochloric acid listed on many cosmetic products for the same reason.
Q. Can this be used on eyebrows?
Ans: This product contains colorants that are not FDA approved for use on and around the eyes and lips.
Q. How many days does it last?
Ans: The tattoos should last around 2 days. It could vary depending on skin type, area of the body and number of washes. You can preserve it for a longer period of time by avoiding excessive scrubbing over the tattoo area.
Alternate Products:
You Might Also Like: