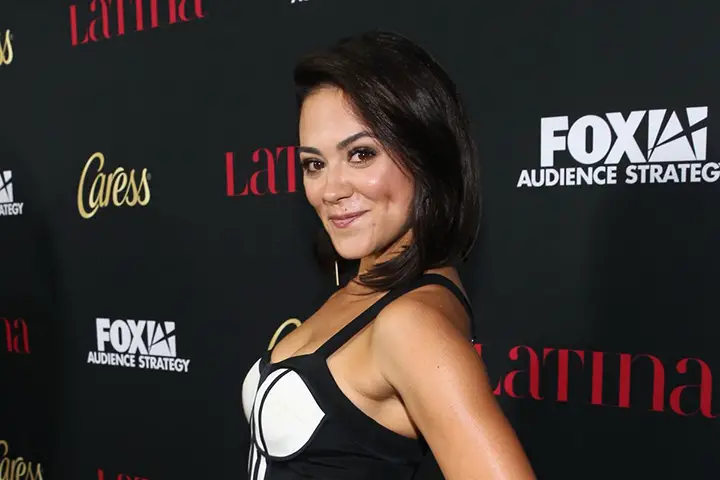 Camille Guaty was born on 28th June 1976 and she is an American actress as well as a singer. This charming actress made her presence in dozens of movies and also in many TV series. In 2002, Guaty acted as a lead character in the film "Gotta Kick It Up". She also done a leading role in the TV series "The Help". It was short-lived series and she performed with Mindy Cohn, Antonio Sabato Jr., and Megan Fox. Coming to her physical appearance, she is 5 feet 3 inches in height and 52 kgs in weight. In the year 2004, she performed Maggie Moreno's role in the film "30 Days Until I'm Famous". Also done acting in the series "Crossing Jordan".
Guaty made her excellent performance in " Prison Break" as Maricuz Delgado in 2005. Camille Guaty continued her work since the 2000s and performed a guest role in some series such as "I Like About You", "American Family", The Brothers Garcia", "CSI: Crime Scene Investigation", "Everwood", Without a Trace"," ER", " Drop Dead Diva". Her first movie appearance was in "Chaos Theory" followed by she has done small character in "Love Object" in 2003 and "Blink" in 2007.
Camille Guaty Biography
Camille Guaty Childhood accomplishments
Camille Guaty grew up in Sunnyvale, California. Her mother's family has the origin of Canary Islands. Guaty went to Catholic School in California and then she changed her school because her family relocated to New Jersey. She finished her B.A Communication course at Boston University and then attended Royal Dramatic Art Academy in London during the summer. When returning to the United States, She continued her studies in Los Angles under Howard Fine in 2006.
Guaty also studied at the studio John Rosenfeld and she called the name of "Dimples". Guaty played an important character in the comedy-drama "Cupid". She also takes an important character in "Ghost of Girlfriend Past". She had done a recurring role in "The Chicago Code", and "Scorpion". Then she performed some guest roles in "How I Met Your Mother", "The Vampire Diaries" and "The Exorcist".
Camille Guaty Awards and achievements
No informations are available regarding her awards and achievements
Best Known For
Camille's got popular through the films such as "Gotta Kick It Up", "30 Days Until I'm Famous", "The Nine", "Prison Break", "Brother Garcia", and more.
Not only as an actress she also placed her name as a vocal artist. Guaty has given voice to many animation characters.
Camille Guaty Body Measurements
| | |
| --- | --- |
| Height | 5 ft 3 in 1.62 m |
| Weight | 52 kg or 115 lbs |
| Breast Size | 34 in / 86 cm |
| Bra Size | 32 B (US) |
| Cup Size | B (US) |
| Body Measurements | 34-25-36 inches or 86-65-91.5 cm |
| Chest Size | 34 in / 86 cm |
| Waist Size | 25 in / 64 cm |
| Hips Size | 36 in / 91.5 cm |
| Shoe Size | 8 (US) |
| Dress Size | 6 (US) |
| Eye Color | Dark Brown |
| Hair Color | Dark Brown |
| Natural Breasts or Implants | Natural |
Interesting facts about Camille Guaty
Camille Guaty with her beautiful son
She shared her happiness to the world with her mom at Exhale Spa.
Camille Guaty has given a photograph standing in a room and in a simple black outfit
She released a video clip on Instagram, in which Guaty shared her offscreen picture with her mom
This image has taken during Guaty in pregnancy
She playing with her son and both seem very enjoyable
Here everyone can see the captivating as well as powerful Camille Guaty
Camille Guaty Pre-relationships
Camille Guaty dated Sy Rhys Kaye, British Songwriter in London in 2009. After some months she once visited him in London and later he went to Los Angels at the time of the winter holidays. That time he tremendously proposed to Guaty and she completed impressed with him. So, they have revealed their engagement news in January 2010 to UsMagazine.com. After one year, on 16 April 2011, they both got married at a private ceremony and currently living in Los Angles. After the trial five times pregnancy, Finally, She has announced her first child pregnancy in Aug 2019. In October 2019, their cute son was born.
Camille Guaty Family and personal life
Camille Guaty's got famous as a singer after she appeared in the reality show "Pop Star" and also made her presence on the WB Network show in 2000. She was one of the best contestants among 26 participants and also came one among ten semifinalists. Ended as a run on the show and was spotted as the part of winning girl group in the " Eden Crush" show. Guaty then went to Los Angles in 2001 and stayed permanently to become a successful actress. Unfortunately, she had a very hard time there and at the beginning, she slept in the car in Burbank, outside the Disney building. This is how she got a deal with WB and booked her first character on Bob Saget's sitcom named "Raising Dad".
In " Dad"she has played Olivia's role for nearly 12 episodes between 2001 to 2002. Later she had a chance to play the lead role in "Gotta Kick It Up" in the year 2002. Since then, Guaty started to act in television and movies regularly. She also gave voice to many characters for the animation sitcom named "Family Guy" between the years 2008 to 2010.
Camille Guaty Personal Info
| | |
| --- | --- |
| Full Name | Camille Marie Guaty |
| Nickname | Dimples |
| Occupation | Actress |
| Religion | Roman Catholic |
| Date of Birth | 28 June 1976 (age 45 years) |
| Birthplace | Santa Clara County, California, USA |
| Zodiac Sign | Cancer |
| Spouse | Sy Rhys Kaye (m. 2011) |
| Children | Morrison Rafael Kaye |
What is the net worth of Camille Guaty?
The net worth of Camille Guaty is around 3 million US dollars.
What are her sources of income?
She is an actress, vocal artist, and singer. She earned income because of her acting as well as vocal artist profession.
How much is Camille Guaty educated?
She pursued her B.A communication at Boston University
Does Camille Guaty smoke?
In movies, there are no pictures of smoking. In real life, she doesn't smoke.
Controversies of Camille Guaty
She does not have any controversies according to the media reports
How old is Camille Guaty?
She is 45 years old (2022)
is Camille Guaty Married?
Yes. She got married to Sy Rhys Kaye in 2011.
Assets of Camille Guaty
Camille was spotted in AFI FEST 2006 car but no official details are there about her assets
Is she have any tattoos?
No clues are found about her tattoos
Does she own any brand?
She doesn't own any brand
Camille Guaty Social Media Profiles
Camille Guaty Movies List
2000 – Chaos Theory
2003 – Love Object
2007 – Blink
2008 – Consuming Love
2009 – Ghosts of Girlfriends Past
2012 – Towing
2013 – Crush, The Smile Man
2014 – Cake
2015 – Stealing
2017 – The Wedding Invitation
2018 – A Futile and Stupid Gesture, Lonely Hearts Club, Nappily Ever After
2023 – Harold and the Purple Crayon
20?? – The Brownlist
20?? – My Best Friend Depression
Camille Guaty TV Shows
2001 – Popstars
2001,02 – Raising Dad
2002 – Gotta Kick It Up!, What I Like About You
2003 – ER, The Brothers García
2004 – American Family, The Help, 30 Days Until I'm Famous, Everwood, Joey, Grammercy Park
2004,05 – Crossing Jordan
2005 – Sex, Love & Secrets
2005,07 – Prison Break
2006,07 – The Nine
2007 – Without a Trace, Supreme Courtships
2007,08 – Las Vegas
2008 – Dirt2009 – Fear Itself, Cupid
2008,10 – Family Guy
2009 – CSI: Crime Scene Investigation
2010 – Drop Dead Diva
2011 – The Chicago Code, Friends with Benefits, Eden2012 – Breakout Kings, Let It Go
2013 – The Vampire Diaries, Armed Response, How I Met Your Mother, Spy
2014 – Hart of Dixie, Happyland
2014,15 – Scorpion
2015 – Mix
2016,17 – The Exorcist
2017 – Daytime Divas
2018 – The Good Doctor, Get Christie Love
2021 – The Rookie
20?? – Casting Call