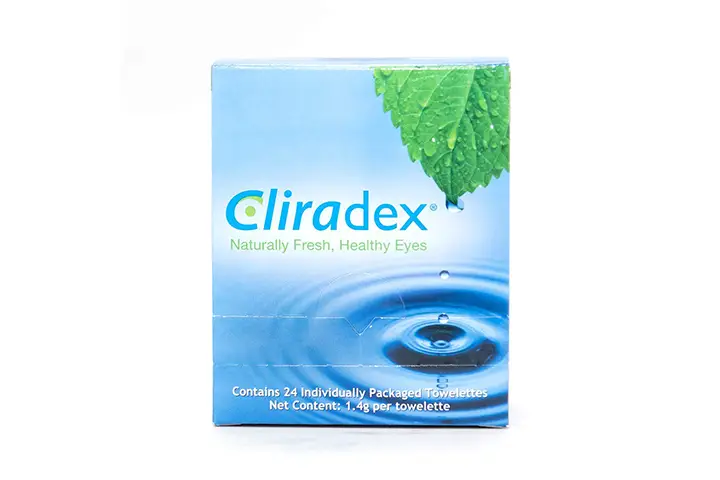 Eyelids are very important to protect your eyes. So Cliradex natural eyelid wipes help to keep your eyelids clean and clear and help to function properly. These wipes prevent eyelids from allergies and bacteria.
These wipes can be used after a makeup remover to wipe away the remaining debris and residual oils. Cliradex makes your eyes naturally fresh and healthy.
Cliradex Natural Eyelid Towelettes Review
How it Works:
These natural eyelid towels are made without parabens, sulfates, and fragrances.
These cleansing wipes are derived from a sustainable source of tea tree oil.
Cliradex wipes kill demodex mites associated with rosacea, blepharitis and other irritations.
These wipes are specially formulated to maintain proper eyelid margin hygiene.
The formula of these wipes is extracted from tea tree oil that cleanses the eyelids, eyelashes and face while killing some mites associated with inflamed eyelids and other skin conditions.
Pros:
Deep cleanses with tea tree oil.
Made without artificial colors,alcohol or fillers and is vegan.
It does not damage or dry the skin.
Effective against eye inflammation.
Especially designed for cleansing lashes, eyelids and the face.
Cons:
Not suitable for all skin types.
Rating: 4.4 out of 5
Cliradex Natural Eyelid Towelettes cleanse your eyelids and eyelashes and face without any harmful chemicals or preservatives.It naturally cleanses and helps to maintain health and nourishment.
Frequently Asked Questions (FAQ's)
Q. How often is cliradex to be used?
Ans: This product is simply the part of tea tree oil that kills the mites (they state that clearly on the box). The reason they did this is because many studies have shown tea tree oil kills this type of mite however tea tree oil around the eyes is VERY uncomfortable.
Q. Do these burn your eyes?
Ans: They burn your eyelids. I had just bathed, so the Pores on my face were probably open extra wide, but after about 20 seconds, the burn got so bad that my eyelids almost felt numb…. almost. I chose to wash it off with cold water.
Alternate Products:
You Might Also Like: