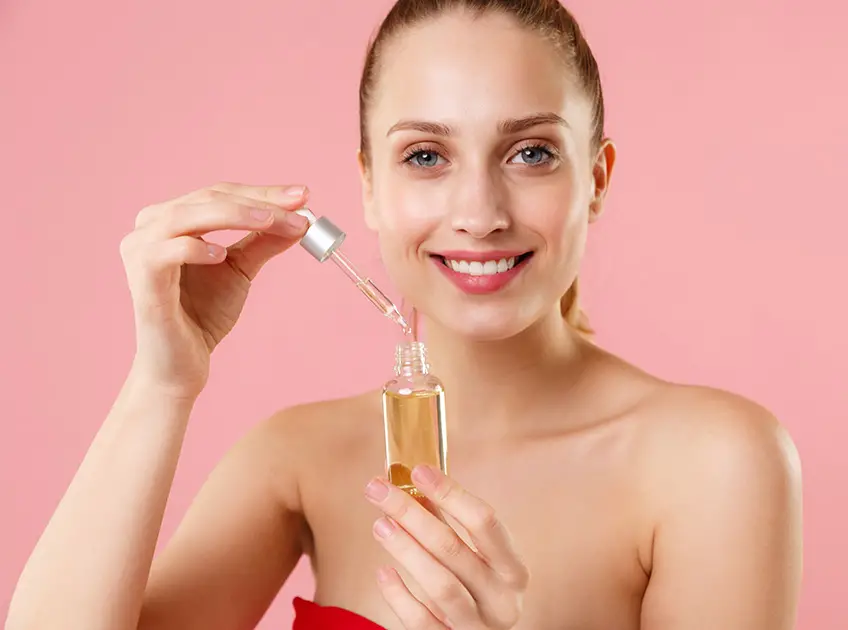 Nowadays, Tea tree oil is utilized in several cosmetic, teeth, hair, and skin care applications. The deep cleansing procedure of this oil as well as its natural anti-fungal properties helps your skin to go clean from environmental damages. Tea tree oil is highly used in Australia as a potent antiseptic and also utilizing it for acne, burns, skin abrasion, and infection. Leaves in the tree give lots of medicinal uses and also helpful for the skin to go shine and glow.
Benefits of Tea Tree oil for Skin
Skin is the most sensitive and soft tissue of the human body. Tea tree oil assists in soothing dry skin. It has the ability to reduce itching and irritation that occurs in our skin. Some major benefits of tea tree oil for skin care are.
1. Prevents Acne and Inflammation
Tea tree oil contains anti-microbial properties which kill the acne-causing bacteria. Tea tree oil works wonder in reducing inflammation and lightening the scars.
Tea Tree Oil and Honey
Ingredients
Few drops of tree tea oil

2 tbsp. Organic Honey
Recipe
Mix a few drops of tree tea oil with two tbsp of organic honey.

Apply it to the pimple or acne using a cotton pad.

Let it dry and then rinse it off with chill water.
Tip: Honey contains antioxidants and antibacterial properties that gently exfoliate the skin and lightens the scar.
[ Recommended: Benefits & Uses of Banana For Your Skin and Hair ]
2. Removes Sun Tan
The anti-inflammatory properties of tea tree oil are very effective in removing sun tan and help in healing sunburns. It also stimulates cell formation when applied to the affected area.
Tomato and Tea Tree Oil Face Mask
Ingredients
1 Tomato

1 tbsp Jojoba Oil

4 drops of Tea Tree Oil
Recipe
Blend one tomato in a mixer.

Mix 1 tbsp of jojoba oil with 4 drops of tea tree oil.

Now add the mixture of oil to the mashed tomato and combine well.

Apply it to the face as a mask and leave it for 10 minutes. Wash with lukewarm water and pat dry.
Tip: As tomato is rich in vitamin C and lycopene, it acts as a natural sun protectant and gives the skin a healthy and youthful glow.
[ Recommended: Benefits of Coconut oil For Hair, Skin and Face ]
3. Delays Aging
Tea tree oil is filled with antioxidants that help in battling the signs of aging. It helps to fight wrinkles and aging skin as well as removes the toxins buildup on the skin giving a firmer and fresher look.
Avocado and Tea Tree Oil Face Pack
Ingredients
Few drops of Tea Tree Oil

Half Ripe Avocado

1 tbsp Organic Honey
Recipe
Make a paste of avocado with no lumps.

Now add 2-3 drops of tea tree oil and 1 tbsp of organic honey and mix well.

Apply the mixed ingredients on a clean face and let it rest for 20 minutes.

Wipe it off gently with the warm and damp face cloth.
Tip: Avocado is rich in antioxidants and fatty acids, improving skin elasticity and overall skin health.
[ Recommended: Benefits Of Using Aloe Vera For Skin and Hair ]
4. Treats Dry Skin
Tea tree oil soothes the dry skin by reducing itching and irritation.
Oatmeal and tea tree oil mask
Ingredients
1 tbsp Uncooked Oatmeal

1 tbsp Aloe Vera Gel

1 tbsp Tea Tree Oil
Recipe
Mix 1 tbsp of uncooked oatmeal along with 1 tbsp of tea tree oil and 1 tbsp of aloe vera gel.

Apply this mixture on the face and let it settle for 20 minutes.

Gently remove the face pack with a wet cotton towel.
Tip: Oatmeal is enriched with protein and Vitamin E which is great for healthy skin relieving itchiness and protecting the skin.
Benefits of Tea Tree oil in Hair
Tea tree oil has been used for nearly thousands of years but has obtained famous only in recent years. With Valuable therapeutic properties, this tea tree oil gives the answer for many hair problems.
1. Treats Dry Scalp
As per the research, tea tree oil can enhance the symptoms of seborrheic dermatitis, which means in common skin scaly patches present on the scalp. Tea tree oil acts as a natural conditioner and eliminates agents which cause the skin to flake.
Tea Tree Oil with Almond Oil
Ingredients
Tea Tree Oil

Almond Oil

Olive Oil

Jojoba
Recipe
In a small 250 ml bottle mix Almond oil, Olive oil, and Jojoba in the needed amount, and lastly, add 10 to 15 drops of tea tree oil.

It should be applied to the scalp after mixing all ingredients. Required to massage for 10 minutes and leave on a full night.

In the morning have to wash normally with shampoo.
Tips: Tea Tree oil gives excellent benefits for the dry scalp because it has antimicrobial as well as anti-inflammatory properties that assist to treat dry scalp.
2. Works Well on Dandruff
Dandruff leads to drying the scalp and developing dead skin, which will render itching. Dandruff not only comes from dry scalp and hair but is also will obtain by irritated skin, oily scalp, poor hygiene, and skin conditions.
Tea Tree Oil and Shampoo
Ingredients
Few drops of Tea Tree Oil

250 ml of Shampoo
Recipe
Take around 8 – 10 drops of oil and mix with 250 ml of shampoo.

Massage the shampoo – tea tree oil combination into the scalp gently.

Let it for nearly 3-5 minutes and wash thoroughly.
Tip: Shampoo with tea tree oil bestow effective results against dandruff because it has antifungal properties. It helps to treat dandruff, clean dead cells, and keep hair follicles.
3. Product from Hair Loss
Dandruff is said to common reason for hair fall that develops dandruff infected scalp which leads to protein damage. Inflammation as well as scratching the scalp also another reason for hair loss.
Tea Tree Oil with Coconut Oil
Ingredients
1 tbsp Coconut Oil

1 tbsp Olive Oil

1 tbsp Almond Oil

A few drops of Tea Tree Oil
Recipe
Take tea tree oil of 2- 5 drops.

Add the same amount of coconut oil, olive oil, and Almond.

Have to mix all the oil and need to massage it into the scalp.

Should wrap hair with a warm towel and require to sit for nearly 30 minutes before washing.

Have to use this treatment twice in a week.
Tips: Tea Tree oil with coconut oil helps to make the hair roots go stronger and keep the scalp very clean. Overall, this mixing is effective in producting the hair fall.
4. Improves Hair Growth
Research shows that this tea tree oil is very helpful to grow hair very fast. It nourishes hair follicles and also develops thick and strong hair.
Tea Tree Oil with Water
Ingredients
30 ml of Water

4 to 5 drops of Tea Tree Oil
Recipe
Take 4 – 5 drops of oil for every 30 ml of water.

A spray bottle can be used to keep this diluted mixture.

Have to spray on the scalp in the daily morning in order to boost hair growth.
Tips: Tea Tree oil with water enhances blood flow level and permits nutrients to reach hair follicles. These thing stimulates the hair growth cycle and bestows strong healthy hair.
Tea tree oil is an amazing remedy for skin inflammation and scalp conditions such as dandruff. Thanks to its anti-microbial and anti-inflammatory properties that gives wonderful results.
Recommended Topics: