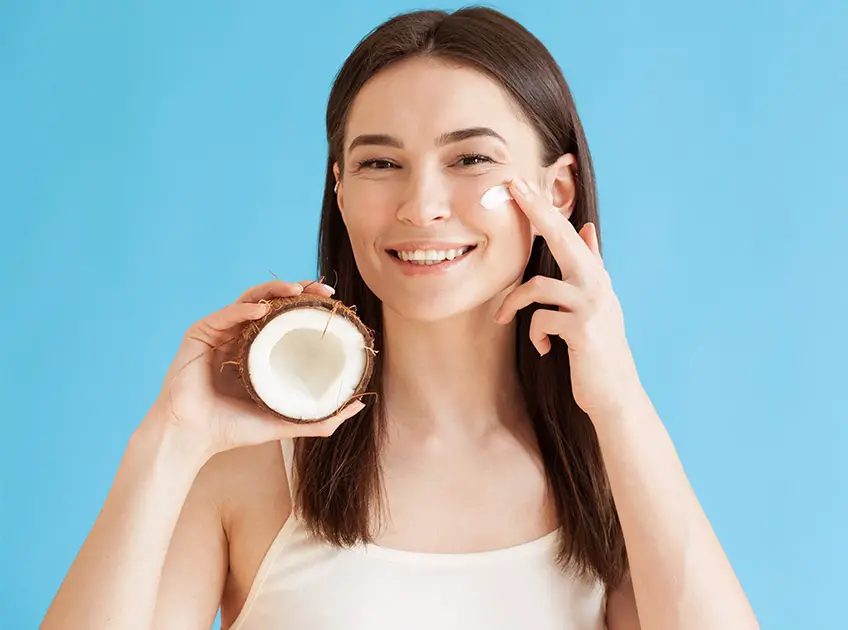 Gone are the days when coconut oil was found only on the kitchen counters. Knowing the nourishment, it delivers to the skin and hair; you would love to shift it to the bedroom vanities and bathroom cabinets. Coconut oil is hardly a stranger on Indian beauty shelves. In fact, it is used daily to keep the skin supple and hair well-nourished.
Coconut oil works wonders in skin and hair care treatments. Loaded with fatty acids and antioxidants, coconut oil delays aging and premature greying of hair. It also has hormonal balancing properties, keeping the skin issues like acne breakout at bay. Additionally, the strong antibacterial and anti-fungal properties ensure healthy skin and voluminous hair.
Benefits of Coconut Oil for Skin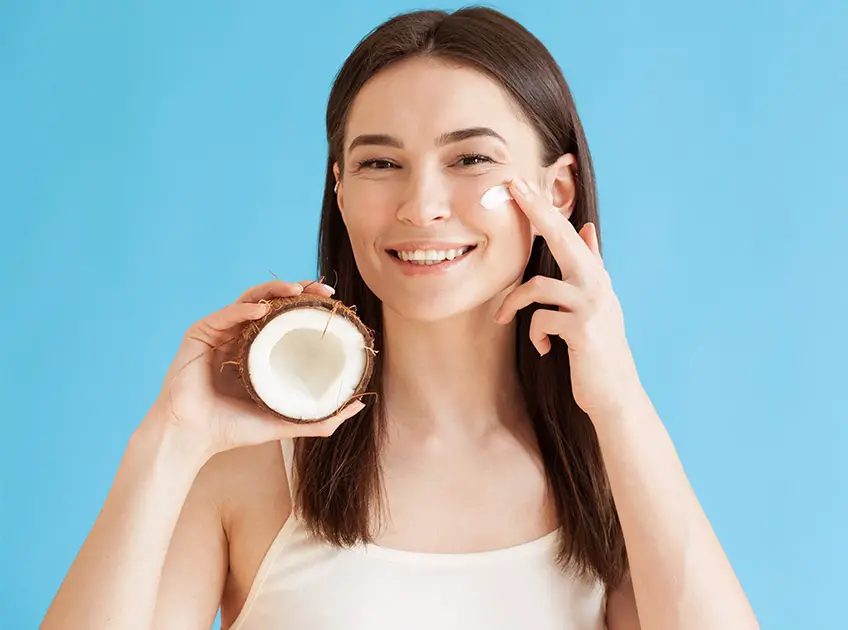 Skin is the largest and one of the sensitive organs of the body. If there is one natural ingredient that can keep it healthy, nourished, supple, and hydrated, it is Coconut Oil. Some major benefits of coconut oil for skin care.
1. Fights Off Acne
Coconut oil is a rich source of lauric acid with antibacterial properties. It kills acne-causing bacteria. If the reason behind acne breakout is bacterial growth, the application of coconut oil will help immensely. Also, it will reduce acne marks.
Oatmeal Coconut Facemask
Ingredients
1 tbsp Coconut Oil

3 tbsp Oatmeal
Recipe
Soak oatmeal in warm water and create a paste.

Mix coconut oil and apply the mixture to the face.

Exfoliate the skin by gently rubbing.

Leave for 15 minutes and rinse with cool water.
Tip: Oatmeal is a great exfoliating agent that gently removes the dead skin, leaving it fresh and light.
[ Recommended: Beauty Benefits of Coconut oil ]
2. Delays Aging
Vitamin E in coconut improves collagen production and promotes new cell regeneration. It helps to maintain the skin's elasticity and keep it tight. Moreover, coconut oil fades away fine lines and wrinkles, giving a youthful skin.
Curd Coconut Oil Mask
Ingredients
½ tbsp Coconut Oil

1 tbsp Curd
Recipe
Mix coconut oil and curd in a bowl to make a paste with a thick consistency.

Apply a thick coat of this mixture on a clean face and wait for 15 minutes.

Rinse off with warm water.
Tip: Curd is an excellent source of lactic acid that helps in shedding dead cells and delaying signs of aging. Together with coconut oil, it makes the skin vibrant and glowing.
[ Recommended: Coconut Oil for Face: Benefits and Uses ]
3. Healthy Eyebrows and Enlarged Eyelashes
Yearning for dense eyebrows and fuller eyelashes? Regular application of coconut oil can help you achieve that. Coconut oil provides deep nourishment to the hair, promoting healthy growth.
Warm Oil Application
Take two drops of warm coconut oil on your fingertips.

Massage gently on the eyebrows and over the lashes for a few minutes.
[ Recommended: Coconut Oil for Hair- Benefits, Uses and Hair Masks ]
4. Whiten and Brighten the Skin
The presence of antioxidants helps in faster cell regeneration that leads to skin whitening and brightening. Additionally, Vitamin E treats skin pigmentation that helps to get fair skin tone.
Turmeric Coconut Face Mask
Ingredients
1 tbsp Coconut Oil

1 pinch Turmeric
Recipe
Mix coconut oil and turmeric in a bowl and apply on a clean face.

After 15 minutes, rinse off the face.
Tip: Turmeric cleanses the skin and works on marks and blemishes, fading them completely and giving bright skin.
[ Read: 10 Best Contour For Pale Skin ]
Benefits of Coconut Oil for Hair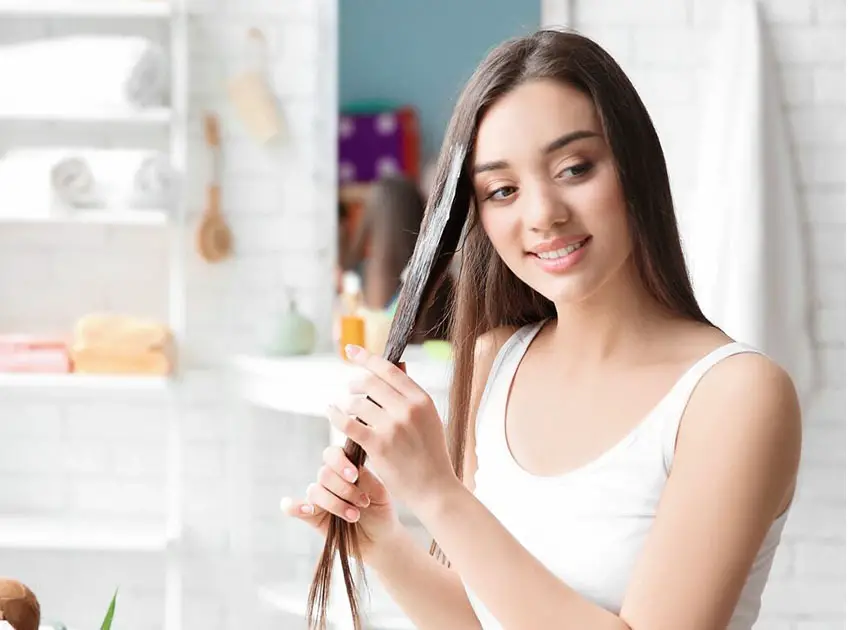 Coconut oil plays a major role in hair care. When daily grooming practices like styling and brushing damage the hair, leaving them dry and frizzy, coconut oil comes as a savior.
1. Promotes Hair Growth
Vitamins and fatty acids in coconut oil provide deep nourishment to the scalp. The oil penetrates the hair's cuticle, making it healthy, strong, and lustrous.
Coconut Avocado Hair Mask
Ingredients
A Medium-Sized Ripe Avocado

1 tbsp Coconut Oil
Recipe
Cut avocado into small chunks and blend it with coconut oil.

Apply the mixture to damp and dry hair for 15 minutes and rinse off with lukewarm water.
Tip: Avocado is rich in antioxidants, vitamins, and fatty acids, making it perfect for strengthening, repairing, and nourishing thirsty hair.
2. Combats Dandruff
The main reason for dandruff is the dry and scaly scalp. Fatty acids in coconut oil soothe a dry scalp and rebalance its microbiome. It helps get rid of flakes associated with dandruff.
Coconut Aloe Vera Hair Mask
Ingredients
1 tbsp Coconut Oil

1 tbsp Aloe Vera
Recipe
Mix the ingredients in a bowl.

Apply the mixture to the entire strand, working from the roots to the tips.

Leave for 15 minutes and rinse.
Tip: Aloe vera has antimicrobial, antibacterial, and anti-inflammatory properties that keep hair and scalp healthy.
[ Read: 7 Best Coconut Oils For Healthy And Nourished Hair ]
3. Protects from Damage
Damaged, dry and frizzy hair needs deep nourishment, and this is what coconut oil does to the hair. It moisturizes the hair and reduces breakage. Also, protects them from protein loss when wet.
Coconut-Castor Oil Hair Mask
Ingredients
1 tbsp Coconut Oil

1 tbsp Castor Oil
Recipe
Mix both oils in a bowl and massage gently on the scalp.

Leave for 30 minutes and wash your hair. You can also keep it overnight.
Tip: Castor oil is loaded with antioxidants and fatty acids that increase the moisture content in dry and brittle hair.
[ Read: Why Do Divers Shower After Each Dive? ]
4. Prevents Head Lice
The antimicrobial properties of coconut oil come from lauric acid, one of the major components of this oil. It ensures that the scalp will remain free of head lice.
Warm Oil Application
Massage scalp with coconut oil and put a plastic shower cap immediately.

Leave the cap for eight hours to suffocate the lice.

Comb out the dead head lice and their nits with a fine-toothed comb. 
Coconut oil is a blessing for your skin and hair. It is one of the most effective natural ingredients that give instant results. Try an overnight application of coconut oil on skin and hair and see the difference!
Recommended Topics: