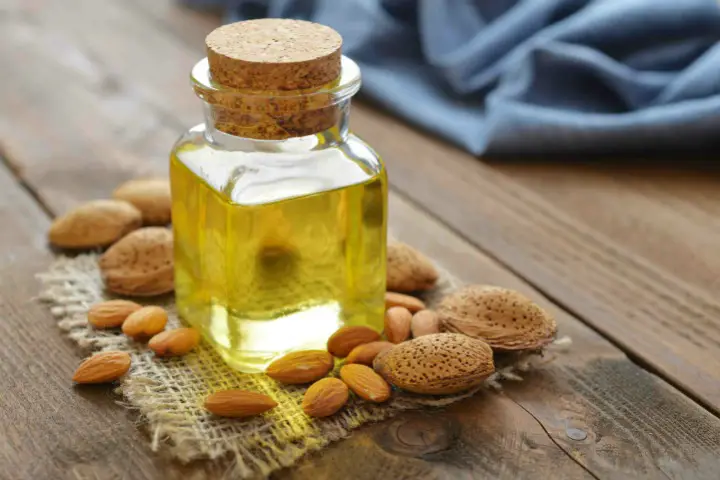 Almonds contain great amounts of antioxidants, protein and fat, high vitamin E levels and other essential nutrients. Using almond oil regularly helps to provide glowing and beautiful skin and hair. Almonds have several benefits to your health, hair and skin along with its use in making a wide ranging of cosmetic products. Almond oil is one of the best known oils to give you natural beauty and is recommended to use on baby's skin as well.
Some of the Beauty Benefits of Almond Oil
1. Radiant Skin
Almond oil contains rich amounts of vitamins A, B and E.
Vitamins are most vital for the skin and are a major component of skin and hair care creams.
Almond oil moisturizes skin and it soaks into the skin easily.
The oil eliminates your skin irritation.
It also eliminates swelling and dry skin.
It provides nourishment to your skin and makes it suppler.
2. Helps Diminish Dark Circles
The vitamins and mineral content in almond oil help it in replenishing diminished nutrients in the skin which causes dark circles.
Rubbing almond oil onto the affected area helps get rid of dark circles effectively.
 [ Read Also: Home Remedies for Dark Circles ]
3. Removes the Signs of Aging
Almond oil has great ability to stop the signs of aging on the skin.
It promotes the skin cell rejuvenation.
It maintains skin firmness.
4. Cleaning of Dirt and Dead Cells
Using almond oil cleanses dead cells on your skin
It removes the dullness of your skin easily.
Cleaning Dead Cells
Ingredients Required:
4-5 teaspoons of almond oil
1 teaspoon of milk
A bit of lemon juice
A little rice flour
How to Prepare?
Mix all ingredients together
Apply the combination to your face
Leave for 30 minutes
Rinse your face.
5. Treats Eczema
Almond oil reduces skin condition of red swelling, itching, and inflammation
It alleviates the symptoms of eczema skin, all chapped skin.
How to Prepare Mask?
Take 2 tablespoons of almond oil
Mix with 5 drops of chamomile essential oil,
Add 5 drops of lavender essential oil
Add vitamin E. 3 drops of oil
Apply this combination on the skin many times throughout the day. 
6. Lighten Skin Color
If your skin is tainted dark because due to of heavy exposure of sunlight then your skin can recover the complexions using almond oils with other ingredients.
[ Read: How To Use Almond Oil To Remove Stretch Marks ]
Lighten Skin

Add honey, almond oil, lemon juice
Mix them well
Apply the mixture on your skin
Leave it for 20 minutes
Wash off your face with clean water
Doing this your skin will restore to normal light complexions and moisturizes the skins.
7. Restore Skin Health on the Hand and Feet
Almond oil is very lightweight so, it works as skin lotion for hands and foot
It keeps your feet and hands very cozy and soft
It doesn't cause any sticky feeling
It provides very natural aroma.
Almond oil is a rich source of zinc, that aids to treat your chapped skin
It eliminates dryness of your skin
8. As a Makeup Remover
Almond oil is very mild that helps to cleanse the makeup scum inside the pores.
It prevents acne as well as it is suitable for all skin types.
[ Read: How To Remove Makeup Naturally ]
9. Moisturizer for Lips
Using almond oil on lips makes your lips smooth and soft.
Mix almond oil with little honey and use as a lip balm.
10. Reduce Wrinkles
Almond oil is best for your skin that reduces wrinkles and sign of premature ageing.
It helps to improve blood circulation.
Makes your facial muscles firmer.
Mask for Wrinkles:
Add 2 drops of vitamin E oil with 2 teaspoons of almond oil
Heat little by giving into the microwave
Apply warm oil mixture on your face,
Massage softly with fingertips under circular motion
Carry on the massage for about 10 to 15 minutes,
After 15 minutes of massaging wipe the face using soft and neat cloth to remove excess oil.
Next wash your face with water and dry your face with wiping out from towel
Repeat this process daily, this treatment helps to eliminate wrinkles, and brighten your skin
 [ Read: How to Get Rid of Wrinkles Naturally ]
11. Prevents Hair Loss
Almond oil is rich in magnesium helps prevent hair loss
How to use?
Apply almond oil on the scalp of about 1 to 2 times every week to moisturize oily skin,
It reduces hair loss,
Strengthen their hair
Do scalp massage with almond oil,
Then use a towel dipped into warm water and cover your head with the entire hair incubation
This process helps the hair to soak up the oil perfectly
12. Reduces Split Ends
How to prepare & use?
Take almond oil with olive oil and castor oil
Mix them together well
Massage all the hair
Apply this method in 1 to 2 times per week.
[ Read: Hair Masks to Get Rid of Split Ends ]
13. As a Conditioner for Hair
Almond oil is lightweight and mild; it is also waterproof that can be used as a conditioner or hair oil.
Almond oil consists of fatty acids it helps to moisturize your dry hair, fibers.
14. Anti – Dandruff Mask
Almond oil rinses out dead skin cells on the scalp, and remove dandruff effectively.
How to Prepare an Anti-dandruff Mask?
Mix almond oil with mulberry or strawberries
Apply onto hair
Leave it for 30 minutes
Rinse off your hairs 
Using this process helps your hair to be moisturized, clean your hair making them healthy and strong.
15. Anti-Inflammatory
If your scalp has been damaged by getting exposed to sunlight, dust or other chemical styling products, then use almond oil on scalp that prevents dandruff and stops hair fall quickly.
16. As a Nail Strengthening Agent
To protect your fingernails or toenails as well as make your nails strong and healthy you need to do massage your nails with almond oil. Almond oil contains potassium and zinc that helps moisturize the nails when they are brittle.
17. To Grow Eyelashes
Almond oil can be applied in a similar way as mascara to help enhance the growth of eyelashes.
Looking at the number of benefits that almond oil can provide, it is always suggested to have some almond oil in your shelves for everyday use. It is important to check the purity and grade of almond oil when using it for your skin or hair.
You Might Also Like:
Image:- 1