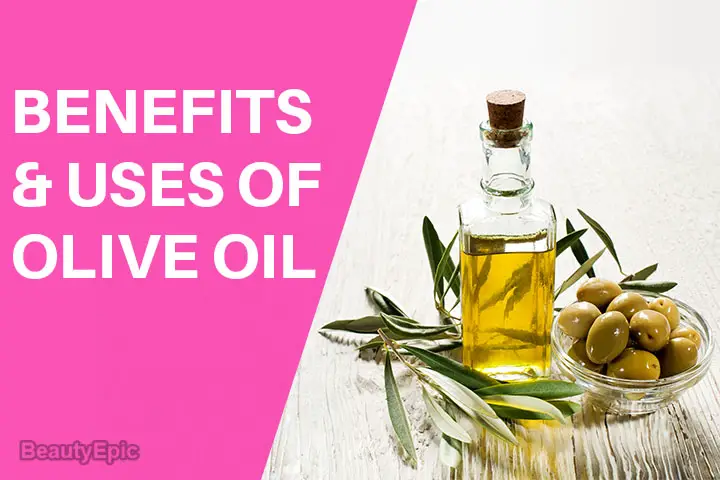 In the ancient world the term holding out or offering the olive branch to put an end to disagreements was a common custom. If your body is also revolting against the neglect you have imposed upon it due to lack of time and stress, it is time that you offer the olive branch to it. The best way to resolve all your health woes and make peace with your body is to use olive oil in your daily cooking. Olive oil has a host of health benefits that will make you fit from within and beautiful from outside. Not to forget, beauty experts also recommend olive oil for supple skin and gorgeous hair. This oil is a powerhouse of nutrients and antioxidants that make it versatile, you can use olive oil for body massage, deep hair conditioning or keep your weight in check.(1)
You must be curious to find what makes olive oil the best choice for maintaining good health, adding luster to your hair and a golden glow to your face. So to put an end to all your queries, here are the benefits of olive oil that will compel you to use it on a daily basis.
Nutrition Facts of Olive oil
Nutrition Component of Olive Oil as per Authority Nutrition Reports are, The nutrient content of 100 grams of olive oil.(2)
There is a huge complaint that the proportion of Omega 6 fatty acids are higher in Olive oil compared to Omega- 3 fatty acids (10:1 ratio), but if you compare it with other edible oils olive oil still remains a much healthier option.
Health Benefits of Olive oil
The abundant use of fresh olives and olive oil in food preparations is an integral part of Mediterranean diet. Chef's use olive oil because it has a distinct taste and most importantly it is healthy. Unlike other oils which are extracted from nuts and seeds, olive oil is derived from fresh olive berries and this ensures that oil is rich in vitamins, natural phyto-serols and antioxidants. Olive oil is rich mono- unsaturated fatty acids (MUFA) which helps to lower the bad cholesterol (LDL) and increase the levels of good cholesterol (HDL).(3)
Cold pressed olive oil is extracted from freshly harvested berries. The oil derived from green olives is bitter and more pungent compared to that extracted from black olives. All freshly pressed oil is devoid of low free fatty acids. Olive berries are machine pressed without chemicals and excess heat to manufacture virgin olive oil. This retains the nutrition content of olive oil. Extra virgin olive oil is the highest grade of olive oil. (4) Olive oil is generally used as a cooking medium and you can also use it to make delicious salad dressing and dips.
[ Read: Uses & Benefits of Coconut Oil ]
The numerous health benefits of olive oil make it a cornerstone of Mediterranean diet. No wonder Spaniards, Italians and Greeks swear by olive oil. Now it has become 'global' oil. Extra virgin oil is the most popular and purest form of olive oil but there are different kinds of olive oil which you should know before making the right choice, here is your quality guide.
[ Read: Benefits and Uses of Castor Oil ]
Benefits of Olive oil for Skin
If you thought that olive oil is only a chef's favourite ingredient, it has numerous other beauty benefits that can make you look like a glamorous diva.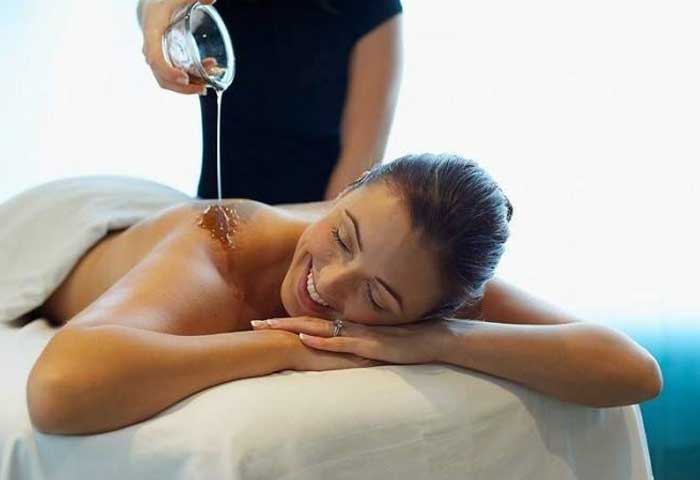 Here is how you should use olive oil to improve the texture of your skin and hair:
[ Read: Health Benefits of Rose Hip oil ]
Benefits of Olive oil for Hair
Olive oil is equally effective is resolving all your hair woes and give you a long shiny mane that you always desired (19). Here is why you should include olive oil for your daily hair care routine-
Olive oil was used as a beauty product by ancient Egyptians. The famed queen Cleopatra used it regularly. Now you must be convinced why the cosmetic industry used olive oil liberally to make lotions and creams. Here is your guide to make the best use of olive oil to look gorgeous always.
Olive oil is so versatile that you can use it for your skin, hair, nails and also for a fit body. This miracle oil can change your life and the way you look and feel. So here is time for a change, good luck for your olive oil revolution!
Scientific Evidences
Olive Oil Composition- https://www.researchgate.net/publication/289706334_Olive_Oil_Composition
Bioactive Compounds and Quality of Extra Virgin Olive Oil-https://www.ncbi.nlm.nih.gov/pmc/articles/PMC7466243/
Virgin Olive Oil and Health: Summary of the III International Conference on Virgin Olive Oil and Health Consensus Report, JAEN (Spain) 2018-
https://www.ncbi.nlm.nih.gov/pmc/articles/PMC6770785/
Molecular mechanisms of inflammation. Anti-inflammatory benefits of virgin olive oil and the phenolic compound oleocanthal- https://pubmed.ncbi.nlm.nih.gov/21443487/
Olive Polyphenols and the Metabolic Syndrome-
https://www.ncbi.nlm.nih.gov/pmc/articles/PMC6152042/#:~:text=Based%20on%20published%20dietary%20intervention,reducing%20low%20density%20lipoprotein%20oxidation.
Effect of Olive Oil on the Skin-https://www.sciencedirect.com/science/article/abs/pii/B9780123744203001236
Topical Application of Oleuropein Induces Anagen Hair Growth in Telogen Mouse Skin- https://www.ncbi.nlm.nih.gov/pmc/articles/PMC4462586/
Olive Oil: Nutritional Applications, Beneficial Health Aspects and its Prospective Application in Poultry Production- https://www.ncbi.nlm.nih.gov/pmc/articles/PMC8424077/
Oil, olive, extra light- https://fdc.nal.usda.gov/fdc-app.html#/food-details/1750351/nutrients
Breast Cancer: New Insights for the Healthcare Professional- https://books.google.co.in/books?id=DUsLwR1iV7oC&pg=PT80&dq=olive+oil+and+breast+cancer+spain&hl=en&sa=X&ved=0ahUKEwidxLyjoqrOAhULro8KHV54AFMQ6AEIOjAB#v=onepage&q=olive%20oil%20and%20breast%20cancer%20spain&f=false
Olive oil may help strengthen bones- https://www.independent.co.uk/life-style/health-and-families/health-news/olive-oil-may-help-strengthen-bones-8049464.html
Olive oil oleuropein has anti-breast cancer properties with higher efficiency on ER-negative cells- https://pubmed.ncbi.nlm.nih.gov/23261678/
An olive oil compound that makes your throat itch may also help prevent Alzheimer's- https://www.scientificamerican.com/article/olive-oil-compound-makes-throat-itch-prevent-alzheimers/
Olive oil for strokes- https://books.google.co.in/books?id=UtmDAgAAQBAJ&pg=PT117&dq=olive+oil+for+strokes&hl=en&sa=X&ved=0ahUKEwicj52UpKrOAhUML48KHeOBCx8Q6AEIPDAC#v=onepage&q=olive%20oil%20for%20strokes&f=false
Why olive oil can be used as a moisturizer- https://books.google.co.in/books?id=w2_1CAAAQBAJ&pg=PA12&dq=why+olive+oil+can+be+used+as+a++moisturizer&hl=en&sa=X&redir_esc=y#v=onepage&q=why%20olive%20oil%20can%20be%20used%20as%20a%20%20moisturizer&f=false
Why vitamin e is good for skin- https://books.google.co.in/books?id=FGlW1NnsZWIC&pg=PA157&dq=why+vitamin+e+is+good+for+skin&hl=en&sa=X&redir_esc=y#v=onepage&q=why%20vitamin%20e%20is%20good%20for%20skin&f=false
The role of vitamin E in normal and damaged skin- https://pubmed.ncbi.nlm.nih.gov/7633944/
Olive oil for ear wax- https://books.google.co.in/books?id=w2_1CAAAQBAJ&pg=PA9&dq=olive+oil+for+ear+wax&hl=en&sa=X&ved=0ahUKEwjCk5X_o6rOAhUJu48KHSGPAvwQ6AEINTAA#v=onepage&q=olive%20oil%20for%20ear%20wax&f=false
Vitamin E nails- https://books.google.co.in/books?id=X4abBgAAQBAJ&pg=PA231&dq=vitamin+E+nails&hl=en&sa=X&ved=0ahUKEwitvJral63JAhVG1I4KHRgGDDAQ6AEILTAC#v=onepage&q=vitamin%20E%20nails&f=false
Effects of Tocotrienol Supplementation on Hair Growth in Human Volunteers- https://www.ncbi.nlm.nih.gov/pmc/articles/PMC3819075/
You Might Also Like:
Image:- 1