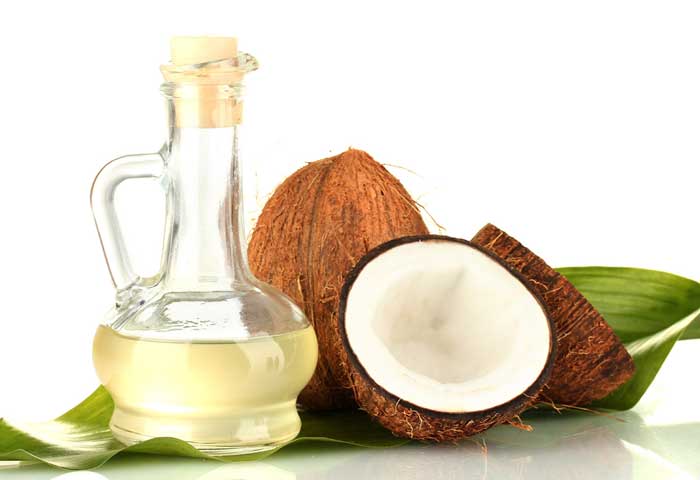 We all prefer to use light and non-greasy oil for our hair and skin. So vitamin enriched organic and essential oils become our first choice. The good old coconut oil is often is often ignored. In some parts of India coconut oil is used for cooking as it has high nutritional value. Coconut oil is also blended with herbs, hibiscus, amla and shikakai to augment its nourishment capacity. Well coconut oil is itself complete and doesn't need any value addition. Here are some surprising uses and benefits of coconut oil have a look!
Benefits of Coconut oil for Health and Beauty
The virgin coconut oil is precious and can be used in several ways. Coconut oil not only hydrates your skin and hair and makes them soft; it is also good for health. Here is why you should use coconut oil more often-
Coconut Oil for Health
The unique combination of fatty acids in coconut oil makes it a 'super food'. It is good for fat loss, proper functioning of brain and has various other health benefits like-
Coconut oil was considered unhealthy because it contains saturated fat. Yes, coconut oil does contain 90% of saturated fats but they are harmless. The fact that these saturated fats block arteries is a myth. Infact, cheese and steaks contain more harmful saturated fats than those present in coconut oil. So you can use coconut oil as a cooking medium without any worry.
Coconut oil contains medium chain triglycerides (MCT) are metabolized differently by the body. They go to liver straight from the stomach and are utilized as a quick source of energy or are converted into ketone-bodies that help to fight brain disorders like Alzheimer's.
The medium chain triglycerides present in coconut oil can increase twenty four hour energy expenditure by 5% and this can help to lose weight over a long period of time.
The 12-carbon Lauric acid makes up 50% of the fatty acids in coconut oil. After digestion the lauric acid is converted into a monoglyceride named monolaurin. Both lauric acid and monolaurin kills harmful bacteria, fungi and viruses. For example, laurin and monolaurin can kill Staphylococcus Aureus and the yeast Candida Albicans, which are responsible for diseases and infections in humans.
The fatty acids in coconut oil can reduce your appetite and thereby help in weight loss. Fatty acids are metabolized in the body and it releases ketone bodies which have an appetite reducing effect.
Fatty acids in coconut oil are converted into ketones which can help to reduce seizures. Ketogenic diet is helpful in treating drug-resistant epilepsy in children. The ketogenic diet involves eating less carbohydrates and consuming a sizeable amount of fat. As a result of high fat consumption the ketone bodies in blood increase in count and that helps to fight seizures.
[ Read: Can Coconut Oil Prevent Alzheimer's? ]
The saturated fat in coconut oil raises the level of HDL (or good) cholesterol and reduces the harmful effects of LDL or bad cholesterol by converting it into a benign sub type. A study conducted on women aged 40 revealed that coconut oil can reduce triglycerides, total and LDL cholesterol compared to soybean oil. It increases the levels of HDL or good cholesterol thus improving the blood's lipid profile. This also helps to reduce cardiovascular risk factors and thus improves heart health.
Generally the elderly people are affected by Alzheimer's disease and thus their brain cannot utilize glucose to release energy in certain parts of their brain. Intake of coconut oil will ensure that fatty acids (medium chain triglycerides) are well absorbed in the liver and convert into ketone bodies. Research shows that these ketone bodies provide energy to these malfunctioning cells in the brain and boosts its function. As a result it reduces symptoms of Alzheimer's.
Abdominal fat is the most dangerous as it lodges around organs in the abdominal cavity and is responsible for cardiovascular problems and other diseases. A study conducted on 40 women reveals that intake of one ounce of coconut oil every day will reduce waist circumference and BMI within a period of 12 weeks. The study was also conducted on men also showed that coconut oil can visibly reduce the waist circumference within four weeks.
Coconut oil contains vitamin E, K and iron.
Did you know that bad oral hygiene is linked with poor heart health? The traditional Ayurveda practice of oil pulling can help to protect your teeth and gums. All you have to do is swish oil inside your mouth for 10-20 minutes.
[ Read: How to Use Coconut oil for Yeast Infection ]
Research reveals that if you do oil pulling with coconut oil every morning then it does decrease the count of bacteria, plaque and cure halitosis or bad breath. The antimicrobial properties of coconut oil help to fight Streptococcus mutants (a type of bacteria) that cause cavities. Oil Pulling also prevents gum bleeding, receding gums and tartar build up. If someone is suffering from oral ulcers brushing teeth can be really painful, so oil pulling can be really helpful to maintain a clean mouth.
Having coconut oil can boost up your immune system by increasing the count of white blood cells. These white blood cells protect the body from bacteria and virus that cause cold and flu.
Blend calendula with coconut oil to create your own DIY ointment and apply it on affected area of your skin. It can be safely used on babies to cure irritation caused due to diaper rash.
Swallow a bit of coconut oil or have it with tea to cure sore throat.
The anti-viral properties of coconut oil can aid in treating cold sores and fever blisters. Just rub coconut oil on the affected areas to get relief.
You can use coconut oil to clean cuts or bruises as it forms a protective barrier that keeps dust and bacteria at bay. Coconut oil can also calm the bruised area.
If you got a bug bite then apply coconut oil to reduce itching and inflammation.
One tablespoon of coconut oil can cure stomach problems like ulcers, Crohn's disease and irritable bowel syndrome. However, if you have serious stomach issues and taking medicines for the same, it is best to consult a doctor before consuming coconut oil.
The worst part of getting cold is suffering from congestion. It doesn't let you breathe and get a peaceful sleep. You can create your own vaporub at home by blending coconut oil with Tea Tree oil and Rosemary oil. Just rub this home- made vaporub to get relief from congestion.
Coconut oil blended with Tea Tree oil, catnip, Rosemary and Tea Tree oil can help to repel insects.
Dry and irritated nostrils cause nose bleeding. Applying coconut oil inside the nostrils can prevent nose bleeding.
Coconut oil can also help to cure painful ear infections. It is safe to use coconut oil to clean the pesky ear wax.
For all the new moms out there coconut oil can prevent your nipples from becoming cracked and painful due to breastfeeding.
Having coconut oil can make your bones strong by increasing your body's capacity to absorb calcium and magnesium.
If you are using mouth guards or dentures then use coconut oil to sanitize them. If your dental accessories are not adequately clean then it can cause infections.
[ Read: How To Cure Bacterial Vaginosis Using Coconut Oil ]
 Amazing Cosmetic Uses of Coconut Oil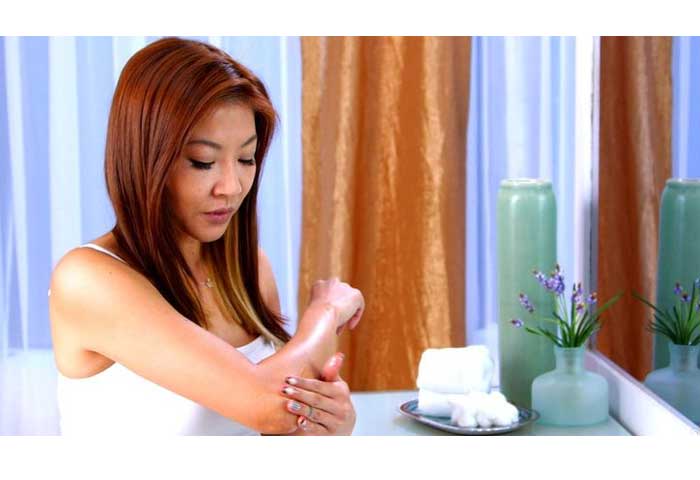 Coconut oil can also be used for cosmetic or beauty purposes. The deep nourishment coconut oil provides to hair and skin will make you look beautiful always. Here are some ways you can use coconut oil to look gorgeous always-
Rub coconut oil on your nail beds to treat dry and flaky cuticles. You can also use this miracle oil to keep your hands super soft.
Make your own hair mask at home by blending coconut oil and honey (both are excellent natural moisturizers). Coat your hair with this mask and leave it for 40 minutes and then rinse. You can use coconut oil to prevent dry and split ends.
You can tame your unruly flyways using coconut oil because it effectively repels moisture. Coconut oil also soothes frizzy hair and prevents it from further damage.
You can use coconut oil as a sunscreen because it can block 20% of ultra-violet rays of the Sun.
Blend coconut oil with baking soda to create your own face exfoliator. Just apply it in circular motions and then rinse.
Blend coconut oil and honey and make your own anti-bacterial face mask at home.
[ Read: Homemade Face Mask Recipes with Coconut Oil ]
Blend coconut oil with brown sugar to create a lip scrub at home. Apply it on your lips to remove dry and flaky skin. You can also rub some coconut oil on your lips to get the natural matte look.
Add some coconut oil to your bath water and enjoy its moisturizing effect. You can add Epsom salt and essential oils in the bath water to soothe your muscles and beat stress.
Coconut oil helps to remove heavy or stubborn makeup. Especially the waterproof mascara that always leaves traces behind. Just apply a generous amount of coconut oil on your face and wipe it off with hot water. To remove eye makeup just wipe it with a cotton ball soaked in coconut oil.
You can use a bit of leftover lip color that can't be accessed from the tube and make your own tinted moisturizing lip balm.
Coconut oil makes a good shaving cream as it enables close shaving. It hydrates the skin while shaving and is suitable for those who have sensitive skin.
To reduce acne inflammation, redness and irritation just apply a thin film of coconut oil after your bedtime cleansing routine is over. Leave it overnight.
Applying coconut oil keeps dandruff at bay and soothes the scalp from irritation.
Coconut oil has anti-inflammatory properties and helps to cure eczema. It soothes the skin and keeps its hydrated.
Rub coconut oil in your armpits to smell fresh. The anti-microbial property of Lauric acid present in coconut oil kills the odour causing bacteria.
[ Read: 7 Surprising Benefits and Uses of Coconut Oil for Face ]
Make your own whitening toothpaste by blending baking soda with coconut oil. Apply this paste with a brush to get pearly white teeth.
The skin of the soles has to undergo stress on a daily basis. So before hitting the bed apply a generous layer of coconut oil on the soles of your feet to smoothen the cracks and callused skin. Let it sink in and wear socks. If you have foot odour issues then coconut oil blended with tea tree oil can solve the problem.
Coconut oil can strengthen your eyelashes. Just apply some coconut oil to your eyelashes with a cotton swab daily.
You can remove the extra wax from your skin after hair removal by applying coconut oil. After applying coconut oil just wipe the skin with a cloth dipped in warm water.
The skin under the eye is very delicate and is often prone to puffiness and dark circles. You can apply a bit of coconut oil rather than using an under eye cream or gel. Just rub the coconut oil between your fingertips and dab it on.
Blend coconut oil with sea salt or sugar to make your own moisturizing body scrub at home.
You can use coconut oil on your cheek bones and upper lip to give your face a natural glossy look. It makes the skin look fresh.
Apply coconut oil overnight and wrap your hair in a loose bun. Use a mild cleansing shampoo the next day. Coconut oil provides deep conditioning to your hair more than what your branded conditioner does. Market bought conditioners contains chemicals but coconut oil is a natural conditioner that makes your hair smooth and silky. It also improves your scalp health.
Get rid of lice naturally by applying coconut oil. It is actually a two-step process- Rinse your hair with apple cider vinegar and let it dry. Then apply coconut oil evenly on each strand of your hair. Cover your hair with a shower cap. Next day comb your hair and then rinse it to get rid of lice.
Blend coconut oil with your favorite essential oil and enjoy a nice body massage and aromatherapy session at the comfort of your home. Light some candles and play a soft music to create that exotic spa experience.
There are many communities whose diet is based on coconut. In fact, coconut kernel is treated as an exotic food in the West. It is an inexpensive and natural solution to all your health and beauty problems. So add the versatile coconut oil in your vanity bag and stay gorgeous always!
You Might Also Like:
Image:- 1