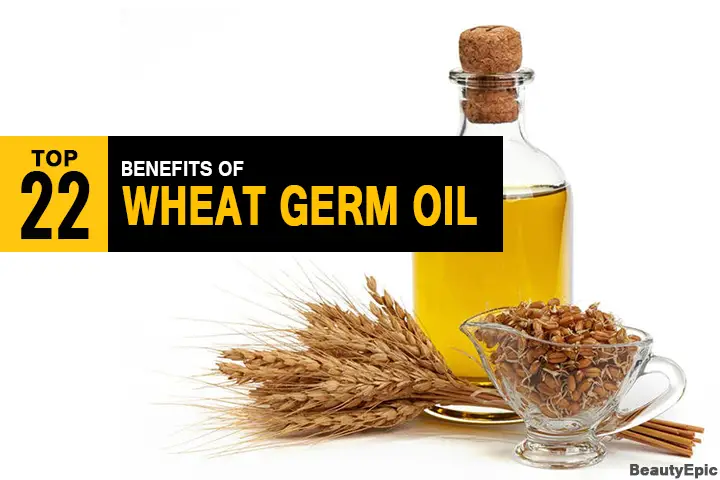 Wheat germ(1) oil is extracted from the center of the wheat berry which forms the 'heart' or core of wheat kernel. Wheat germ is the embryo of the plant and it supplies nutrients which aids in its growth. Now you will be convinced if I say that wheat germ is the powerhouse of nutrients since it contains almost 23 nutrients like omega-3 fatty acids and iron. The oil extracted from wheat germ is equally beneficial for your health, skin and hair. You can consume wheat germ oil or apply it on your skin to stay evergreen. Wheat germ oil and extracts are liberally used by the beauty and cosmetic industry to manufacture moisturizing lotions and anti-ageing serums.
Wheat germ oil is high in nutritional value(2) and can be used for several purposes. Here are some reasons why you should keep a stock of wheat germ oil in your house-
Wheat Germ Oil Benefits for Health
Wheat germ and the husk are removed to manufacture refined wheat that is used to make bread and other products. Wheat germ is available in liquid or as capsules. It can be used for breading meats, flavoring fruit pies and breakfast cereals or to make your yogurt healthier. Wheat germ not only makes your food delicious you can also consume it as a nutritional supplement. Let's find out what makes wheat germ so healthy-
[ Read: Incredible Benefits of Sesame Oil ]
Wheat germ oil is beneficial for health since it is extracted from the healthiest part of the wheat that contains almost 25% of the nutrients. It is even healthier than fruits and vegetables. Spruce up your soups and muffins by sprinkling wheat germ while preparing.
Side Effects of Consuming Wheat Germ oil
However, those who suffer from celiac disease and are gluten(6) intolerant should keep away from wheat germ oil and products. Wheat germ also contains triglycerides so patients with heart ailments or those who are in the risk of developing heart problems should have wheat germ after consulting the doctor. Wheat germ can also cause diarrhea, nausea, gas, and dizziness in some people. So consult your general physician to find out whether wheat germ is suitable for you. If it is suitable then you should find out the dose and how frequently you should consume it.
Wheat Germ Oil Benefits for Skin:
We all desire to have healthy glowing skin which is flawless and a clear complexion. Wheat germ oil is rich in Vitamin E which is great for your skin. Here's why you add wheat germ oil in your skin care kit to make it complete.
[ Read: Benefits of Coconut Oil for Health and Beauty ]
Wheat Germ oil can be used as a base or carrier oil. Follow these methods to make the best use of the beneficial properties of wheat germ oil. If your skin is sensitive you can do a patch test with wheat germ oil before applying it to your skin.
Wheat Germ Oil Benefits for Hair:
Wheat germ oil is rich in fatty acids and this makes it a perfect natural hair conditioner.
[ Read: Sea Buckthorn Seed Oil Benefits ]
Use a little amount of wheat germ oil and massage it to your hair and scalp. This will stimulate blood circulation, once the oil is well absorbed by your hair then use a little more. You can use post shampoo as a natural hair conditioner. It is best you use cold-pressed wheat germ oil and warm it up before application. Follow it up with turban therapy for better absorption of oil. Those who have fine hair can add few drops of wheat germ oil to their hair oil to avoid greasy hair.
So you see how versatile wheat germ oil is, you can make it a part of your pantry or vanity set. Combine it with your face and hair packs to stay gorgeous or eat it for your breakfast to stay active throughout the day. The choice is yours. Here's wishing you good health inside out!
Scientific Evidence:
Read Also:
Image:- 1