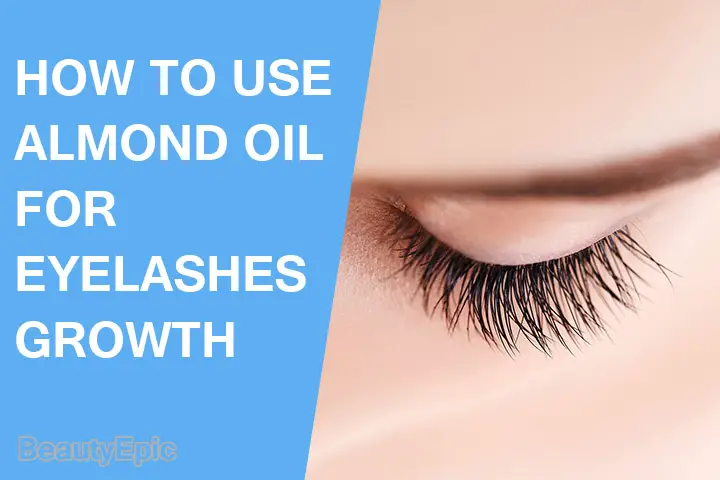 Every woman is fond of long, thick and beautiful eyelashes. It is not easy to naturally enhance the growth of eyelashes as there are not enough nutrients that reach the hair follicles around the eye. Also, eyelashes fall very easily as they are prone to extreme environmental conditions such as harsh weather, regular chemicals used in face washes and scrubs. Stressful conditions such as insomnia lead to rubbing the eyes and also cause eyelashes to fall. There are some artificial methods of eyelash extensions that are now offered by almost every beauty salon in the world. However, it is expensive and causes discomfort to the eyes. Very few natural oils have been shown to enhance the growth of eyelashes by providing them with the right nutrients. The role of almond oil for eyelashes is discussed in this article.(1)
Does Almond oil Help Eyelashes Grow?
Almond oil is rich source of mono-saturated fats, vitamin E, magnesium, and calcium.
It moisturizes your eyelashes and promoting growth, and also prevents your lashes from falling out.
Almond oil is also said to be loaded with full range of macro nutrients, trace elements and proteins.
All of these nutrients make almond oil a potent natural product for helping with growth of eyelashes.(2)
How to Use Almond oil for Eyelashes
As we know that almond oil is used in a number of cosmetics. Using almonds helps to promote the growth of eyelashes and eyebrows. Although, almond oil is said to provide your eyelashes a "new life", it is essential to follow certain rules before using it. Usually almond oil is considered a safe and effective natural remedy.
1. Almond oil for Eyelashes
You'll need:
Preparation time: 2 minutes.
How to do:
Clean your face and ensure there is no residue of makeup.
Take a small amount of almond oil into a suitable container
Dip the mascara brush in the almond oil and apply on eyelashes
Repeat this process few times to make sure the oil absorbed by eyelashes
Leave it overnight.
Repetitions: Follow this remedy once a day.
Note: Do not wash at all. Avoid contact of eyelashes with water for at least an hour.
Precautions: There are not many side-effects of using almond oil for growing eyelashes. However, care needs to be taken and the use of almond oil should be avoided if there is an Inflammation in the eyes, if the oil has gone past its expiry date, avoiding the oil to go inside the eye.
[ Read: How To Use Coconut Oil for Eyelashes ]
2. Castor oil and Almond oil for Eyelashes
You'll need:
2 spoons of castor oil
2 spoons of almond oil
mascara wand or eyeliner brush
Preparation time: 5 minutes.
How to do:
Mix both the oil thoroughly in a bowl
Once the oils have blended take a mascara wand or eyeliner brush
Dip it into this mixture and apply to your lashes
Leave it overnight for best result.
Repetitions: Follow this method regularly you'll get desired result soon.
Tip: Store the excess mixture in tiny glass bottle or container for several uses.
[ Read: How to Use Olive oil for Longer Eyelashes ]
Precautions
Individual intolerance – It is imperative that before applying almond oil on the eyelashes, check for allergic reactions. You can check allergic reactions with a small test. For this test you should apply this oil to the felon of the elbow (inside) and leave. Just wait for 12 hours. If there are red spots, itching or other unpleasant sensations – avoid the almond oil.
Always check the shelf life and if expired do not use almond oil, which is no longer appropriate for use.
If the concentration of almond oil is high it can be diluted. For this combine oil and distilled or boiled water in a ratio of 2 parts to 1 (more oil – less water).
Remember that you should avoid contact with water after you apply almond oil on the eyelashes. Once the oil is separated from the eyelashes with a cotton pad or paper towel it does not need to be rinsed with water. The mixture of fatty oil and water can create blockage of pores leading to formation of nasty "Eye" diseases that will need to be eliminated surgically, for example, chalazion.
Almond oil for eyebrows and eyelashes must be used in a heated state. Essentially it requires little heat before application to the cilia (especially if you oil diluted with water). Only warm oil can provide a positive effect on hair follicles.
Using excess masks will lead to unpleasant results hence it is advised not to use too much almond oil in a single day.
A number of components in almond oil make it perfect as a home based remedy for improving beauty and health. The use of almond oil to help grow eyelashes has been supported by a number of user reviews. The only care that needs to be taken is to not use the oil in excess amounts.
Scientific Evidence:
You Might Also Like:
Image:- 1