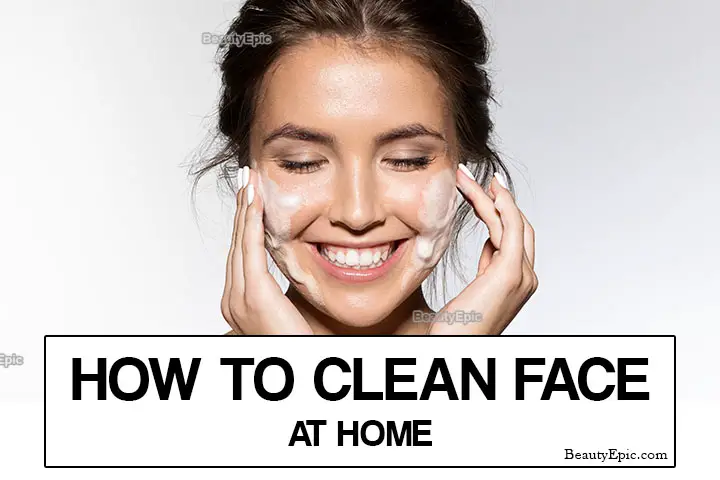 Who doesn't want beautiful and flawless skin? It is the easiest task to do but the most overlooked thing ever. Cleansing your face on a regular basis is very important to get rid of the dirt, pollution, and outside elements. Air contains a lot of free radicals and toxins that get inside your skin making it really essential to remove. Because these elements cause clogged pores, acne, and skin breakouts, cleansing the face is must for everyone.
If you want radiant, soft, supple, and naturally nourished skin, follow this quick step by step guide and get beautiful skin. Ace the basics and take care of your face and neck to keep dark spots, patches, and blemishes at bay.
[ Read: How To Bleach Your Skin At Home ]
Cleanse Your Face
Cleansing the face requires removing the makeup first and then washing the face with a mild cleanser depending on your skin type. For cleansing, take an oil based cream and massage it all over your face in circular motions. Let the oil blend with the natural oil of your skin and extract the makeup particles or any sort of dust stuck in the pores.
Now dip a cotton pad in water and remove excess of it. Wipe off your face with wet pad and take a gentle cleanser to rub on your face properly. Wash it with lukewarm water and pat dry. Because it is important to remove makeup, you have to use an oil based cleanser first.
Exfoliation
Now exfoliation is to remove dead skin cells from your skin. Use a gentle scrub and make sure not to overdo it.
Wet your face with cold water and apply a gentle soap free scrub over your face. Rub it with your fingers leaving the eye area. Massage properly in a circular motion and focus on the problem areas where blackheads or whiteheads are present i.e. around nose or chin. Massage for 5 minutes and wash your face with lukewarm water.
[ Read: Homemade Exfoliating Face Mask Recipes ]
Steaming
Steaming is the next step after exfoliation as it softens the skins. All the clogged pores get open and your skin absorbs the products well. Plus, removing the blackheads becomes easier with steaming. Take water and heat it a little, add any essential oil i.e. eucalyptus, peppermint, bergamot, lemongrass or lavender and then cover your face with a towel. Take steam for 10 minutes with covered face.
Apply a Face Mask
Once when you are done with steaming, apply a face pack to make the ingredients sink deeper in the skin. Either you can go for a readymask mask or a homemade pack. Make a pack by mixing multani mitti i.e. fuller earth with rose water. Apply it on your face and let it dry. Wash it off with lukewarm water and get beautiful skin in no time.
[ Read: Multani Mitti Face Pack Recipes ]
Toning
Now is the time to tone your face with a nice toner. Make a toner at home with cucumber and rose water to have maximum benefits. The pH level of your skin must be balanced and for that, you should use a mild toner. Mix both these ingredients and put it in a spray bottle. Spray the toner all over your face and let it absorb in the skin. Do not wash your face afterwards. Toning is helpful in keeping the skin hydrated and shrinking the pores as well.
Moisturize
Moisturizing is very relaxing as in this step you just have to give proper massage to your skin. It makes the face hydrated and also removes tanning. Use a serum or a night cream, apply dots all over your face and neck, and massage in circular motion. Keep massaging until the cream is absorbed in the skin. Make sure to massage the eye area as well so as to make the blood circulate. While it is essential to cleanse the face properly, these steps are surely perfect to get nice skin.
[ Read: How to Get Clear Skin at Home ]
Why Face Cleanup is Mandatory?
Read few of the benefits here:
To keep the skin free of any impurities, dust, dirt, and makeup residue.
To keep the skin fresh, active, and rejuvenated.
To open the clogged pores, reduce breakouts, acne, and any other skin problems. Plus, if the skin is dry, cleanup will reduce flakiness by providing enough moisture to the skin.
To remove pigmentation and tanning on the skin.
To keep the skin hydrated and well moisturized to deal with itchiness caused due to dryness.
Following this step by step guide to clean your face will bring numerous benefits. Since it is important cleaning the face, doing it regularly will give outstanding results. Making the cleanser, scrub, face pack, and toner at home is amazing if you love all-natural things or else the market is flooded with incredible products. Take care of your skin girls, good luck!
You Might Also Like: