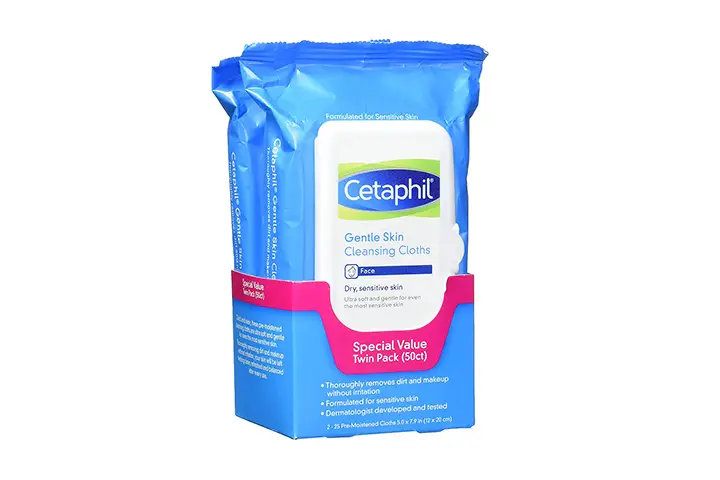 Cetaphil Gentle Skin Cleansing Cloths helps your skin feeling unblemished, refreshed and balanced after every use. These soap-free cleansing clothes will not leave pore-clogging residue behind and will never strip skin of its natural protective oils and emollients.
These lift the dirt impurities and makeup. Cetaphil Gentle Skin Cleansing Clothes are non-irritating and gentle.
Cetaphil Gentle Skin Cleansing Cloths
How it works:
These ultra soft and gentle clothes are developed and tested by dermatologists.
It is merciful on the face, hands and body and can be used at home, after working out or when travelling.
Clothes are non-irritating and hypoallergenic and are great for everyday use.
These non-comedogenic cleansing wipes will not strip the skin of natural protective oils or emollients and will not and will not disturb the skin's natural pH balance or clog pores.
Pros:
Leaves skin clean and refreshed.
Perfect for sensitive skin.
Pre moistened clothes for at home or on the go.
Removes dirt and makeup without irritation.
Cleanse without stripping skin.
Cons:
Has parabens.
Price is a bit high when compared with other cleansing clothes.
Rating: 4.7 out of 5
It is very easy to care for your skin with Cetaphil Gentle Skin Cleansing Cloth. These pre-moistened wipes are perfect to use and portable to carry. Makes skin soft and supple.
Frequently Asked Questions (FAQs)
1. Does this remove water-proof mascara?
Ans: Yes it does. I've been using these wipes for over 6 months. They remove all makeup. I recommend these over the neutrogena ones especially if you have sensitive skin.
2. Are these antibacterial?
Ans: It is not listed as antibacterial on the packaging. It has Cetyl alcohol in the list of ingredients.
3. Is this product oil free?
Ans: Yes. If you tap on the photo and zoom it's at the bottom of the front. It absorbs quickly as well and leaves mg face feeling smooth and hydrated but not oily.
Alternate Products:
You Might Also Like: