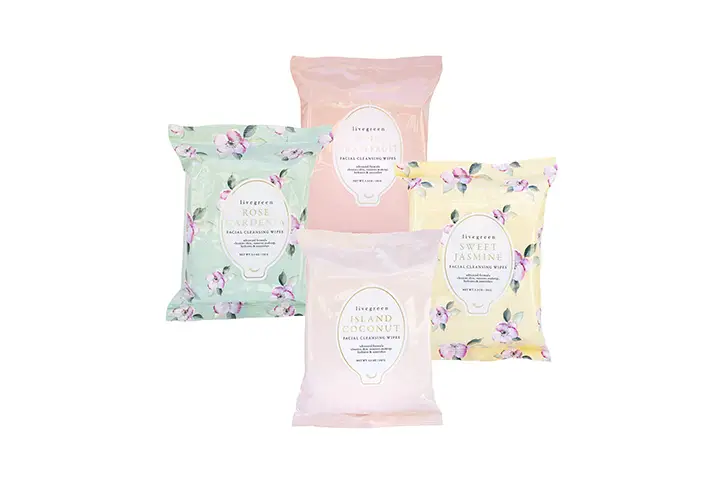 Get a wonderful refreshing look with a proper swipe using Live green facial cleansing wipes. These wipes deeply cleanse and hydrate your face by removing the daily build upon.
It draws out impurities, dirt and smoothly nourishes your skin by leaving a clean complexion. By using these wipes you can remove the typically formulated eye makeup like waterproof mascara.
Live Green Facial Cleansing Wipes
How it Works:
The advanced formula of this product cleanses skin and removes makeup.
Normally cleansers take out the makeup and dirt with water.
But these facial cleansing wipes are soaked in cleansers and makeup remover to get rid of foundation and eye makeup.
These wipes effectively remove the makeup and nourishes your skin.
The Re-sealable flip-top package of this product comes in 4 packs with different refreshing fragrances like sweet jasmine, Island coconut, Rose gardenia and pink grapefruit by leaving your skin looking and smelling it's best.
Pros:
The refreshing ingredients of this product removes the tough makeup effectively.
Resealable bags are perfect for on the go.
Perfect for playtime and post workout cleaning.
It is flexible and durable.
Suitable for all skin types.
Cons:
Rating: 4.3 out of 5
Live green facial cleansing wipes refresh, tone and cleanse your skin with 4 different refreshing fragrances. These wipes leave your face soft and smooth by removing the dirt and debris. They are portable and perfect gym, travelling and for quick makeup changes.
Frequently Asked Questions (FAQ's)
Q. Do the wipes smell good?
Ans: Yes. They have an awesome fragrance.
Q. Do we get the same fragrance in 4 packs?
Ans: No, you will get four different fragrances.
Q. Do they help dry skin?
Ans: Yes they are suitable for all types of skin.
Alternate Products:
You Might Also Like: