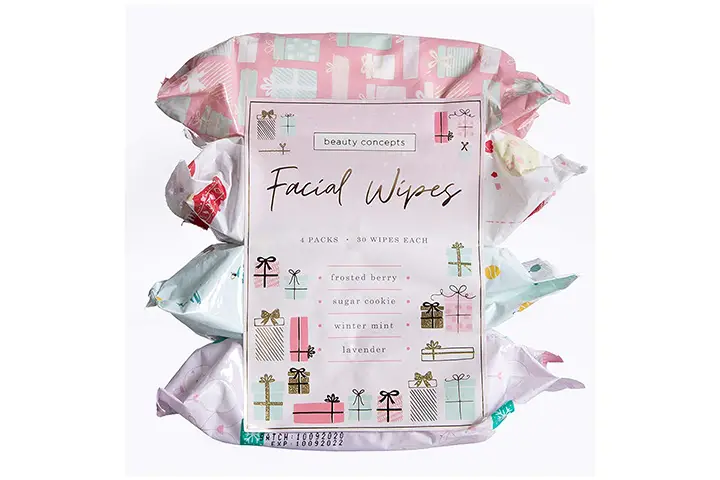 Refresh yourself with these 4 different fragrance wipes. These easily and effectively removes stubborn facial and eye makeup, mascara, dirt and oil. They make you pleasurable when you clean your face with these wipes.
This product is a pack of 4 and each of different fragrance and each contains 30 wipes.
The fragrances are like frosted berries that make you feel wonderful, sugar cookies make you feel crazy, winter mint gives you a cool feel and lavender gives you relaxation.
Body Prescriptions Holiday Facial Wipes
How it Works:
These wipes are infused with 4 different fragrances and after using this you feel refreshed and nourishes your skin.
The soft texture of this wipe can eliminate the dirt, oil and stubborn makeup.
They work harshly on the impurities and softly on the skin.
You can carry these wipes wherever you go. Because they are designed to be easily portable.
This product comes with a resealable flip-top which helps to keep the wipes clean and fresh.
Pros:
Body prescriptions wipes help to attain a natural radiance and even skin tone.
Deeply cleanses and provides essential hydration.
Suitable for all types of skin.
Great for everyday use.
Easily and effectively removes all types of dirt.
Cons:
Facial tissue is a bit thin.
Rating: 4.1 out of 5
These refreshing facial wipes remove all types of makeup like foundation, lipstick and stubborn eye makeup. Make your day more pleasant and effective with these nice fragrance facial wipes.
Frequently Asked Questions (FAQ's)
Q. What is the actual size of each wipe?
Ans: The size of each wipe is 10"X 12"
Q. Are these vegan?
Ans: Yes it's vegan and it's cruelty free.
Alternate Products:
You Might Also Like: