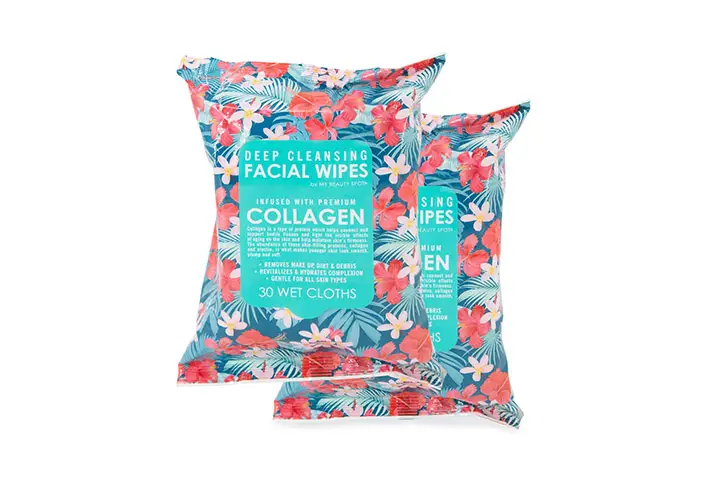 No matter where you are going just keep My spot deep cleansing facial wipes in your bag to refresh yourself. These facial wipes remove sweat, dirt, oil and debris and leave your skin radiant and clean.
These sensitive wipes work gently on your skin and revitalize your complexion. They work softly on eyelids, lashes, lips and they are away from irritation at the sensitive areas.
My Beauty Spot Deep Cleansing Facial Wipes
How it Works:
These facial cleansing wipes cloths are infused with premium collagen.
Collagen is a type of protein that plays a role in strengthening skin and fights with the visible effects of aging skin and helps to maintain skin's firmness.
The portable pack of this product can carry anywhere and the facility of resealable makes the wipes clean and fresh.
Just a sweep which helps to refresh and hydrate your skin wherever you need.
Pros:
They keep you fresh and clean within seconds.
Perfectly removes all stains from your skin.
Works gently for all skin types.
Portable and resealable.
Affordable.
Cons:
Size of the tissue is not up to the mark.
Rating: 4.0 out of 5
An excellent product which helps to remove long wear makeup without rubbing. Give a gentle touch with these wipes to your skin. As this product is handy you can instantly and quickly refresh yourself.
Frequently Asked Questions (FAQ's)
Q. Do these wipes leave a sticky residue?
Ans: No. It will not leave any sticky residue. It leaves a clean, fresh feel.
Q. What is the size of each wipe cloth?
Ans: About the size of an average washcloth.
Q. Do they remove water based mascara?
Ans: Yes. They remove water based and stubborn makeup easily but they take time.
Alternate Products:
You Might Also Like: