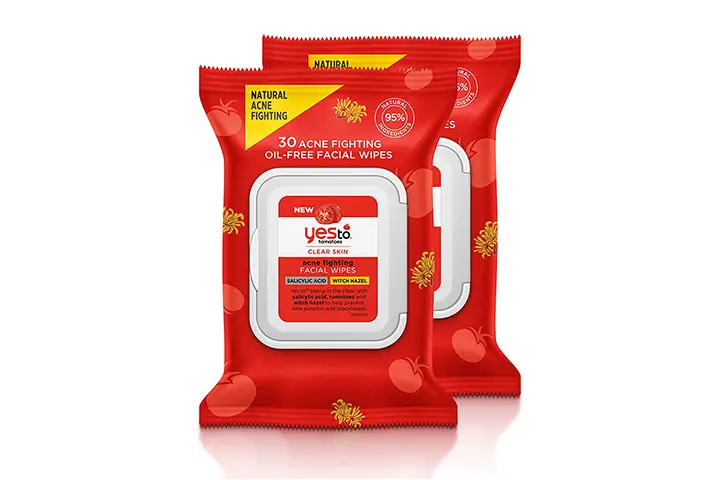 Acne is a common skin problem for everyone. Acne causes many skin issues like black heads, pimples and sebum. Yes to tomatoes, clear skin acne fighting facial wipes will clean your skin and remove oil while you are on the go.
These wipes help to fight acne and blemishes with powerful blemishes – fighting that are proven to help heal and clear your skin.
Yes To Tomatoes Clear Skin Acne Fighting Facial Wipes
How it Works:
The ingredients of this product like salicylic acid helps to unclog pores, break down blemishes and control oil.
Tomatoes help to control oil production and sebum in skin, while protecting it from environmental agents that can cause breakouts.
Swipe across the face to remove excessive drying of your skin. Excessive drying may cause skin problems.
These wipes are best for oil and acne prone skin.
Yes to tomatoes acne fighting facial wipes help to prevent new pimples and black heads.
Pros:
97% natural ingredients, non comedogenic.
Made with plant based FSC certified fabric.
Pre moistened wipes to cleanse face.
Paraben,SLS and petroleum free.
Best for oily or acne prone skin.
Cons:
Too many wipes per day may cause dryness.
Rating: 4.6 out of 5
These facial wipes prevent acne while quickly and gently cleansing the skin. These handy acne face wipes help to control sebum, oil and dead skin with Yes to tomato facial wipes.
Frequently Asked Questions (FAQ's)
Q. How many wipes are included?
Ans: 2 packagesX30 wipes=60 wipes.
Q. What does it smell like?
Ans: I'd say they smell fresh and clean.
Q. Can these be used daily?
Ans: Yes. They can be used up to 3 times a day. They can be drying to the skin so it's recommended to start with just once per day to see how your skin reacts. Everyone is different so if they are too drying use less often.
Alternate Products:
You Might Also Like: