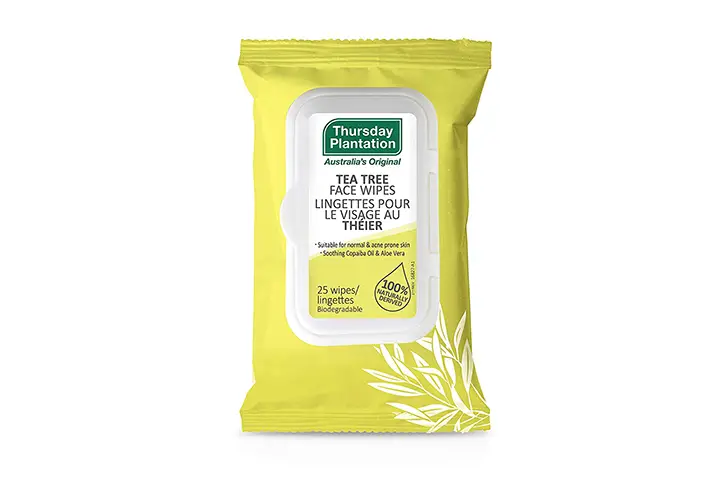 Help your skin to get rid of impurities, dirt and bacteria by using Thursday Plantation tea tree face wipes. Just sweep with these facial wipes to remove makeup, grim from your skin quickly.
They clean your skin in a natural and gentle way to refresh your skin and help to maintain its moisture. These cleansing wipes smoothly eliminate makeup and debris from the skin without irritation.
Thursday Plantation Tea Tree Face Wipes
How it Works:
Cleansing wipes are infused with Copaiba oil to gently soothe skin.
Winter green leaf extract help from skin irritation naturally sourced lactic acid, which improves skin's natural moisture, aloe vera help to replenish its moisture and witch Hazel tightening pores.
These wipes formulated with naturally sourced 100% unadulterated, pure Australian Tea tree oil help to soothe and relieve redness and irritated skin.
These wipes are ideal for normal to acne prone skin.
With a simple gesture to get perfect, moisturized and cleaned skin the package is portable and can be carried wherever you want. Resealable packs help to keep the wipes clean and fresh.
Pros:
Suitable for all skin types.
Can be your daily skin care routine.
Resealable packs help to prevent the wipes from drying out.
Doesn't contain synthetic paraben, SLS,SLES.
Biodegradable, Vegan, 100% naturally derived.
Cons:
For some people eyes may be irritating.
Rating: 3.6 out of 5
Thursday Plantation facial wipes revitalizes by removing all the dirt, debris from your skin and moisturizes and nourishes your skin.
Frequently Asked Questions (FAQ's)
Q. Are these wipes paraben free?
Ans: Yes they are paraben free.
Q. Do these wipes expire?
Ans: No issues if you can use them until they get dry.
Q. Does this product have fragrance?
Ans: Tea tree is the scent you are smelling.
Alternate Products:
You Might Also Like: