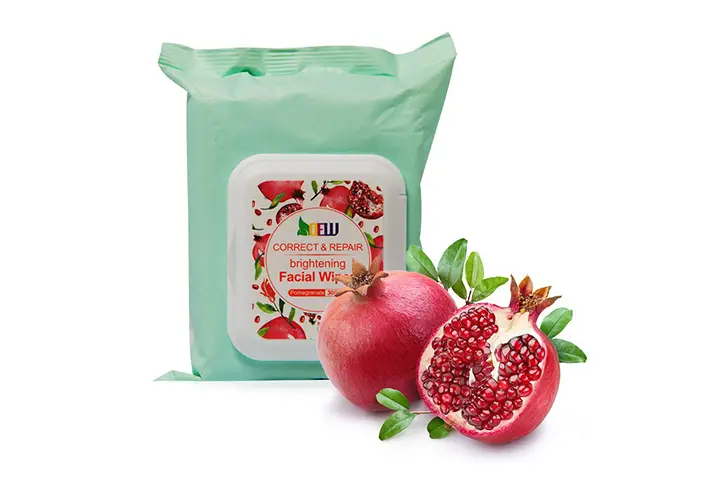 Are you looking for a face wipe that contains 70% organic ingredients, deeply cleanses, refreshes? No doubt you should acquire Dew Pomegranate face wipes. They never dry and make your face soft and smooth.
The slight rough surface of these wipes gently exfoliate s your face needs. These wipes remove the dead cells, dirt, debris easily and effectively and make you look young.
Dew Pomegranate Face Wipes
How it Works:
These facial wipes are developed with real fruit juice.
It incorporates some of the latest scientific breakthroughs in organics for cutting edge products that ensure visible results.
These scientific organic cleansing wipes are made from a sustainable, biodegradable, non woven wood fiber.
This also makes them compostable.
Wipes can be carried easily wherever you go.
The resealable flip top of this product keeps the wipes fresh and clean.
They remove 93.3% of dead cells and even stubborn skins with pores.
Pros:
Resealable fliptop of this product keeps the wipes clean and fresh.
Portable and mess free.
Delightful scent of pomegranate keeps your skin refreshed.
Paraffin free and synthetic fragrance free.
They don't leave any oily residue.
Cons:
Rating: 4.5 out of 5
Say no to the dead skin from your face by picking up Dew exfoliating pomegranate facial skin care wipes. They are infused with pomegranate extract which gives a radiant glow while activated fruit extract nourishes the skin.
Frequently Asked Questions (FAQ's)
Q. Are these biodegradable?
Ans: They are compostable.
Q. Can I carry it to any other place?
Ans: Yes. Sure you can carry wherever you want as it is portable.
Q. Do we need to wash with water after using?
Ans: You don't need to wash with water.
Alternate Products:
You Might Also Like: