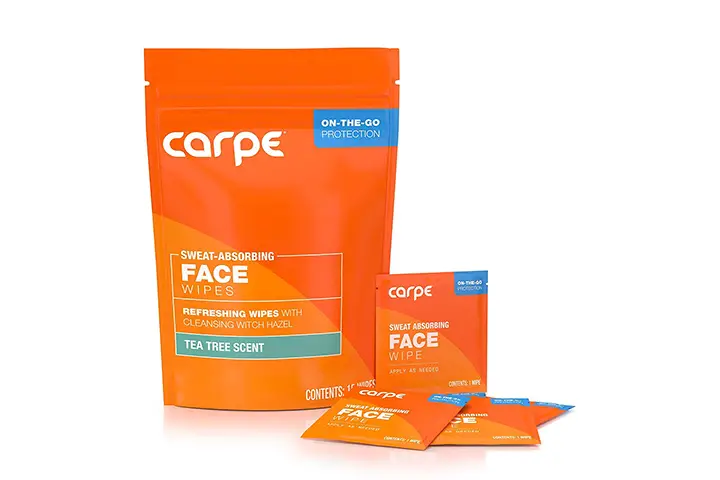 We all if it is hot and humid. Kick your sweat and odor by using Carpe sweat absorbing face wipes. These wipes remove dirt, oil from your face anytime and anywhere.
They work perfectly at the gym, travelling, camping or at the office. These wipes refresh you by removing the sweat and dirt instantly.
Acquire carpe sweat when your face is sweaty, clammy, dowy. These sweat absorbing face wipes work effectively and make you feel refreshed.
[ Read: Why Do You Sweat After A Shower? How To Prevent It ]
Carpe Sweat Absorbing Face Wipes
How it Works:
Carpe sweat wipes are infused with tea tree oil, witch hazel, Lavender and Eucalyptus.
Tea tree oil works as an antibacterial and helps to control excessive sweat.
Lavender and Eucalyptus makes you feel relaxed.
These individually wrapped face wipes are large towelettes that can be used on dry, damp or wet skin to wipe off sweat.
The no residue formula goes on clear and keeps your shirt collar clean.
The pH balanced formula is a blend of sweat absorbing and skin enhancing ingredients with a fresh scent that reinvigorates skin for a tighter cleanser feeling.
Pros:
Dermatologist recommended.
Easy to use at any time.
Keeps you fresh and dry throughout the day.
They are perfect for on the go.
Cons:
Too much usage can cause dryness.
Rating: 4.1 out of 5
Carpe on the go antiperspirant underarm wipes are individually packed and it is easy to freshen up when you are away from home. They fight with sweat and odor to give refreshness.
Frequently Asked Questions (FAQ's)
Q. Can we use these wipes before makeup?
Ans: Yes you can use makeup before.
Q. Can I use deodorant after using the wipes?
Ans: It contains the same active ingredients that most deodorants already use, so that probably wouldn't be necessary.
Alternate Products:
You Might Also Like: