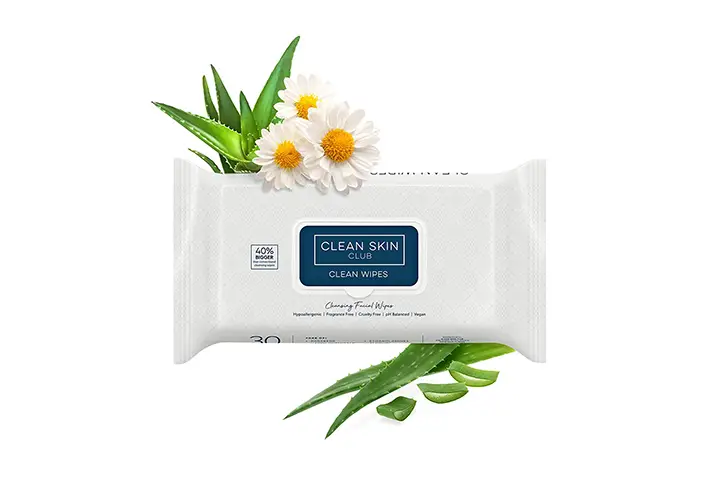 One wipe two uses! Yes! Clean Skin Club – XL Premium Face Wipes will do two actions with one facial wipe.
That is one side is to exfoliate and deep clean and the other texture side to collect dirt and allergens.
These are 40% bigger than average clean wipes which gently remove makeup, pore-clogging dirt, sweat, oil and environmental toxins and even the most stubborn mascara.
Clean Skin Club – XL Premium Face Wipes
How it Works:
Clean skin club's unique wipes are dermatologist , ophthalmologist and allergy tested and are decidedly formulated for sensitive skin types.
Unlike other facial cleansers and makeup removers these cleansing wipes don't leave any residue or comfortable feeling on your skin after using them.
These are made from 100%biodegradable,vegan,GMO,alcohol
Paraben and fragrance free product. These wipes are made with natural Rayon fiber.
Pros:
40% bigger and 50% stronger than standard face wipe.
Works great for sensitive skin.
Thick and durable.
It will not leave any oil residue.
These wipes are string free and work great on your skin.
Cons:
They cause your skin care to be less effective.
Rating: 4.6 out of 5
Clean skin club cleansing facial wipes which leaves your skin revitalized, rejuvenated and soft, without rinsing. This product is good for sensitive skin. For each order of this product clean skin club will plant a tree.
Frequently Asked Questions ( FAQ's)
Q. What are the dimensions of the product?
Ans: The dimensions of the product are 7.7 x 5 x 1.5 inches; 1 Pounds.
Q. Is this product easy to use?
Ans: Yes. It is easy to use.
Alternate Products:
You Might Also Like: