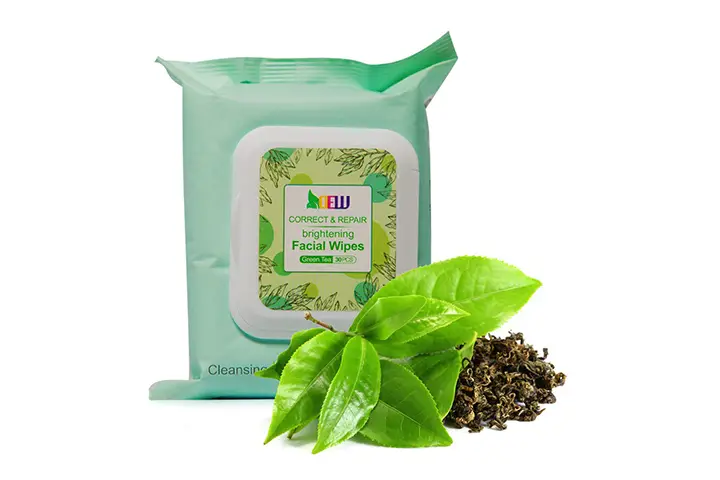 Just swipe with Dew green tea face wipe and get rid of makeup, dirt, oil and impurities. These facial wipes developed with eco-harvest tea tree oil. These wipes minimize the breakouts and tone your skin for a radiant glow and unclog pores.
This Re-sealable flip top package is perfect for post gym, travel or quick makeup changes. To keep the wipes fresh this product comes with a reusable flip top. They are portable, can be carried wherever you want easily and fit in your baggage also.
Dew Green Tea Face Wipes
How it Works:
These daily cleansing face wipes enriched with green tea extracts will leave your skin clean and toned.
It keeps your skin hydrated, purified and mattified.
These wipes deeply cleanse without irritation and with no oily residue.
After using these wipes you no longer need to rinse your face with water.
It almost removes 93% of all make even the tough waterproof mascara.
The pleasant smell of this product makes you feel more refreshed.
Pros:
Infused with activated green tea oils.
Effectively removes entire makeup.
Made with 100% natural and biodegradable viscose fibre.
Matties and helps to control the excess oil.
Ideal choice for travel use.
Cons:
Cleansing cloth is too thin.
Rating: 3.9 out of 5
Cleansing your face with Dew Green Tea Face Wipes are effective. They are infused with green tea extract which purifies and gives a relaxing effect to the skin to maintain its moisture. Pick these wipes to nourish and detoxify the skin.
Frequently Asked Questions (FAQ's)
Q. Is the item durable?
Ans: Yes. It is durable.
Q. Is this item easy to use?
Ans: Yes it is easy to use and portable.
Q. hat are the dimensions of this product?
Ans: 4 x 3 x 2 inches; 6.38 Ounces.
Alternate Products:
You Might Also Like: