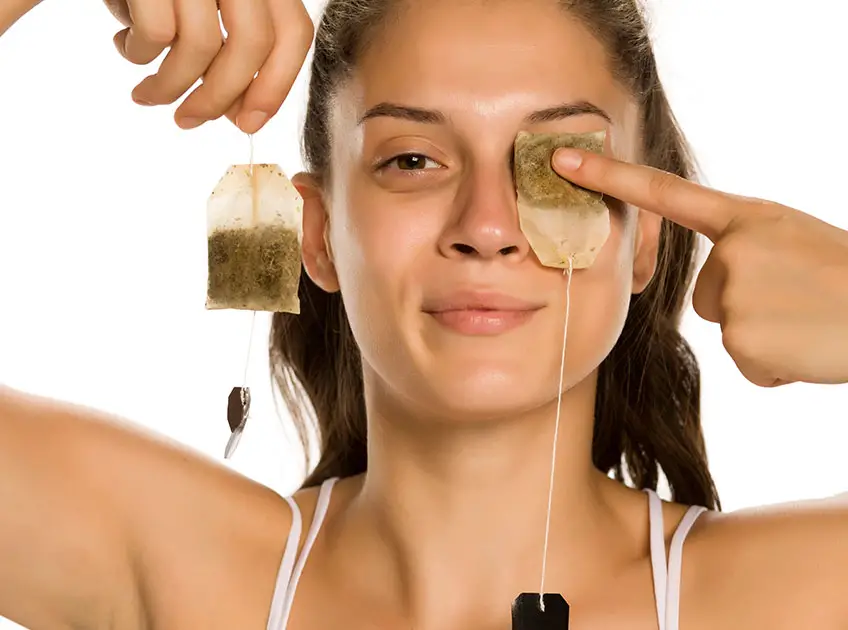 Green tea beneficiaries are not only for inner health but also work great for skin, face, and hair care. It is enriched with several antioxidants and anti-inflammatory properties. The special element, polyphenols present in green tea helps to fight skin cancer. EGCG(epigallocatechin-3-gallate) is the significant compound contained in green tea that lowers the formation of free radicals thus protecting the cells from damage.
Benefits of Green Tea for Skin
Green tea poses numerous benefits to the skin. Its anti-inflammatory properties protect your skin from external disturbances. The following are some of the benefits of green tea for the skin.
1. Soothes Dry Skin
Green tea makes wonders in moisturizing your skin and protects from UV rays further soothing your dry skin.
Green Tea and Honey
Ingredients
1tbsp Green Tea
2tbsp Honey
Recipe
Mix well green tea and honey.
Apply this to your face and let dry for 15 minutes.
Wash with cold water.
Tip: The enzymes present in honey keep your skin soft and nourished.
[ Recommended: Surprising Benefits of Cinnamon for Skin and Hair ]
2. Works Well on Greasy Skin
The major nutrients in green tea clear out the surplus greasiness from your skin.
Turmeric and Green Tea Mask
Ingredients
2tbsp Green Tea
¼ tbsp Turmeric
1tbsp Chickpea Flour
Recipe
Add turmeric and chickpea flour to green tea and stir well.
Put on this smooth paste on your face.
Leave it to settle for 18-20 minutes.
Rinse it off and pat dry
Tip: Turmeric acts as a great antiseptic while chickpea flour removes excess oil from your skin.
[ Recommended: Unexpected Beauty Uses for Olive Oil ]
3. Get rid of Age-Defying
Green tea plays a vital role in keeping your skin forever young as it contains vitamin B12 thus making your skin appear youthful.
Green Tea and Yogurt Face Pack
Ingredients
1tbsp Yogurt
1tbsp Green Tea
1tbsp Lemon Juice
Recipe
Whisk together curd, green tea, and lemon juice.
Apply this mask to the face.
Wash with chilled water after 15 minutes.
Tip: Lemon juice is known for its anti-aging properties while the lactic acid in yogurt diminishes wrinkles and fine lines.
[ Recommended: Benefits & Uses of Almond Oil for Skin and Hair ]
4. Used to Exfoliate the Skin
Exfoliating your skin is primarily important as it removes dirt and bacteria. Green tea leaves help eliminate the dead skin cells and other impurities from your skin.
Sugar and Green Tea Leaves Scrubber
Ingredients
1tbsp Green Tea Leaves
1 cup of Sugar
½ cup of Virgin Olive Oil
2tbsp Honey
Recipe
In a bowl add the ingredients and stir well.
Apply the mixture to your body and scrub in a circular motion.
Wash them with lukewarm water.
Tip: Sugar and honey together cleanse the grime and olive oil provides the required nourishment for your skin.
[ Recommended: Benefits Of Castor Oil For Skin And Hair ]
Benefits of Green Tea for Face
Green tea has a list of profitable features for the face. The one quality that makes green tea a perfect constituent is, that it helps to protect your face from sun damage thus delivering a youthful and acne-free face.
1. Prevents the Premature Appearance of your Face
The effective elements of green tea prevent premature aging signs.
Orange Peel Powder and Green Tea Face Mask
Ingredients
1tbsp Green Tea
½ tbsp Honey
1tbsp Orange Peel Powder
Recipe
Combine well orange peel powder, honey, and green tea.
Put the mixture onto your face and scrub gently.
Leave it to stay for 15 minutes and rinse it off.
Tip: Orange peel powder is an amazing source of antioxidants that aids in firm skin and tightening.
[ Recommended: Benefits of Coconut oil For Hair, Skin and Face ]
2. Assists in Treating Puffy Eyes
The top and most glorious remedy for puffy eyes is relaxing with a green tea bag. Green tea containing vitamin K helps to diffuse dark circles and shrinks the puffiness.
Green Tea Bags for Dark Circles
Ingredients
Recipe
Simply refrigerate used green tea bags for about 25 minutes.
Place the chilled green tea bags on your eyelids.
Relax for 10 minutes.
Tip: Using green tea bags around your swollen eyes provides a speedy recovery.
[ Recommended: Benefits of Vitamin E oil For Your Skin And Hair ]
3. Helps in Reducing Acne and Pimples
Green tea battles against the acne-causing bacteria and lessens the redness and inflammations.
Green Tea and Water
Ingredients
¼ cup of freshly infused Green Tea
¼ cup of Water
Cotton Pad
Recipe
Take equal quantity of freshly made green tea and water.
Stir and let it cool down.
Dip the cotton in the solution and apply to the impacted area.
Rinse off after leaving it for 10 minutes.
Tip: The anti microbial resources of green tea help in controlling acne.
[ Recommended: Benefits of Tea Tree oil for Your Skin and Hair ]
4. Get Away from Oily Face
Green tea makes wonders in dealing with oily skin issues. Blackheads and pores show up on your face as a result of too much secretion of oil in your face. A Green tea mask is useful in absorbing excessive oil content.
Green Tea and Rice Flour Face Mask
Ingredients
1tbsp Green Tea
1tbsp Lemon Juice
2 tbsp Rice Flour
Recipe
Take a bowl and add green tea, lemon juice, rice flour.
Blend well to make a smooth paste.
Apply the mix over your face.
Allow drying for about 12-15 minutes.
Rinse off with cold water.
Tip: Rice flour obtains a dullness caused due to oil redundancy and assists in giving a bright glow to your face. Lemon wipes out the toxins and clogged pores.
Benefits of Green Tea for Hair
Green tea besides possessing numerous advantages for the face also holds efficient and vital nutrients that are needed for healthy and wholesome hair. Below are a few benefits of green tea for hair.
1. Favor's Diminishing Dandruff
Dandruff is the main problem for hair loss and scalp itchiness. Green tea diminishes the dry flakes and dead skin cells that are the major cause of dandruff making your scalp free from fungal and bacterial infections as well. Its anti-inflammatory factor helps to clear the scalp.
Green Tea Rinse
Ingredients
3-4 Green Tea Bags
Hot Water
Recipe
Infuse the green tea bags in hot water for 25 minutes.
Wash your hair with your shampoo and conditioner.
Now use the cooled green tea water for your final rinse.
Tip: Rinsing your hair with green tea water twice a week helps to get dandruff-free and lustrous hair.
2. Promotes Hair Growth
Green tea is the best option when thinking about hair growth. It uplifts the blood flow and circulation further regenerating the hair follicles. The essential nutrient called polyphenols present in green tea boosts up healthy hair growth.
Mustard Powder and Green Tea Hair Pack
Ingredients
1 Green Tea Bag
1tbsp Mustard Powder
½ cup of Hot Water
Recipe
Immerse a green tea bag in half a cup of hot water for 4-5 mins.
Once the green tea is cooled, add 1tbsp mustard powder and mix properly.
Apply the mix to the hair covering the roots thoroughly.
Let the pack sit for 30 minutes and wash with a gentle shampoo.
Tip: Mustard powder is the surprise ingredient enriched with vitamin E and C that aids in encouraging the stronger growth of hair.
3. Enhancing Dry and Brittle Hair
Dry hair problems can be sorted using green tea. It helps in nurturing the split ends. Green tea grants the necessary moisture and nourishment to your hair.
Green Tea and Honey Hair Pack
Ingredients
40ml Honey
30ml freshly made Green Tea
Few drops of Lemon Juice
10ml Olive Oil
Recipe
Mix in a bowl of honey, lemon juice, freshly steeped green tea, and olive oil.
Apply the solution onto wet hair.
Allow it to settle for 35 minutes.
Rinse it off completely.
Tip: The antioxidant provision of honey and lemon leaves your hair fresh while olive oil upgrades your hair moisture.
4. Elevate Silky and Shiny Hair
The rich components of green tea rejuvenates your hair further providing the desired moisture and silky texture.
Egg and Matcha Green Tea Hair Mask
Ingredients
1tbsp Matcha Green Powder
1 Egg
1 tbsp Coconut Oil
Recipe
Whisk the egg completely and mix with matcha green tea powder, and coconut oil.
Apply on your scalp and hair covering the roots entirely.
Let it settle for 20 minutes.
Rinse with your shampoo.
Tip: Coconut oil naturally nourishes and gives a glowing look to your hair. The Egg is an excellent source of protein giving your hair a natural shine.
If you are looking for an ingredient that elevates your skin, face, and hair beauty, blindly go for green tea. Its valuable resources paves a way for gorgeous and forever youthfulness.
Recommended Topics: