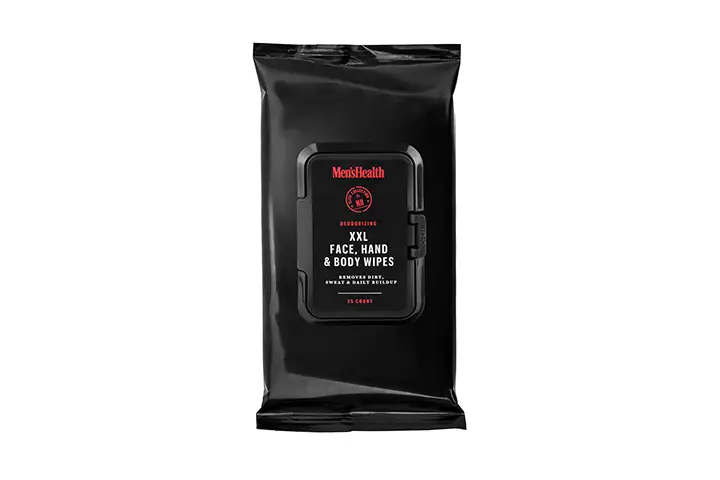 Need a quick refresh after a sweaty and grubby day? Pick Men's Health Body & Face Wipes. Not only to get rid of sweat, dirt and grime, they also moisten and cherish your skin.
You no need to worry about your shower these amazing wipes give the freshness of a shower. These wipes work so fast and eliminate sweat, odor and daily build upon your face.
Men's Health Body & Face Wipes
How it works:
These face wipes have effective ingredients like witch Hazel, which eases inflammation and soothes sensitive skin. Glycerine helps to clean pores. Citric acid prevents clogging of pores and tanning. Aloe vera leaf juice avoids dry skin and acne.
The energizing and deodorizing formula of this product can kill odor causing bacteria. This formula is also powerful enough to clean your hands, face and body.
Pros:
Removes the dirt, sweat and daily build up.
Gives you a smooth, refreshing feeling.
Can be carried easily.
Good quality.
Perfect for camping and travelling.
Cons:
These are designed only for men.
Rating: 4.5 out of 5
Men's Health body wipes leave your body and face wipes leave your skin feeling fresh and clean anytime and anywhere. These are super durable and best face and body wipes.
Frequently Asked Questions (FAQ's)
Q. Are these wipes flushable?
Ans: NO, you should not.
Q. What is the scent of the product?
Ans: Men's Health doesn't have a name for the scent – it is just meant to be a fresh clean smell.
Alternate Products:
You Might Also Like: