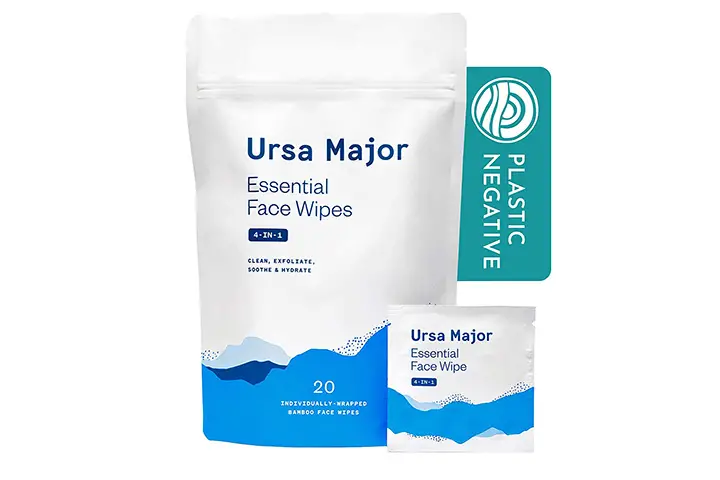 Soaking sweat into your skin for a long time can lead to clogged pores and awful body acne. To put an end to such problems, use Ursa Major Essential Face Wipes.
These wipes instantly refresh your skin and help to prevent future breakouts. Ursa major essential face wipes are individually wrapped bamboo face wipes to cleanse, exfoliate, soothe and hydrate when you are on the go.
Ursa Major Essential Face Wipes
How it Works:
These award winning, individually – wrapped bamboo face wipes are the ultimate skin care multi taskers.
They are infused with a generous dose 4-in-1 essential face Tonic formula, they clean, exfoliate, soothe and hydrate by leaving your skin feeling refreshed. Firm and alive.
This product cleanse with green tea leaf, hydrates with aloe and exfoliates with willow bark.
These wipes meet the highest standards of social and environmental impact.
Pros:
Zero suspect chemicals are always ethically made.
Cruelty free.
Truly clean ingredients.
By removing dead cells and debris they create a healthy glowing complexion.
Cons:
They are bad for the skin around the area.
Rating: 4.7 out of 5
We can protect our face by avoiding outside dirt and pollutants by using Ursa Major facial wipes. You can use these wipes at home, after workout at the gym and many other occasions.
Frequently Asked Questions (FAQ's)
Q. Are these wipes biodegradable?
Ans: The bamboo Face Wipe itself is biodegradable.
Q. Can this be a replacement for a facial cleanser?
Ans: It depends on what you mean by a facial cleanser. It isn't as robust as a dedicated skin cleanser such as you would get in a product that says, Neutroxxx skin cleanser, but for what you can pack into a packet/towelette, this is a fantastic product.
Q. Why are these very expensive?
Ans: Maybe because they are individually wrapped so they retain their moisture longer.
Q. Are these wipes oil free?
Ans: Our Wipes contain essential oils – fir needle oil, lavender flower oil, rosemary leaf oil, and geranium flower oil.
Alternate Products:
You Might Also Like: