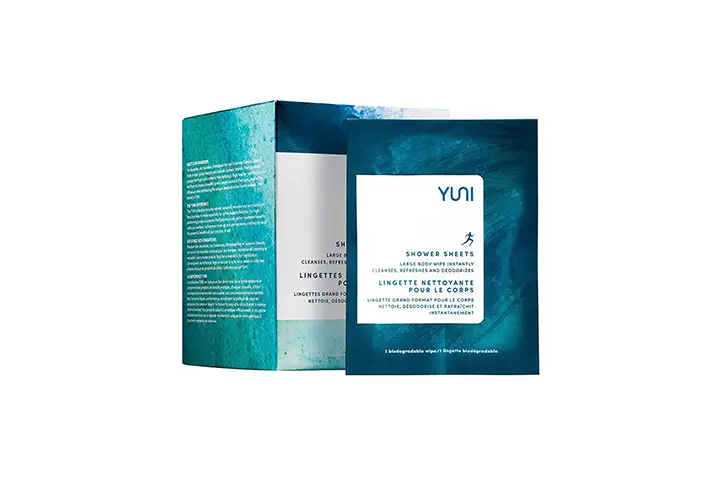 Need a quick refresh anywhere! Yuni shower sheets are the best option to refresh instantly. These sheets cleanse and deodorize wherever you want to be showered.
They are the perfect alternative for your shower when you are travelling, while camping or after your workout at the gym.
These convenient extra large bath sheets immediately refreshes and removes dirt, sweat and odor. These super soft shower wipes give freshness just like showering.
YUNI Beauty Large Body Wipes
How it works:
The natural ingredients of this product will do high performance. These large body wipes are infused with neem leaf extract which deodorize, clams skin and soothes inflammation.
Peppermint leaf essential oil acts as a mild antiseptic and natural deodorant by reducing bacterial activity on the skin.
Citrus essential oils leave you feeling refreshed and energized.
These extra large bath sheets immediately cleans and gives you a feel of just showering without water in less time.
Aloe vera and green tea extracts of this product protect your skin cells from damage.
Pros:
Best for camping or when you are on a trip.
Individually wrapped.
Gives super soft moist with no shower.
Instantly cleanses and deodorizes.
Leaves skin feeling soft and fresh.
Cons:
Rating: 4.5 out of 5
Yuni beauty large body wipes are pre-moistened and ideal to use when you are travelling. These wipes are the perfect substitute for your bath needs. So keep a pack in your baggage.
Frequently Asked Questions (FAQ'S)
Q. Is this product biodegradable?
Ans: Yes. This product is biodegradable.
Q. Is this product fragrance free?
Ans: This product contains a pleasant smell.
Q. Can this be used on the face?
Ans: Yes. This product can be used for your entire body.
Alternate Products:
You Might Also Like: