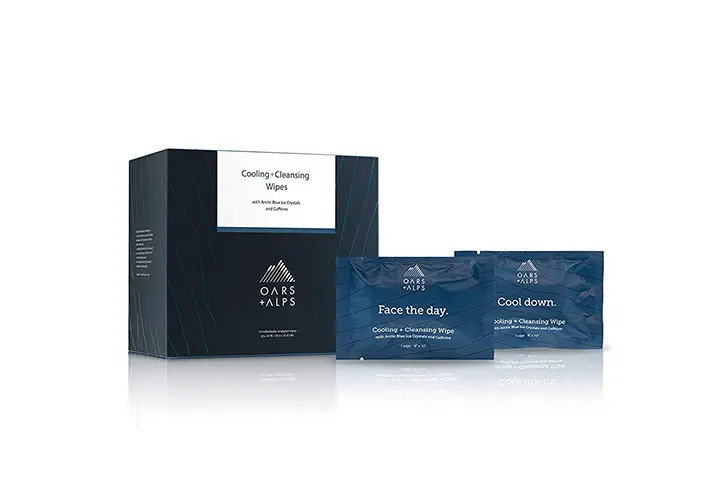 No need to compromise for your refreshness wherever you are with Oars + Alps face and body wipes. With these you can get instant refreshness and cooling.
These wipes work great to keep you fresh by removing sweat, odor, dirt and debris.
They also help your skin to cool down and stop sweating quickly when you are in a hurry to switch to the next activity.
Oars + Alps Face and Body Wipes
How it Works:
These wipes are infused with arctic blue ice crystals which help to exfoliate your skin and remove sweat and dirt.
Caffeine helps to reduce inflammation.
Menthol helps to leave you feeling energized and refreshed.
This product is made from skin friendly ingredients and dermatologist tested.
These cleansing wipes are free from glycol, parabens, phthalates and sulphates.
These cleansing and cooling wipes are travel friendly and great for on the go moments when you used to clean up.
They help to freshen up your face, arm, legs and chest.
These wipes have a special quality, one side is arctic blue ice crystals to shed the sweat, odor and dirt.
The other side is to get a refreshing caffeine boost.
Pros:
Make your skin cool after your workout.
Travel friendly and spill proof.
Dermatologist tested.
Effectively removes sweat, odor and dirt.
Portable.
Cons:
May irritate sensitive skin.
Rating: 4.6 out of 5
These double sided wipes help to cleanse and gives cooling effect. These travel friendly wipes can be carried even in your pocket also. Oars+Alps wipes are the best option to keep you fresh and clean.
Frequently Asked Questions (FAQ's)
Q. How many wipes will be in the pack?
Ans: There are 14 individually wrapped wipes in each box.
Q. Are these wipes flushable?
Ans: No, these wipes are not flushable.
Q. Are these scented?
Ans: No, they are fragrance free.
Alternate Products:
You Might Also Like: