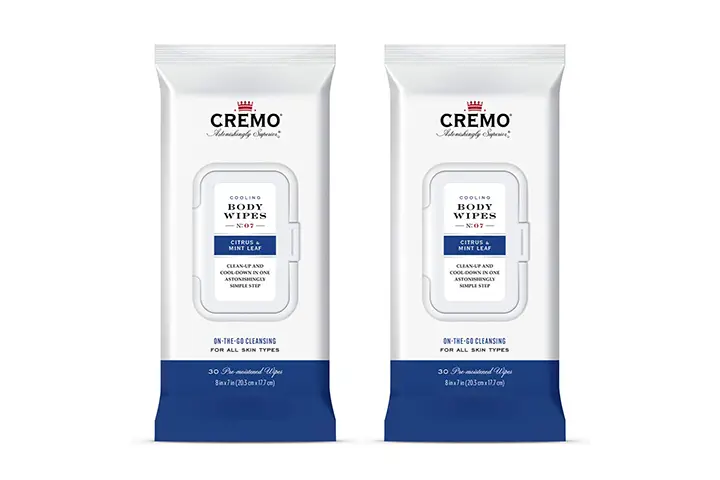 Just think if you skip your shower how bad you smell. Sometimes you may be travelling or camping or on long flights, such situations it's not possible to take shower.
Cremo cooling body wipes is an ideal solution to take an instant shower at any time. These wipes gives you refreshment by removing sweat, odor and perfect for on the go cleaning.
Cremo Cooling Citrus & Mint Leaf Body Wipes
How it Works:
These wipes are made from a super absorbent material, they quickly clean all the dirt and grime then they gust you with its special formula of cool feeling fresh.
One pack contains 30 durable and pre moistened wipes, which cleans away heavy dirt, grease and sweat.
The pleasant smell of these wipes gives refreshment for hours.
Pros:
Durable enough to stand up to heavy use.
These cooling body wipes give a lively refreshment feel.
Suitable for all skin types.
Easy to carry and easy to use.
Cons:
Texture of this product is a bit rough.
Rating: 4.5 out of
Pick these wipes when you can not take a shower or if you don't have time to take. Carry these to blast yourself with an instant cooling effect at any time.
Frequently Asked Questions (FAQ's)
Q. Can I flush these wipes?
Ans: No .You should not flush these wipes.
Q. How does it smell?
Ans: They have a smell of fresh mint.
Q. Are they cruelty free?
Ans: Yes. They are cruelty free.
Alternate Products:
You Might Also Like: