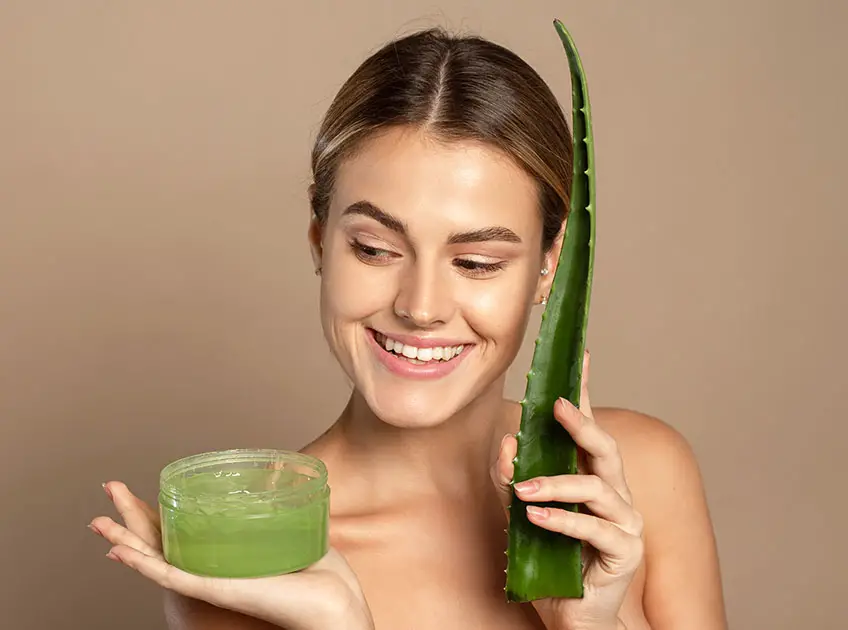 If you want to look pretty in front of the mirror as well as want to know something which can aid to look good then stop thinking much and get an Aloe vera gel. One of the most amazing gifts of nature is said to be the Aloe vera plant. The gel is nothing but the leaf interior parts that one can apply on skin, face, and hair to increase the moisture content.
Benefits of Aloe Vera Gel for Skin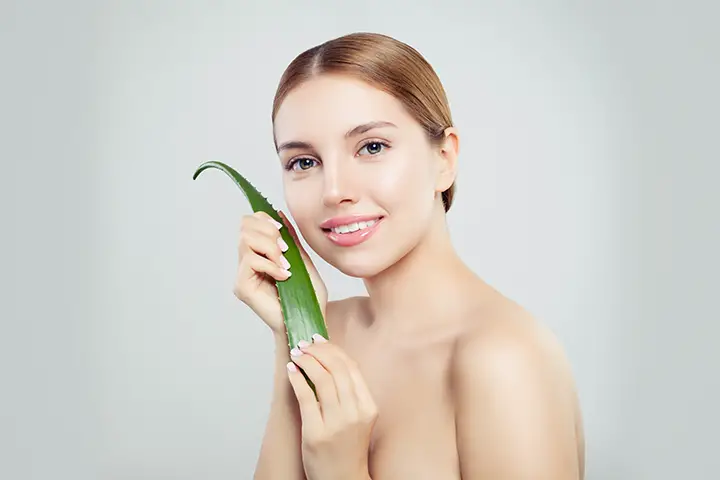 Aloe vera works wonderfully in treating burns and also it has anti-aging properties as well as age reversing properties. Some of the advantages of Aloe vera gel on the skin are mentioned below.
1. Assists as Skin Exfoliator
Exfoliating the skin is significant to get rid of dead cells and also clear grime pores. Don't think about the skin going greasy with aloe vera, but it will act as a cleansing agent.
Aloe Vera with Sugar Granules Mask
Ingredients
The required amount of Aloe vera

1 tbsp of sugar granules
Recipe
Take some quantity of Aloe vera gel.

Mix with sugar granules.

Have to do regular scrub on the skin to Exfoliating the skin.
Tips: Aloe vera with sugar granules has antiseptic properties acts as a shield and protects skin from
bacteria.
[ Recommended: How to Use Aloe Vera fore Dark Spots ]
2. Works Great for Skin Nourishment
Aloe vera works excellently while massaging different parts of the skin. Use this gel right before to go bed and leave it for overnight to get skin nourishment.
Lemon and Aloe Vera Mask
Ingredients
The required amount of Aloe vera

Few drops of lemon juice
Recipe
Add a few drops of lemon with Aloe vera gel.

Massage this extract for a few minutes wherever it needed.

Leave it overnight.
Tips: Lemon naturally has anti-oxidant and astringent qualities aids to reduce skin damage and increasing the softness of the skin.
[ Recommended: Can Aloe Vera Help Tighten Skin? ]
3. Helps on Stretch Marks
Aloe vera found with several applications for health and healing. The high water content of aloe and its capacity to smooth fine lines assist to clean stretch marks.
Coconut Oil and Aloe Vera
Ingredients
1/3 cup of fresh aloe vera gel

1/2 cup of organic coconut oil
Recipe
Whisk coconut and aloe vera gel together to get a fluffy mixture.

Massage on the place of stretch marks and have to leave a full night.

Should use this procedure every night until the marks get fade.
Tips: Coconut oil provides deep hydration to the skin and it helps out with stretch marks.
[ Recommended: How to Use Aloe Vera for Skin Lightening ]
4. Apply for Minor Burns
On a burned skin, the thick layer of aloe vera gel cure minor burns very soon
Carrot Poultice and Aloe Vera Gel
Ingredients
2 Fresh Carrots

1/2 cup of Aloe vera gel
Recipe
Smash carrots and keep them in a bowel.

Mix with the gel and put it on the affected area.

Leave it this Poultice until it gets dry and wash thoroughly.

Repeat every day.
Tips: Both carrots and aloe have Vitamins A, C, and E which may aid in healing small burns and reduce redness
Benefits of Aloe Vera Gel for Hair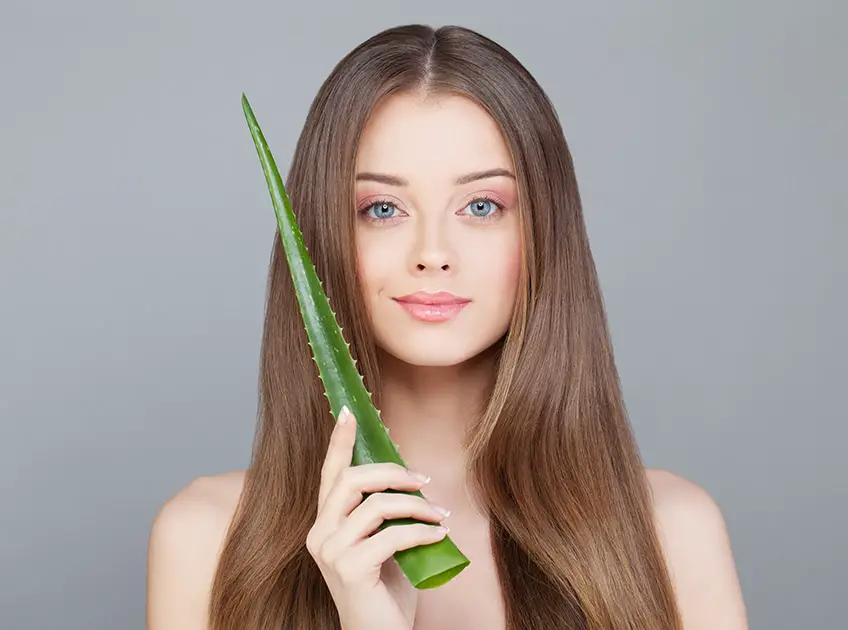 Aloe vera gel plays a major role in terms of hair. Whatever may be the problem, this gel can give countless procedures to cure it. Few popular benefits are given below
1. Utilize as Eyebrow Gel
Use Aloe vera gel to tame the eyebrows. It is an inexpensive and easy way to keep the eyebrows slicked.
Virgin Olive Oil and Aloe Vera Gel Mask
Ingredients
6 to 7 drops of Virgin Olive oil

The required amount of Aloe vera gel
Recipe
Mix Aloe vera gel with some drops of olive oil.

Apply this combination to the eyebrows and eyelashes.

Keep it for 15 to 30 minutes.
Tips: Virgin olive oil has a major moisturizing effect add softness and strengthens the hair.
[ Recommended: Homemade Aloe Vera Hair Masks for Hair Growth ]
2. Extraordinary Hair Moisturizer
Aloe vera not only works as the best moisturizing agent for skin but also for the hair. Use Aloe vera in hair to overcome roughness and dryness.
Honey and Aloe Vera gel
Ingredients
1 tbsp of Honey

1tbsp of Olive oil

1 tbsp of Curd

The required amount of Aloe vera gel
Recipe
Whip together honey, Olive oil, curd, and freshly extracted Aloe vera gel.

Leave it for 30 minutes and wash it thoroughly.
Tips: Honey has both humectant and emollient properties and works as a great hair moisturizer.
[ Recommended: Homemade Aloe Vera Hair Mask Recipes ]
3. Get Rid of Dandruff
Aloe is a fantastic hydrator and it is a boon for dandruff. Destroying the itches and removing dead cells for a longer time
Apple Cider Vinegar and Aloe Vera
Ingredients
One cup of Aloe Vera gel

2 tbsp of apple cider vinegar

1 tbsp of honey
Recipe
Aloe Vera, honey, and apple cider vinegar need to mix well.

Apply this mixture generously to hair and scalp.

Keep it for 20 minutes and wash it later to free it from dandruff.
Tips: Apple cider vinegar is rich in minerals and vitamins and it highly helpful for hair. Its anti-inflammatory agents assist dandruff in a great manner
4. Smoothing Dry Hair
Aloe is a naturally soothing gel that gentles the hair and skin while nourishing and hydrating it simultaneously
Egg and Aloe Vera Egg Mask 
Ingredients
3 tbsp of Aloe Vera gel

One egg
Recipe
Mix Aloe Vera and egg with a spoon to form a paste-like consistency.

Apply on hair and scalp with a brush.

Wear a shower cap and keep it for nearly 20 minutes.
Tips: Egg and aloe gel are highly moisturizing and it boosts hydration in hair and will assist hair to go very soft.
Benefits of Aloe Vera Gel for Face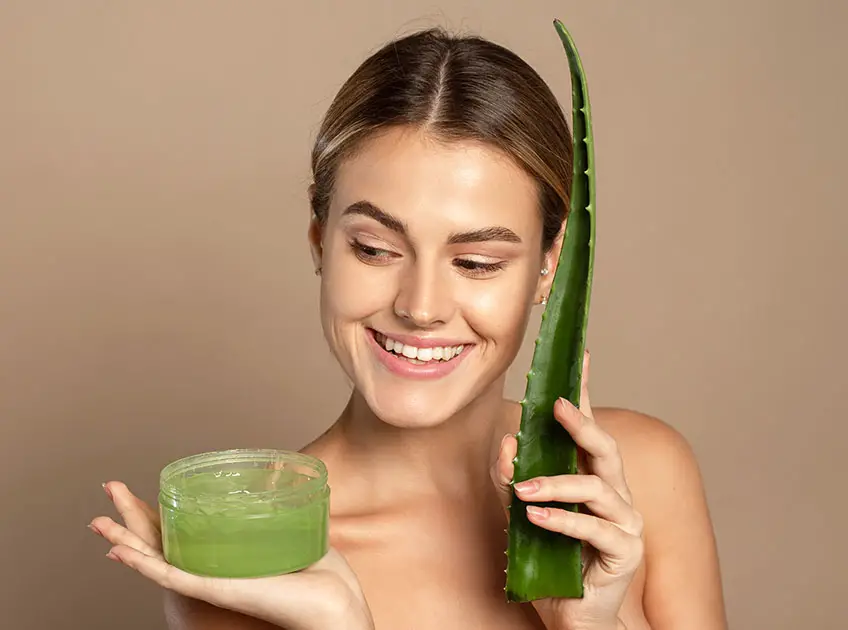 Aloe Vera has a long list of advantageous components. Aloe gel has different vitamins, minerals as well as fatty acids which can be utilized to tackle various skincare concerns. Below mentioning are a few popular benefits of aloe gel for the face
1. Get The Glow
Speaking of brightening the skin, the aloe vera compound makes skin radiant as well as leads to a glowing face
Turmeric and Aloe Vera
Ingredients
4 tbsp of Aloe Vera gel

1tbsp of turmeric
Recipe
Mix some amount of gel with 1 tablespoon of turmeric.

Keep the yellow mask on the face for 20 minutes and wash it fully.
Tips: When it comes to the skin glowing, turmeric has a curcumin component that highly assists to reduce hyperpigmentation and inflammation
2. Fights for Acne
Aloe Vera plays a major role in cleaning acne. In search of a perfect solution, the natural magic of this gel can give lots of benefits to our face
Tea Tree Oil and Aloe Vera 
Ingredients
2 tbsp of Aloe Vera gel

7 drops of tea tree oil
Recipe
Take 7 drops of tea tree oil with some amount of Aloe Vera gel until it becomes a paste.

After applying this mixture, keep it for 10 minutes before washing.
Tips: Tea Tree oil has antimicrobial properties which aid to clear pores as well as prevent excess dirt, oil, and bacteria on the face
3. Perfect for Summer
Aloe Vera's antiseptic, antibacterial as well as anti-inflammatory properties give an effective solution for the face in summer
Organic Aloe Vera gel
Ingredients
Recipe
Apply aloe gel directly to the face and neck

Both morning and evening it should be apply
Tips: 100 percent pure aloe vera gel works great on the face and skin due to its amazing properties
4. Anti-Aging Eye Cream
Using Aloe vera gel on the face can assist to reduce anti-aging wrinkles on the eyes
Vitamin E capsule and Aloe Vera
Ingredients
Vitamin E capsule

1 tbsp aloe vera gel
Recipe
Puncture a Vitamin E capsule and mix with oil.

Add aloe vera gel with that oil.

With the help of a finger apply this mixture to the skin of the eyes and apply it the night before bed.
Tips: Vitamin E capsule is rich in antioxidants and allows to get enough essentials for everyday health.
When you are on the mission to look great then Aloe vera gel is the best one to have it. Because of its curing nature, it gives tremendous usage in several medicines.
Best Aloe Vera Gels and Products for Soothing Sunburnt Skin
Recommended Topics: