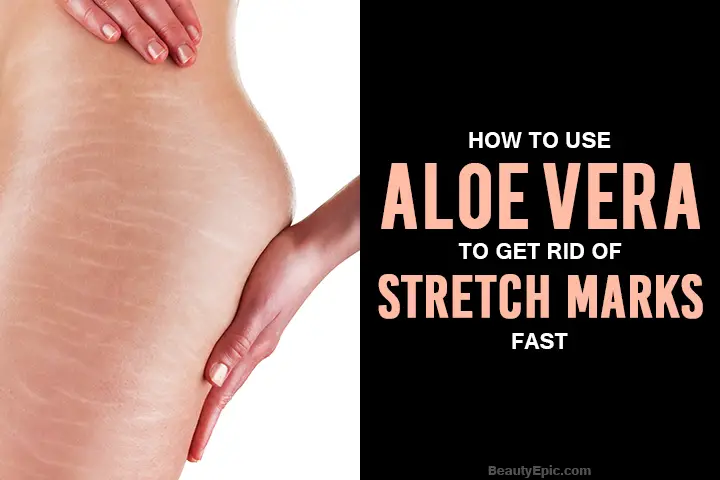 Stretch marks are also known as striae. They are caused due to extreme stretching of the skin. The flexible connective tissues are stretched beyond their limit and the collagen is weakened. It occurs due to pregnancy or excess weight loss or weight gain.
The stretch marks tend to be very painful at times. The stretch marks begin to show as light pink lines on the skin and later fade into your natural skin tone. If you notice stretch marks on your skin you need to act fast as your chances of removing them reduces with time. One of the easiest and most effective methods of treating your stretch marks is with aloe vera. Its effectiveness has been proven over time.
Does Aloe Vera Help for Stretch Marks?
Aloe vera contains various antimicrobial and anti inflammatory nutrients which helps in enhancing the process of the healing of the epithelial tissue. This helps in reduction of stretch marks. The polysaccharides and glycoprotein present in aloe vera stimulates the repairing of the skin cells and also reduces pain of any kind. Aloe vera is packed with numerous enzymes, nutrients, amino acids, minerals and vitamins which are helpful in the treatment of various beauty and health problems, apart from reducing stretch marks.
The aloe gel penetrates into the skin and nourishes it. It repairs the damaged cells and rejuvenates the skin, which eventually reduces stretch lines. It consists of natural anti oxidants that enhances the generation of new cells and reduces stretch marks.
How to use Aloe Vera for Stretch Marks
1. Coffee and Aloe Vera for Stretch Marks
Mix together 1 tablespoon of freshly ground coffee and 2 tablespoon of fresh aloe gel.
Make a fine paste.
Clean the area where you have the stretch marks and pat it dry.
Apply the paste on the affected area and let it rest for at least 30 minutes.
Remove the paste with a towel and wipe it with lukewarm water and pat it dry.
After this apply olive oil to that area or a herbal moisturizer to let the nutrients of coffee and aloe to sink in.
Continue this process for about a moth to see best result.
You can repeat this method at least twice daily.
2. Cocoa Butter and Aloe Vera for Stretch Marks
The steps for this method need to be followed carefully and regularly.
Firstly wash the region where you have stretch marks with lukewarm water and gently dry it.
Apply the freshly extracted aloe gel on the stretched area and leave till lunch time.
During lunch time, massage 1 tablespoon of cocoa butter on the area where you had applied aloe gel and leave it.
At night, before you go to sleep, apply I teaspoon of tea tree oil on the same area and gently massage it.
Rinse off the whole area the next morning with lukewarm water.
This method must be repeated daily.
3. Olive oil and Aloe Vera Gel for Stretch Marks
Mix together 3 tablespoon of freshly squeezed aloe vera gel and 1 tablespoon of extra virgin olive oil.
Make a smooth paste.
Clean the area where you have the stretch marks and pat it dry.
Gently massage the pack on the area till it is completely absorbed by the skin.
It is best if you do this at night as you need to let it rest on your skin overnight for best results.
You need to repeat thus process daily.
4. Vitamin E oil and Aloe Vera for Stretch Marks
Mix together ½ cup of aloe vera gel along with the oil from 10 to 11 vitamin E oil capsules and ½ cup of extra virgin olive oil.
Clean the area where you have the stretch marks and pat it dry.
Stir the mixture and gently massage it on the affected area till it is soaked in by the skin.
Let it rest for 30 minutes and wash it off with lukewarm water.
This must be followed once daily for best results.
One must remember that stretch marks do not fade away completely but they minimize to a great extent if treated at the earliest. It is best to apply these methods at the earliest if you notice stretch marks on your skin. Another important factor is that you must ensure that you are not allergic to any of the ingredients used as it will cause unnecessary irritation of the skin.
Best Stretch Mark Creams
You Might Also Like:
Image:- 1