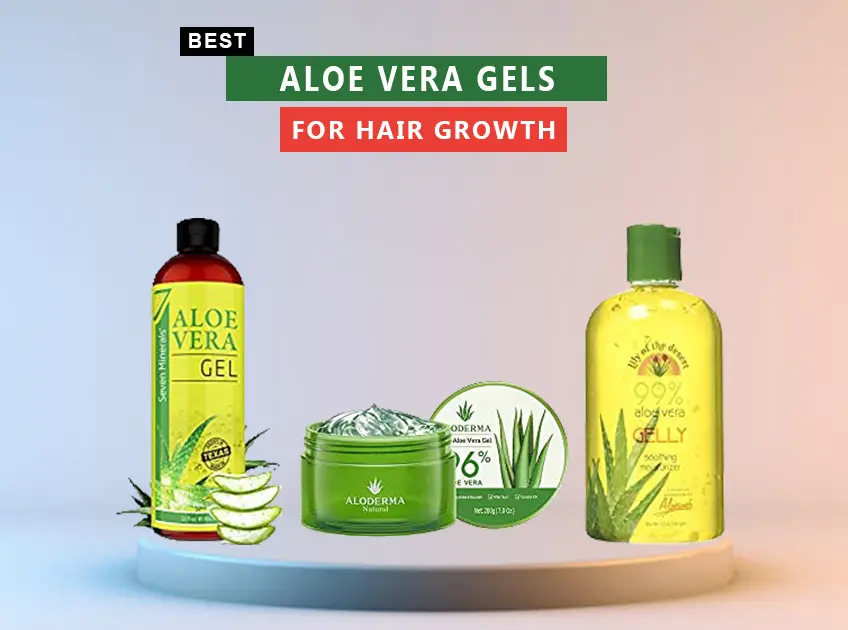 Symbolizing beauty, healing, and protection, Aloe Vera is a magical plant for many good reasons. It has been used medicinally for the past many years and as the beauty staple of grandmothers.
Aloe vera contributes tremendously to hair health and is infused with many active ingredients and minerals. It comprises fatty acids and amino acids. Also, rich in vitamins A, B12, C, and E- everything that plays a part in healthy hair follicles.
Aloe Vera Gels
According to dermatologists, the best Aloe Vera gel for hair growth is the one enriched with 100% organic and plant-based ingredients. When you're checking the ingredients, followed by other plant-based components.
7 Best Aloe Vera Gel for Hair Growth
1. Tried and Tested Aloe Vera Gel for Hair: Seven Minerals Store Organic Aloe Vera Gel
Consists of pure aloe from freshly cut plants
Absorbs quickly, leaving no sticky residue on hair
Contains 100% natural thickener Seaweed Extract
Repair and soothe hair strands, making them healthy, shiny, and lustrous
What we don't like: It contains citric and ascorbic acids as preservatives. Even though these chemicals do not harm hair, the product is not completely chemical-free.
[ Read: 5 Easy Homemade Hair Rinse Recipes for Silky and Shiny Hair ]
2. Bring Intense Shine and Repair: Lily of the Desert Topical Aloe Vera Gel
Contains 99% organically-grown, chemical-free aloe vera
Meets the International Aloe Science Council's certification standards for the quality and purity
Free of parabens, artificial colors, or added water
Can be used as a leave-in conditioner after the shower
What we don't like: It consists of alcohol and ascorbic acid, so performing a patch test is essential if you are using it for the skin.
[ Read: Benefits Of Using Aloe Vera For Skin Care & Hair ]
3. Enriched with Pleasing Aroma: Rahua Aloe Vera Hair Gel
Lightweight gel with anti-inflammatory ingredients to help soothe the scalp and leave the hair soft and flexible
Consists of soothing ingredients like cucumber and rainforest-grown antioxidants like guayusa, rahua, and sacha inchi oil
Promotes shine and healthy hair for all hair types
Made strictly for hair
What we don't like: It is an expensive aloe vera gel for hair growth and contains citric acid. So, if you have sensitivity issues, perform a patch test.
[ Read: 16 Effective Tips For Healthy Hair ]
4. Aloe Vera Gel with No Acidic Content: ALODERMA Organic Pure Aloe Vera Gel
Contains 96% USDA organic aloe vera that's been hand-harvested and processed within 12 hours of collection
Can be used on wet hair as a gel or leave-in conditioner or mixed with other ingredients for a DIY hair mask
Free of aloe powder concentrate, parabens, mineral oil, GMOs, hormones, sulfates, or acids
What we don't like: According to a few reviews, the consistency of ALODERMA Organic Pure Aloe Vera Gel is thin. Since it lacks additives, it is obvious to have such consistency.
5. Most Organic Aloe Vera for Hair: NaturSense Organic Aloe Vera Gel
Contains 99.75% organic, cold-pressed, filtered aloe vera
Certified USDA organic, vegan and cruelty-free product
Can be used as a light styling gel or nourish hair by applying it to wet strands from root to end and rinsing after five minutes
Comes in an easy-to-dispense pump bottle
What we don't like: The presence of citric acid and ascorbic acid as a preservative is the only downside of this aloe vera gel.
6. Multipurpose Aloe Vera Gel: Fruit of the Earth Aloe vera
Non-oily formula with no added colors, fragrances, alcohol, or acids
Contains 97 to 98% aloe vera
Comes in a travel-friendly size so that you can carry it anywhere
Good for hair as well as skin
What we don't like: Even though the package reads "100% gel," the actual percentage of aloe vera is lower.
[ Read: 10 Best Homemade Hair Masks for Hair Fall Control ]
7. Gel Loaded with Plant Extracts: Honeyskin Organic Aloe Vera Gel
Infused with Manuka honey for extra shine and moisture
Also contains apple stem cells to help stimulate skin renewal
The non-greasy formula locks in moisture and deeply hydrates the strands
Free of mineral oils, sulfates, SLS and SLES, phthalates, parabens, formaldehyde, or artificial fragrances
What we don't like: The percentage of aloe vera is only 86, which is lower than many other gels. 
Conclusion
Aloe vera is a holy grail for hair only when you use the right product. If the gel contains ingredients harmful to hair, using gel won't be of any use. So, make the right choice from our hand-picked aloe vera gel for hair growth and get luscious locks.
You Might Also Like: