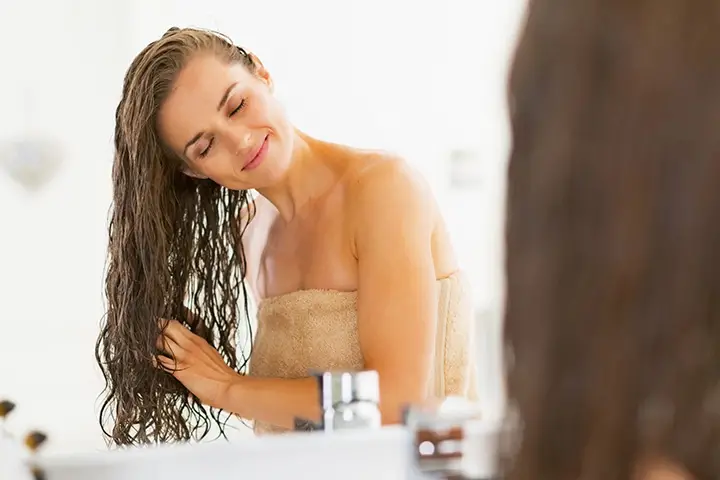 Have you ever tried any product for shining your hair, leave all those apart and just try the below homemade remedies to prepare your hair more lustrous and with shiny curls. All time suggested products are always from mother nature rather than cosmetic stuff. We introduce 5 home made hair rinses for good looking hair with extra shine. Not only about the hair rinsing remedies, there's little clarifying message on how to practice hair rinses.
1. Apple Cider Vinegar Hair Rinse
A Lot of times the best and most effective beauty products sit in the front row, but for healthy and shiny hair the finest solution would be apple vinegar rinse.
This magical gift is from our mother nature which also gives beneficial outcomes. Apple vinegar actually balances the pH levels in the scalp.
Due to the environment, pollution, product usage, styling and other external forces. Hair becomes frizzy, dull and lifeless that usually results in being too alkaline. That's where apple vinegar rinse comes into the picture and works amazingly and enhances quality of shining.
Process:
Take 2 tbsp of apple vinegar.
Add 5 tbsp of water to dilute the solution. If applied directly it may irritate your scalp and lead to mild burns.
Add scented oils, if desired
Massage the scalp and leave for 5 mins.
Later wash hair with cool water and then conditioner.
[ Recommended: Egg Yolk for Hair: Benefits and How to Use It ]
2. Black Tea Hair Rinse
Black tea is known for its wide nutritional values, which are also helpful in healthy hair care treatments. They mostly contain tannins and caffeine that improves hair color and brightens shiny hair.
As black tea is rich in antioxidants , it supports in boosting hair growth and undoubtedly works on cell damaging compounds. In fact black tea improves the porosity of hair strands for better hair growth.
Process:
Take 3 to 4 black tea bags in 2 cups of boiling water.
Let them set for 45 min and add to spray bottle
Have a hair wash, before using black tea rinse.
Spray liberal amount of black tea rinse onto the scalp.
Massage it gently and wait for 30-60mins.
Rinse your hair with cool water and condition it.
[ Recommended: Homemade Hair Masks For Damaged Hair ]
3. Beer Hair Rinse:
" Beer for hair " might sound strange right ! The powerful weapon to improve the shine is hidden in this hair. The weapon is silica present in it, which strengthens the roots of hair and adds glossy look. It also relieves stress which in turn helps in prevention of hair loss.
Decarbonated beers are used as conditioners in repair of hair damage and rejuvenates hair volume. This is counted as an unusual treatment for hair care. But this home made remedy claims to give softer, lustrous hair size. Hair washing regimen says that it does improve the quality of healthy hair.
Process:
Take a bottle of beer ,pour it in a bowl or jug.
Leave it until it's decarbonated or turns flat.
Pour the beer directly onto the scalp and massage gently into the roots for 2 min.
Rinse the beer with cool water and condition your hair as usual.
[ Recommended: Home Remedies For Dry Itchy Scalp ]
4. Rosemary and Lavender Hair Rinse
Rosemary is one of the favorite ingredients for many in improving beauty hacks, specially related to hair. It is both cleanser and groomer of hair which gives the soft texture. Hearing many complaints of gray hair has become a part of concern. No worries, rosemary works miraculously for gray hair and darkens the color of hair above.
Lavender's fragrance is so awesome, the same as rosemary, that gives a heavenly feel and refreshes our inner souls. Antibacterial properties of lavender are helpful in prevention of dandruff.
All the qualities of rosemary and lavender proves to give the best quality of hair shafts from the depth of the roots.
Process:
Take ½ cup of dried rosemary
½ cup of dried lavender
4 cups of water.
Take a bowl, pour water and heat until bubbles appear.
Add rosemary and lavender and mix well
Let it cool for 2 to 4 hours
Apply the mixture on the scalp after it turns to caramel brownish color.
Wash after an hour with warm water and then shampoo it.
5. Rice Water Hair Rinse
Rice water has been used as a Hair treatment for shining hair for many centuries. It has so many medicinal properties as it has 70 to 80 percent of starch. It is obtained from soaked rice grains or cooked rice. Hair becomes soft , smooth and shiny after using this rinse.
Some researchers in Japan say that after having a rice water bath hair grew so long that it reached the floor length. Organically rice water is a natural home remedy for incredible shine in hair strands and helps in stronger and longer growth. This rice water rinse is a must for glossier hair look to this younger generation.
Process:
Take ½ cup of raw rice and rinse completely.
Place rice in a bowl.
Add 2 to 3 cups of water.
Soak it for 30 mins.
Strain the rice in a clean bowl.
Apply the rice water to your scalp and leave it for 15 to 20 min
Cover it with shower cap
Wash it with warm water and then shampoo it.
All the above hair rinsing remedies are natural and homemade. Can give out a try for shining hair and let the world see the beauty of hair. To suggest others these are the best picked rinses. Do follow us for more useful contents like this.
Recommended Topics