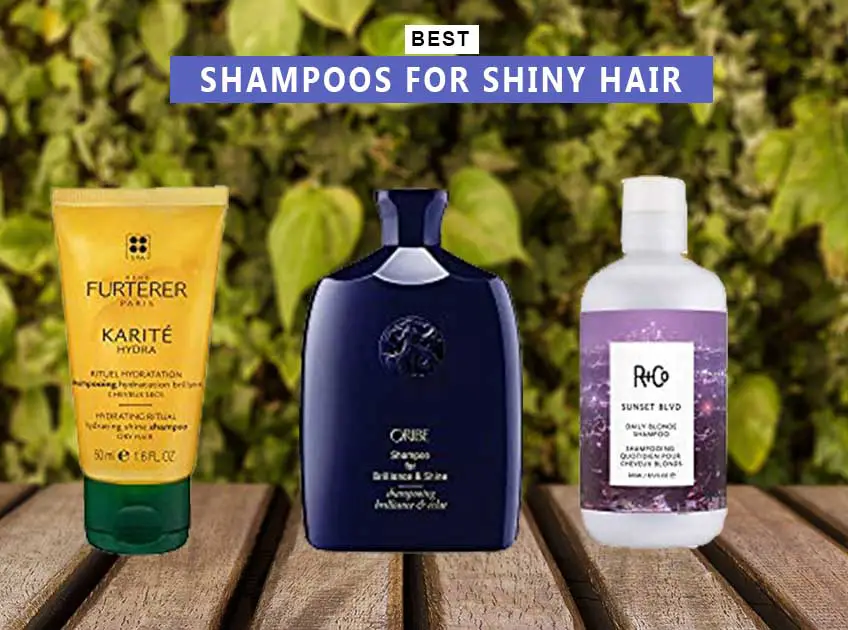 If someone would ask you if you crave for healthy and shiny hair, we are sure that your answer will be "Hell yes!". Rough and dry hair is a common challenge these days. We all have faced this concern at some point in our lives.
Excessively dry hair even causes hair fall, split ends, and frizz, which might even be irreparable. It is a consequence of hectic lifestyles, pollution, and sun exposure. It is always better to act now when there's still time left. Some hair types and people who live in excessively hot regions are more prone to rough hair.
Shiny Hair
But, nothing to worry about, it is quite easy to get healthier and shinier hair just by choosing the best shampoo. A great shampoo provides the needed moisturization and nutrients to your hair. We would suggest you try a few shampoos before deciding on which one works the best for you based on your hair type.
You can reverse the damage caused by environmental factors by using these shampoos. Perseverance is the key here, just make sure to continue using your choice of shampoo from our picks of best shampoos for shiny hair and stick to a healthier lifestyle.
7 Best Shampoos for Shiny Hair
1. Sulfate free – DERMA E Restoring Shampoo Volume & Shine
Contains natural nutrients that increase volume and lustre while cleansing, leaving hair exceptionally beautiful, shiny, and healthy-looking.
balances oil without stripping the hair and stimulates hair follicles.
Gentle enough to be used on a daily basis.
Safe for colored hair. Contains no sulphates or silicone.
What We Don't Like: Could dry the hair out.
2. Best For Restoring Hair: Rene furterer hydrating shine shampoo
Gives dry hair great hydration with shea extract, a legendary active component of natural origin.
Ensures that the scalp and hair are properly rehydrated, nourished, and protected.
Its light-weight composition with subtle aroma will not burden the hair down. It creates a creamy lather and helps in delicate detangling.
The hair is left weightlessly hydrated, safeguarded, supple, shiny, and simple to style.
What We Don't Like: Not very user-friendly packaging.
3. Clarifying Shampoo: Neutrogena Exfoliating Healthy Scalp Clarify & Shine Shampoo
This clarifying shampoo, which is designed specifically for oily hair and scalp but works well on all hair types, including straight, wavy, and curly hair.
Helps gently exfoliate residue and build-up to encourage a healthier scalp and hair.
This mixture gives hair shine and functions as a natural exfoliator.
Free of sulfated surfactants, parabens, phthalates, SLS, and SLES.
What We Don't Like: A little bit expensive than others.
[ Read: 5 Best Sulfate Free Clarifying Shampoo ]
4. Color safe formula: Schwarzkopf Professional Bonacure pH 4.5 Color Freeze Sulfate Free Micellar Shampoo
The pH level of your hair is controlled by this sulfate-free shampoo for colored hair, which also freezes the colour pigments.
This guarantees shiny, smooth hair and up to 90% color retention.
It not only gently cleanses your hair but also shields it from UV radiation.
With its Sulfate-Free technology, colour fading is actively avoided while mild tensides are used to bring the hair's pH to its ideal level of 4.5.
What We Don't Like: None.
5. For UV Protection: Oribe Shampoo for Brilliance & Shine
Your hair gets a long-lasting sheen and sophisticated shine from the Oribe Shampoo For Brilliance & Shine.
Gives the hair the ideal amount of shine without weighing it down.
The shampoo is made without abrasive substances like sodium chloride or parabens. It is dermatologist tested as well.
Provides UV shielding. Safe for Keratin and color-treated hair.
What We Don't Like: Expensive for some users.
6. Best for defining curls: Moroccanoil Curl Enhancing Shampoo
Gently cleans curls to expose healthier-looking ones. helps protect and strengthen hair without adding weight.
It is a mild shampoo that gives curly hair back its elasticity, shine, and manageability.
Softer, smoother curls with more definition and less frizz are encouraged by this rich, highly concentrated shampoo.
Contains combination of hydrolyzed vegetable protein and Abyssinian oil that strengthens and protects hair and makes curly hair bouncy.
What We Don't Like: The smell is strong.
[ Read: 7 Best Shampoos for Hair Smoothening ]
7. Good for brassy tones: r+co sunset blvd daily blonde shampoo
Contains glycerin, which aids in keeping the hair's optimum moisture levels.
Without any brassy tones, this shampoo makes grey hair incredibly silver and blonde hair even brighter.
Contains nutrient- and vitamin-rich sunflower sprout extract. It serves as an emollient, wrapping moisture in the hair.
It shields hair against sun's UV light.
What We Don't Like: Could dry the hair out.
Conclusion:
Check the ingredients and be aware of the state of your scalp when looking to purchase a shampoo for a specific use. By doing this, you will be able to protect yourself from the possibility of allergic reactions or other product side effects.
You Might Also Like: