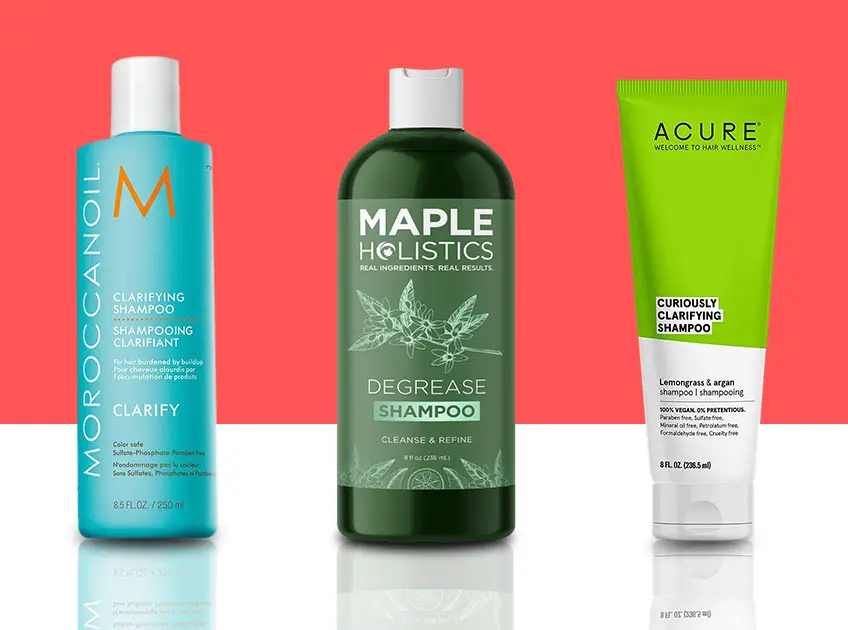 If you wish to give your scalp and hair a wonderful deep cleanse and find difficulty in figuring out the right best sulfate-free clarifying shampoo, then this article is for you.
What Does A Sulfate-free Clarifying Shampoo Do?
You all know how important it is to cleanse your hair and scalp regularly. Likewise, deep cleansing of your hair and scalp is also significantly essential to eliminate any residual build-ups. Although you wash your hair thoroughly, there is always a certain amount of product that is left behind on your scalp and hair shaft thus making it appear dull and lifeless. Here comes a sulfate-free clarifying shampoo that provides a deep cleansing therapy for your hair.
A clarifying shampoo assists in eliminating any dirt, excess sebum, remnants of hard or chlorinated water, environmental pollutants, minerals, product build-ups, and much more residuals from your scalp and hair. If you feel that your locks want to get away from dullness and excess buildup, then a sulfate-free clarifying shampoo works amazingly. It leaves your mane feeling oil-free, fresh, soft, and light.
Basic Advantages Of Sulfate-free Clarifying Shampoo
Besides removing any impurities and build-up from your hair and scalp, these sulfate-free clarifying shampoos possess the following advantages
Avert Sebum Reduction: As your scalp produces the sebum naturally, a sulfate-free clarifying shampoo assists in protecting your hair from the excess loss of sebum.
Provides Frizz-free Hair: Since sulfate-free clarifying shampoo is developed with natural and essential oils, it helps combat hair frizz. These oils secure your curly locks, granting them shine, bounce, and health.
Contains No Harsh Sulfates: These shampoos do not contain any harsh ingredients like ammonia laureth sulfate, sodium lauryl sulfate as overuse of sulfates may lead to scalp irritation, reduce natural oils, and fade hair color.
Works Safely On Color-treated Hair: Generally sulfate-free shampoos protect the colored hair and make the color last longer. They can also remove product residue or build-up without fading the color
5 Best Sulfate-Free Clarifying Shampoos
Scroll down to get to know some of the best sulfate-free clarifying shampoo
1. Moroccan Oil Clarifying Shampoo
If your hair is dry and thin, then Moroccanoil clarifying shampoo is your absolute bet as it rejuvenates, nurtures, and regenerates your limp, dull hair. This moisturizing clarifying shampoo is infused with the goodness of avocado oil, jojoba extracts, argan oil, lavender, and chamomile. The oleic and linoleic acids rich in avocado and argan oil protects your lifeless hair and seal in the moisture while jojoba, lavender, and chamomile aid in nourishing your hair deeply and keep them light. Moreover, this sulfate-free shampoo cleanses all the build-up from your hair which is caused due to hard water, dirt, oil, chlorine, mineral deposits, and other contaminants.
Pros
Free of sulfates, parabens, and phosphates
Pleasant smell
Provides softened and frizz-free hair
Maintains the pH balance of the scalp
Cons
2. Maple Holistics Degrease Moisture Control Shampoo
The all-natural formulation of this shampoo contains the right blend of essential oils for cleansing your hair follicles. Its exclusive degreasing formula can help get rid of oils, dirt, and greasiness. This shampoo contains a great combination of vital oils such as jojoba oil to control excess sebum production and cleans your pores, lemon, and basil oil to help clean your hair and scalp and reduce dandruff as well. Meanwhile rosemary, lemon, and cypress essential oils in this shampoo hold the antimicrobial and antiseptic properties that replenish your hair strands and combat scalp infections. The Maple Holistics Degrease Moisture Control Shampoo not only cleanses and clarifies your scalp but also reduces the scalp build-up and restores the pH balance.
Pros
Sulfate-free, paraben-free
Silicone-free, and cruelty-free
Improves hair growth
Long-lasting effect
Color-safe
Cons
3. Love Beauty and Planet Clarifying Sulfate-free Shampoo
This shampoo includes the goodness of bamboo charcoal and natural coconut oil which detoxifies your hair and scalp and restores the moisture and keeps your hair strands strong. It also contains organically derived bergamot essential oil that delivers a zesty and rejuvenating fragrance. Meanwhile, The Love and Beauty Planet Clarifying Sulfate-free Shampoo has a vegan formula that is safe to use for all hair types.
Pros
Free from phthalates, silicons, and dyes
Sulfate-free
Cruelty-free
Color safe
Applicable for all hair types
Pleasant aroma
Cons
4. Nothing But Clarifying Shampoo
Suitable for all hair types including color-treated hair, this sulfate-free shampoo is effective in eliminating mineral build-ups from your scalp. Nothing But Clarifying shampoo's gentle cleansing effect aids in reducing excess oils, residue, product build-up, and deep-seated pollutants from your hair strands and follicles. If you are a passionate swimmer, try using this shampoo to eradicate the chlorine build-up safely and effectively. You can even opt for this shampoo after hospital use to remove the residual anesthesia and medicated buildup. Further, its sulfate-free formula is suitable for coily, frizzy, and curly hair also making your hair shinier.
Pros
Petroleum-free
Let your hair feel soft
Free of petroleum, parabens, phthalates
Mineral oil-free
Color safe
Cons
May not fit for extremely dry hair
5. Acure Curiously Clarifying Shampoo
The Acure Curiously Clarifying Shampoo is packed with the powerful organic extracts which include lemongrass, pomegranate, calendula, and argan oil. This clarifying shampoo is efficient in removing the dirt and excess oil from your scalp. Since it is enriched with natural ingredients, it ensures that your hair is not left dry. Not only that, Its sulfate-free formulation wonderfully works on your oily scalp and delivers light and soft hair. Also, it does not weigh down your hair strands. Most of all, this powerful shampoo is free of petroleum, parabens, mineral oil, formaldehyde, and sulfates.
Pros
Suitable for all hair types
Cruelty-free
Vegan
Paraffin-free
Leaves your hair soft
Nice fragrance
Cons
Conclusion
As clarifying shampoos are designed for providing deeper cleansing effect on your scalp and hair, use them wisely to eradicate the build-ups. Sulfate-free clarifying shampoos soften your hair and keep them hydrated.
You Might Also Like: