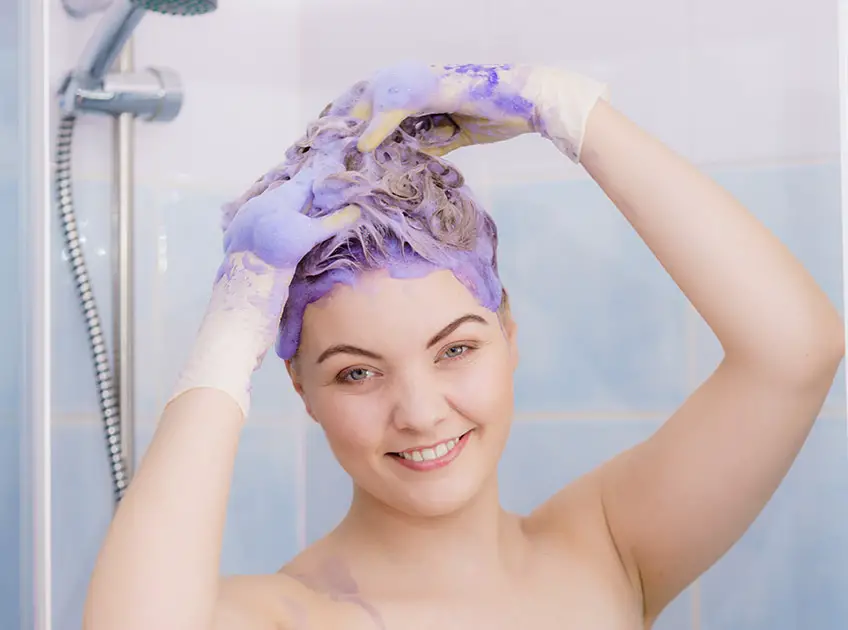 Are you worried about choosing the sulfate-free purple shampoo for your gorgeous loving blonde hair? Then have a look at this article as it proposes some best sulfate-free purple shampoos available in the market. The blonde haired people should theoretically look for shampoos without sulfate as it helps to maintain the natural color of your hair. Compiled with unique pigments, these shampoos are different from ordinary ones and help prevent fading or discoloration of your blonde hair.
7 Best Sulfate Free Purple Shampoo
1. Bold Uniq Purple Shampoo
Bold Uniq purple shampoo is a high standard liquid shampoo that enhances your blonde hair. Recommended by hairdressers, this purple colored shampoo eliminates the occurrence of yellow or brassy tones in blonde, platinum, and silver shades of hair. This pigmented shampoo is rich in pro-vitamin B5 that smoothens and promotes the shine of your color treated hair. In addition, it has UV filters for protecting your blonde hair against damage and provides the desired results within a shorter time frame of 6-8 washes.
Pros
Sulfate-free and paraben-free
PETA approved product
Equipped with UV filters to protect against damage
Minimizes fading and discoloration
Cons
2. Moroccanoil Blonde Perfecting Sulfate-free Purple Shampoo
Blonde Perfecting Sulfate-free purple shampoo from the brand Moroccanoil is formulated with dynamic pigments to repair brassy or yellow and orange tones. This color treating shampoo neutralizes brassiness and gently cleanses, hydrates, and nurtures your hair leaving no stain or residue on grey or lightened hair. This purple shampoo is best suited for blondes, lightened brunettes, and white or grey hair. It intensifies the depth of your hair color and comes with ArganID technology that aids in sealing your hair cuticles and provides enhanced shine as well.
Pros
Free from parabens and sulfates
Increases the depth of the hair color
Has a nice smell of Moroccan oil and prevents dryness
Cons
It could cause a little frizz
3. Luseta Color Brightening Purple Shampoo
A 100% vegan, cruelty-free, protein-rich, and sulfate-free formula of color brightening purple shampoo by Luseta will nourish your hair in a great way. It negates brassy or yellow hues in blonde and dull yellow tints in gray hair. Because it is produced with coconut extracts, it serves as a deep moisturizing agent, fixing brittle and damaged hair strands. Additionally, it works gently on color and keratin-treated hair boosting its shine and healthy hair growth.
Pros
Enhances shine
Contains no harsh chemicals
Includes vitamin E to assist in healthy hair growth
Eliminates the split ends
Gentle over color and keratin treated hair
Cons
May not be suitable to people who are susceptible to strong odors
4. Redken Color Extend Blondage Purple Shampoo
Here is a purple shampoo without sulfate that battles against brassiness and intensifies your blonde. This perfect vegan shampoo helps you to get rid of yellow or brassy undertones and attain brightened blonde hair. This shampoo by Redken proves to be one of the best purple shampoos because it encourages a better hair elasticity by preventing thinning of your hair. Plus, it contains a triple acid protein complex and citric acid that can repair your damaged follicles and strengthens your hair strands, and also adds volume and shine to it.
Pros
Perfect for white, gray, and silver hair
Boosts healthy hair growth
Cruelty-free and sulfate-free
Includes triple acid protein complex
Has citric acid to fix the damaged follicles
Cons
It is not fit for daily use
[ Read: 7 Best Purple Shampoos For Silver Hair ]
5. Pureology Strength Cure Best Blonde Shampoo
Look out for this purple shampoo which has a number of advantages for your blonde tresses. It cleanses, hydrates, and replenishes your color treated hair with its intense purple toned shade. Moreover, this sulfate and paraben-free shampoo contains an anti-fade formula that helps to keep the color. An over treated hair may turn brittle and flimsy that leading to breakage. You can use this strength cure blonde correcting shampoo to enhance the shine, color, and volume of your hair.
Pros
Anti-fading formula
Free of sulfates and parabens
Repairs the brassy hair
Vegan
Color shielding factor
Cons
6. Kevin Murphy Blonde Angel Wash
This sulfate-free purple shampoo overflows with tropical and ethnic botanicals and florals to help strengthen your hair while improving the scalp health as well. In addition to this, Its optical brighteners recover your dulled colored hair and restore its shine as well as refreshing your blonde tones. The ingredients of this lavender infused, color enhancing shampoo includes mango seed butter for fatty acids, sunflower seed extracts for antioxidants, and jojoba oil for conditioning.
Pros
Ideal for bleached hair
100% vegan
Highly moisturizing
Neutralizes brassy or yellow shades
Amazing fragrance
Cons
Available only as smaller size bottles
7. Maple Holistics Purple Shampoo For Blonde Hair
Seeking a purple shampoo that fits all types of color hair? Then just say hello to this organic purple shampoo which is developed by Maple Holistics. It assists in getting rid of undesirable yellow, orange and brassy undertones. Infused with botanical keratin and jojoba oil, this liquid color-correcting shampoo brightens your blonde, deals with discoloration and fading, and further prevents dryness and brittleness. Apart from this, its sulfate and paraben-free formulation is suitable for both men and women.
Pros
Removes flakes and product build-up
Vegan and cruelty-free
Moistures the scalp
Repairs damaged follicles
Promotes hair growth
Cons
Conclusion
Your beautiful blonde tresses look stylish and sassy but simply require special treatment and care. A purple shampoo assists in preventing your much cherished blonde hair from losing its shine and brilliance. Use best suited sulfate free purple shampoo for your blonde, white, ashy, and grey hair to get rid of discoloration and yellow or brassy tone.
You Might Also Like: