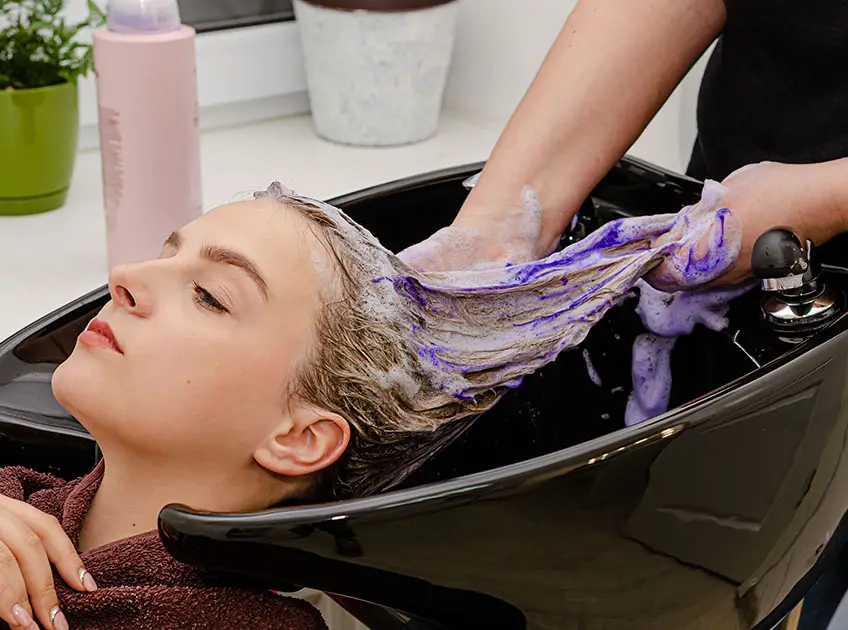 If you have blonde or bleached hair, then you probably have an idea of purple shampoo. Purple shampoos are general shampoos that are specially designed to take away yellow or brassy tones from blonde hair. It highly helps to neutralize the brassiness and reintroduce the blonde color to the hair. While using purple shampoo, you should keep in mind that, it should leave on hair for a longer time. This mistake is usually done by most people, as a result, hair will get stained purple. This can be a frustrating one because it is quite difficult to get the hair color out. In this guide, you may get clear-cut information on how to remove purple stains on hair, best tips, and interesting tricks.
Purple Shampoo Out Of Your Hair
The Reason Behind Turning Hair Purple
Most of the shampoos are very pigmented including the purple shampoos. The professional shampoo has a balanced amount of product along with pigment. However, shampoos which are bought from drugstores may contain more dye than a requirement, which will cause hair to change different colors. Shampoo that contains a purple pigment can neutralize brassy and yellow tones. When neutralizing your hair it allows the hair to sustain some purple dye. It will completely go out once the shampoo moves from the hair. The color can be pastel purple, pastel, light blue, or bright purple. But this effect has not been seen in professional purple shampoos and it is common when purchasing shampoos from drugstores.
Some Useful Tips To Remove Purple Stains From Hair
If you are trying to bring out shampoo stains from the hair, there are plenty of ways to do it.
1. Use Sulfate Or Ph-balanced Shampoo: The fastest and easiest way to take out purple stains from purple shampoo out of the hair is to have sulfate or pH-balanced shampoo. You may know it, sulfates are not good for hair and that is true too. They can dry out the hair if you have thin or fine hair. But, they work if you require a deep cleaning agent. Sulfate shampoo is easily available in the market and one needs to purchase the one which suits your the best. After using this sulfate you have to condition your hair to protect against excess drying out.
2. Get Help From Clarifying Shampoo: A clarifying shampoo is one of the best ways to give the hair and scalp a very deep clean. Sulfates are said to be a strong cleaning agent, but clarifying shampoo gives an even deeper clean. It has a distinctive formula that attracts oils and dirt. For those with thin, delicate, or fine hair, use this shampoo as half of the recommended amount.
3. Think To Have Dandruff Shampoo: Dandruff shampoo is another guidance which is quite easy to access and also safely keeps your scalp. It works from the roots and removes dead skin or dandruff if any. In addition, it works superbly on unwanted stains and colors. Only thing is, it is not much faster than clarifying shampoos, you have to work more than one time a day if you are trying to get the purple color stain out.
4. Better To Use Baking Soda: Baking soda acts as the best home's versatile cleaning supply and also it is a natural one. If you think of getting rid of the purple color without using any chemical product means, you can choose baking soda to do the work for you. In order to use baking soda, mix it with the regular shampoo but it should not be purple shampoo. Then wash your hair normally with water and condition the hair well. Baking soda will naturally take out the color of hair within a few washes and in a few days.
5. Use Dish Soap And Lemon Juice: For you, it may seem very strange, but lemon with dish soap combination renders you a great result on purple stains. Dish soap is good at pulling out the products and oils. In addition, it will strip the hair entirely clean. Lemon has the power to take extra color from the hair. First, wash with dish soap and rinse it thoroughly. Later spray or coat with lemon juice to the purple section of the hair and stay for a few minutes. Lastly, condition your hair without fail
Conclusion
Even though using purple shampoo renders you some benefits, it leaves a purple stain on your hair and makes you worry. Always check the reason before using this type of shampoo. Washing the hair and conditioning it regularly will assist to take away the purple shades. But the truth is, the stains are not a permanent one, hoping that you will be glad when hearing this. Keep the methods and tips in mind that are shared in this article.
You Might Also Like: