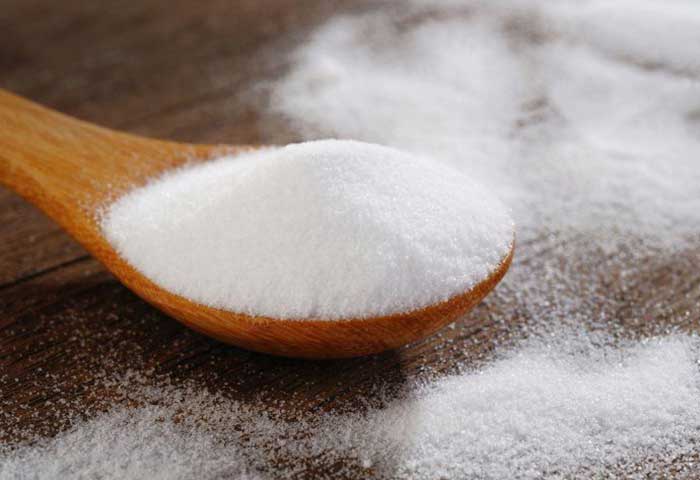 The chemical name for Baking soda is sodium bicarbonate. The natural form of baking soda is termed as nahcolite, which belongs to the Natron family. Natron has high amounts of sodium bicarbonate in it. Baking soda is aluminium free and is hence used as an ingredient in many cuisines. It reacts when it is mixed with acid. It bubbles up and releases carbon dioxide. This property of baking soda makes it possible for the dough to rise up.
Baking Soda Uses and Benefits
1. Natural Deodorant
Hate that body odor of yours? Are you forced to apply the chemical oriented deodorants and antiperspirants?  Well, there is a solution to deal with it. Baking soda has been effective in dealing with body odor.
Take ½ teaspoon of baking soda in a bowl.
Add a drop of water to it.
Make paste and apply on your armpits.
The body odor will vanish.
You can also apply baking soda in the powdery form rather than making a paste of it. It will save your time and effort. This can be applied on regular basis and is harmless. Keep a check on the quantity of baking soda. Wash it off immediately if you are allergic to it.
2. Treats Insect Bites
If you have been bitten by an insect and is suffering from severe itching, baking soda can be an instant solution to it.
ake a pinch of baking soda in a bowl.
Add a drop of water to it.
Make paste and apply on the affected area.
You will immediately get relieved as baking powder will neutralize the toxins.
3. Treats Poison Ivy
Apply baking soda powder on the affected area. The Poison Ivy problem will soon be treated. The skin will be free from irritation and itching.
4. Treats Heartburn and Ulcer
There are stomach acids that leads to heartburn and ulcer. Baking soda is said to counter attack these acids and neutralize them. This helps in digestion and treats stomach ulcer as well. Do not make it as habit to take baking soda on regular basis. In case of severe issues, consult a doctor.
Take ½ half glass of water.
Add ½ teaspoon of baking soda to it.
Stir it well.
Drink it.
Repeat it after every 2 hours.
Limit it to 3 and ½ spoons of baking soda in total.
5. Pedicure Ingredient
Why go to parlor every time for pedicure when it can be done at home? Baking soda is a great exfoliator. Take a bucket of warm water. Add 3 teaspoons of baking soda to it apart from the other ingredients to it. Soak your feet into it for few hours. It will work as an exfoliator to your skin.
6. Relaxing Soak
If you are looking to relax and rejuvenate your cells, here is the remedy for you. Fill the bathtub with water. Add baking soda and apple cider vinegar to it. Relax yourself in the bathtub for few hours. You will feel energetic. This will also clean the drain, isn't that a great advantage?
7. Hand Cleanser
The hands are exposed to dirt and infections as we tend to touch many objects during our regular activities.
Take three parts of baking soda and mix it with 1 part of water.
Use it as a hand cleanser.
It will take away the dirt as well as the dead cells.
8. Sunburn Remedy
If you are troubled by sunburn, baking soda will cure you.
Take 1 teaspoon of baking soda.
Add few drops of water to it.
Apply on the sunburn affected area.
Allow it to dry.
Wash it off with cold water.
Repeat it thrice a week.
9. Teeth Whitener
Wish to remove those yellow stains from your teeth? Baking soda is a perfect teeth whitener. The only limitation is that you should use this remedy weekly once.
Take a strawberry and crush it.
Add a pinch of baking soda to it.
Make a paste and apply on your teeth.
Leave it for few minutes.
Rinse your teeth.
Brush using a toothpaste.
10. Enhances Sports Performance
There are soda capsules that are consumed by sports personnel to enhance their performance. It is also said to improve speed among swimmers.However, do consult your doctor before popping up these pills.
Hope this article has been useful to you. Do not use baking soda frequently as it might harm your body.  Do let us know if you are aware of the other benefits of baking soda.
You Might Also Like:
Image:- 1