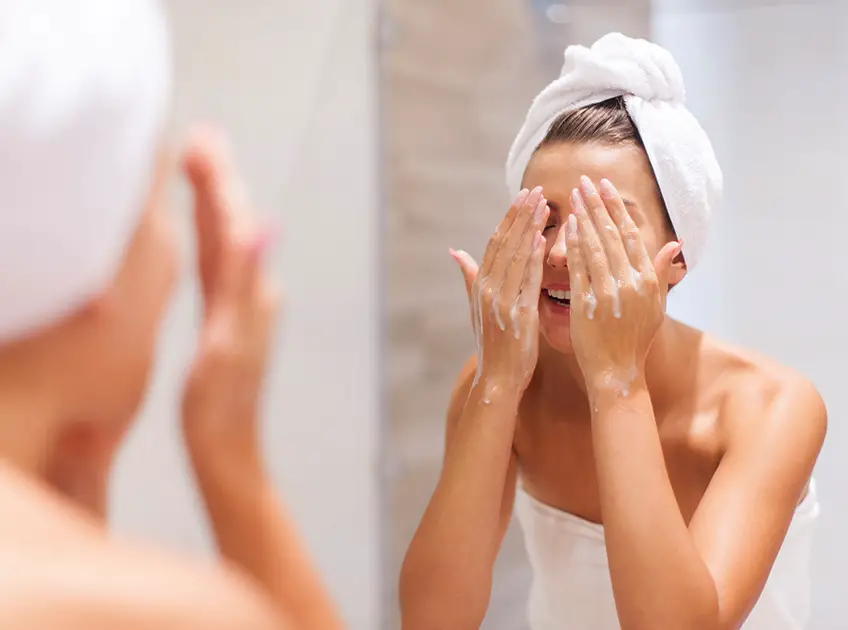 There is a wide range of face washes available in stores but not all of them perfectly suit every type of skin. So, to get a perfect face wash, you can use natural ingredients to make it at home. The best part is that they provide effective results and can be made easily. Let us see their recipes.
Homemade Face Wash Recipes for All Skin Types
1. Cucumber and Tomato Face Wash
Suitable for: Oily skin
Ingredients:
Cucumber- 1/2
Tomato- 1 small
Process of Making and Using: Grind both the ingredients to create a paste. Cleanse your skin thoroughly and then apply it. Leave it for 15 minutes and then rinse using normal water. Use a soft towel to pat dry your face and apply an oil-free moisturizer.
Benefits: Cucumber and tomato work by balancing the skin's sebum. It is gentle enough to keep the moisture intact. Tomato has lightning characteristics and cucumbers have a cooling impact. Both of them remove the dirt and greasiness of the skin.
[ Recommended: Honey Face Wash: Benefits & How to Do? ]
2. Honey Chamomile Face Wash
Suitable for: Sensitive skin
Ingredients:
Chamomile flowers- 10
Raw honey- 60 ml
Cheesecloth-1
Process of Making and Using:
Soak the Chamomile flowers in honey for a week and then strain it using a cheesecloth.
Transfer it to a clean glass jar. Apply this to your damp skin and massage it for some time.
Place a washcloth wetted using warm water, on the face for 20 seconds to let the goodness of honey and chamomile get into the skin.
Wipe the face with the same washcloth and use lukewarm water to clean the face.
End by applying a moisturizer to the skin.
Benefits: This face wash has a calming effect on the skin. Chamomile has anti-inflammatory properties that are great for irritated and sensitive skin. The toxins are removed from the skin and the skin lightens because of its astringent properties. Honey rejuvenates and repairs the damaged skin.
[ Recommended: Can You Wash Your Face With Coconut Oil & Baking Soda ]
3. Jojoba, Castor oil and Lavender oil Face Wash
Suitable for: Dry skin
Ingredients:
Equal parts of jojoba, castor and lavender oil
Process of Making and Using: Combine the same qualities of the three oils and massage for some time on your dry skin, using your fingertips. Wipe it off with a damp washcloth and then rinse with lukewarm water. This will let the oil remain on the skin for some time. End this with a light moisturizer.
Benefits: The cleansing ouls loosen and meltdown the sebum, makeup, dirt and grime on our skin.
4. Oat and Besan Face Wash
Suitable for: Combination skin
Ingredients:
Neem powder-1 tbsp
Lemon peel powder-1 tbsp
Oats powder- 10 tbsp
Besan-5 tbsp
Turmeric powder-½ tbsp
Process of Making and Using: Combine the above ingredients in a dry container. Take a small amount of this mixture on your palm and add a few drops of water to it to create a paste. Apply this on your face and massage well. Leave it for some time before rinsing it with water.
Benefits: Oat and besan act as exfoliators. The dark spots and oily skin patches on the skin lighten with the lemon peel powder. Neem has anti-bacterial characteristics which are best for treating acne.
5. Honey, Curd Face Wash
Suitable for: Normal skin
Ingredients:
Curd- 2 tsp
Organic honey -1 tsp
Olive oil- 1 tsp( optional)
Process of Making and Using: Mix curd and honey in the above proportions and apply to the face. Leave it for 2-3 minutes before rinsing with cold water. Those who have somewhat dry skin can use a teaspoon of olive oil in the mixture. In the end, apply a toner and moisturizer.
Benefits: Curd in the face work has numerous benefits such as soothing sunburn, acne prevention, tightening pores, moisturizing and making the skin tone even. Honey has antibacterial and antiseptic characteristics which are advantageous for those having acne-prone skin. Also, it is a natural humectant that keeps the skin moist rather than oily.
The face washes we have explained above are made using natural ingredients. Always use good quality products to make these face washes and use them regularly to witness the advantages.
Recommended Topics: