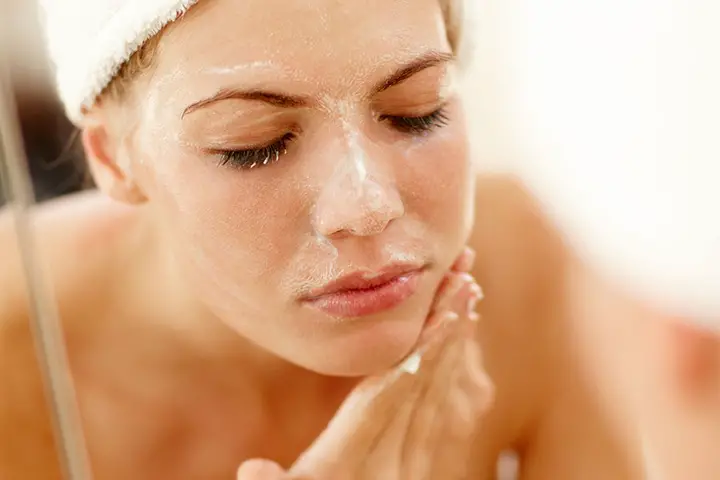 Using soap for washing the face can damage the skin. But we need to get rid of the dirt, and oil from our faces to keep the skin healthy and glowing. For this, it is essential to choose natural chemical-free products that are safe and efficient too. Read on to know more about cleaning the face without soap.
6 Natural Ways to Clean Your Face Without Soap
1. Apple Cider Vinegar
Before using this on the skin, it is better to do a patch test to ensure that it doesn't irritate the skin. This can reduce the appearance of wrinkles and fine lines. ACV exfoliates the skin and even treats the breakouts quickly.
For using this, a part of it needs to be diluted with double the amount of eater and then the solution can be applied to the skin with a cotton ball. Then the face needs to be rinsed with cool water followed by warm water to get rid of the pungent vinegar smell.
2. Sugar
It is an amazing exfoliator and cleanser. To use this, some sugar has to be mixed with water or oil and massaged on the skin in a circular motion. This has to be done gently to avoid being too harsh on the skin. Then it can be washed off.
3. Coconut oil
It is known for its anti-bacterial and anti-fungal characteristics. To use it as a skin cleanser, take some amount on the palms and massage in a circular motion on the face. Keep a warm towel on the face and wipe the oil off with it. This will keep the skin hydrated and supple.
[ Recommended: Apple Cider Vinegar Facial Toner – Benefits Use ]
4. Rosewater
It tones the skin, tightens it, and acts as an astringent agent too. Dabbing some rose water on the skin using a cotton ball will help in reducing puffiness under the eyes and give a refreshing feel.
5. Watermelon or Pomegranate Juice
This exfoliates the skin and helps in preventing tan, besides keeping the skin hydrated. Take some watermelon and rub it on the face. Wash it off after leaving for 20 minutes.
Pomegranate has anti-aging characteristics which remove skin tan and cleanse the skin. When mixed with chilled milk, it forms a scrub that removes all dirt easily in a few minutes. After applying this, it can be washed with cold water and patted dry.
6. Oatmeal
Just like this is a great option for breakfast, it is perfect for skin too. It acts as a natural exfoliator when massaged on the skin gently. Some whole oats ground and stored can be handy for this. The paste can be made by mixing it with little water. Some wheat germ, cornmeal, or rice powder can also be mixed with it.
The best part of using natural homemade products for cleansing the skin is that they are free from chemicals. It might not be easy and feasible for everyone to replace the store-bought face cleansers easily but gradually replacing them is also a good option to eliminate harmful effects of chemical ingredients. Using them regularly can give the best results.
Recommended Topics: