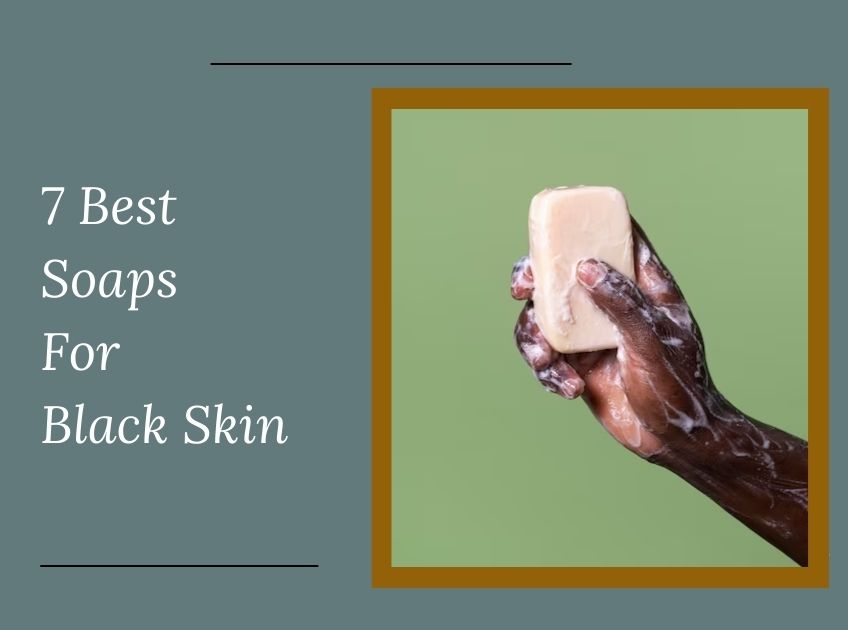 Black skin is thick and coarse; therefore, normal soap bars may not help such skin in deep cleansing. It is when the best soaps for black skin come in handy. You can find many African black soaps infused with abundant antioxidants and skin-nourishing ingredients.
Such soaps are made specifically for black skin, most of which are made in the African regions of the world. They help improve skin tone, reduce inflammation and irritation, and tackle all the signs of aging. At the same time, they gently exfoliate the skin and prevent the signs of Rosacea and eczema.
Black Skin
Fret not if you cannot find the best soap for black skin. We have selected the 7 best soap bars and curated a list with their major benefits and drawbacks. Check them out and find your pick.
7 Best Soaps For Black Skin
1. African Black Soap Bar: Raw Organic Soap for Acne and Dry Skin
It contains essential oils which rejuvenate the skin and help clear blemishes
It also consists of vitamin E, protecting the skin against environmental stress
Promotes cell renewal and fades dark spots, acne scars, fine lines, and pigmentation
It is Effective against skin conditions like dandruff, eczema, and psoriasis
What We Don't Like: It dissolves faster.
[ Read: 12 Beauty Benefits of African Black Soap for Skin & Hair ]
2. Best For Dry: Sweet Sunnah Black Seed Raw African Black Soap
It is a premium soap bar made using the traditional African soap recipe
Deeply cleanses the skin
Do not strip off the skin's natural moisture
It contains cocoa pod husk ashes that detoxify skin and draw out all the impurities and excess oils
Ideal for severely dry and sensitive skin
Infused with soothing ingredients such as coconut oil and shea butter
It also helps in skin conditions like psoriasis and eczema
It can be used on hair
What We Don't Like: It may cause skin irritation in certain skin types. So, a patch test is recommended.
3. Best Body Bar: Buttah Skin by Dorion Renaud Oatmeal Cleansing Bar
Hails from a black-owned brand offering a 100% satisfaction guarantee
Enriched with organic African cocoa butter and shea butter to nourish the skin
It keeps the skin hydrated for over 72 hours
It has the luxurious smell of oatmeal shea and lathers well
What We Don't Like: This product may seem expensive for its size.
[ Read: 7 Best Cocoa Butter Lotions For Black Skin ]
4. Best For Dull and Damaged Skin Type: Ancient Health Remedies Ose-Dudu Raw African Black Soap
Works well for severely damaged skin
Curbs major underlying skin issues like psoriasis, dermatitis, and eczema
Infused with luscious raw shea butter, Plantain, Cacao pod, Coconut oil, and Natural vitamin E
Cleanses and hydrates the skin, leaving it buttery and soft
It also offers detoxifying and exfoliating properties
Reduces the signs of aging like fine lines and wrinkles
It also curbs dark spots, pigmentation, and sagging
What We Don't Like: It may lead to skin irritation.
5. Best For Cleansing Oily Skin: Sky Organics African Black Soap
It is handmade with natural ingredients
Major ingredients are Cacao Pod ash, Coconut oil, unrefined Shea butter
It offers deep cleansing, leaving skin soft, smooth, and refreshed
Suits blemish-prone and oily skin types
It improves skin complexion and protects it from environmental damages
Feels super moisturizing and soothing on dry and dull skin
What We Don't Like: It may feel slightly greasy.
6. Best for Blemish-Prone Skin: Sheamoisture Face and Body Bar for Oily skin
Infused with rich shea butter that moisturizes skin and locks in hydration
It contains skin-purifying ingredients like tea tree oil to reduce excess sebum production and target acne
It also contains oats, aloe vera, and rosemary extracts to help calm irritation and balance oily skin
It has detoxifying properties
It gently cleanses the skin by scrubbing away dead skin cells and grime
What We Don't Like: It may make the skin a bit drying, so if you already have dry skin, skip this product.
[ Read: 7 Best Moisturizers For Black Skin ]
7. Best For Problematic Skin Type: Our Earth's Secrets Premium Raw African Black Soap
The major ingredients are Vitamin E, Unrefined shea butter, and Cocoa pod husk
Also, it is infused with Plantain skin ash, Coconut oil, and Palm kernel oil
Cleanses the skin and leaves it perfectly smooth and refreshed
Detoxifies the skin and draws out any impurities or excess oils
It helps protect your skin against environmental damages
What We Don't Like: Its texture is slightly sticky.
Conclusion
So these are some of the most effective and the best soap for black skin that will deliver the goodness of skin nourishing and hydrating ingredients. Start using them and see how well your dry skin transforms into deeply hydrated, soft, and supple skin.
You Might Also Like: