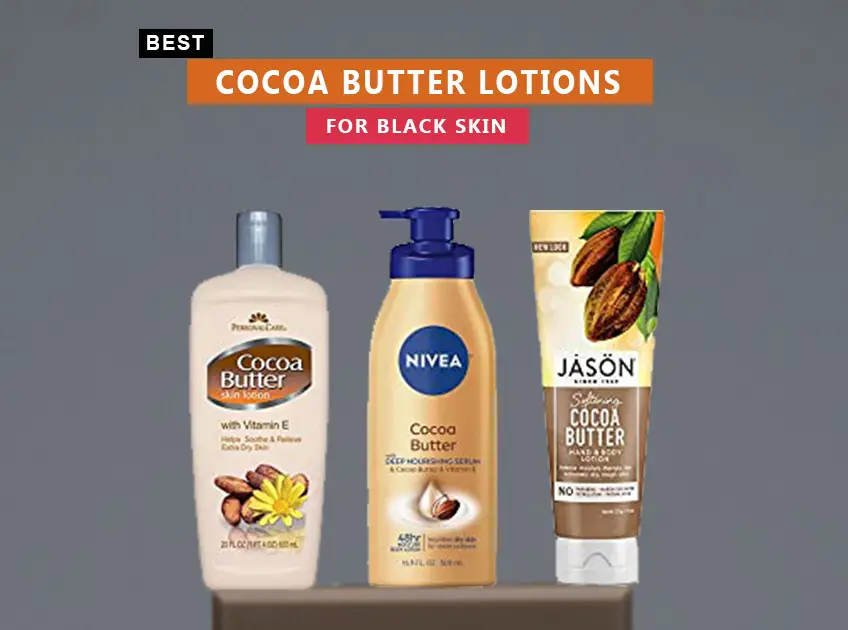 Black skin means the quantity of melanin is relatively high in this skin tone. People with high melanin content have dark skin prone to dryness. It is majorly because such skin type has fewer ceramides, a component that helps keep the skin moisturized. Moreover, black skin means more sebum production too.
Due to these specific features, black skin often remains dehydrated, dry, and dull. To help improve the such condition, body lotions rich in oils and butters help abundantly. They also curb itchy and irritated skin.
Here we have listed the best cocoa butter lotion for dark skin to help it stay deeply nourished and moisturized. Cocoa butter is a rich source of natural plant compounds called phytochemicals. They help to improve blood flow and slow skin aging. Also, it protects against damage from the sun's harmful UV rays.
Scroll and find out the best butter lotions with cocoa butter, best for black skin.
7 Best Cocoa Butter Body Lotions for Skin moisturizer
1. Hypoallergenic Lotion: Alba Botanica Alba Botanica Hawaiian hand & body cocoa butter lotion
Infused with cocoa butter, macadamia oil, jojoba oil, shea butter, and cocoa butter that ensures instant and long-lasting effects
The formula penetrates easily and quickly the skin
Hypoallergenic and unlikely to cause any allergic reactions
Enriched with a heavenly tropical smell, so it smells like heaven.
What we don't like: It is an expensive product, and the smell may feel overpowering to some.
2. Best for Dry Skin: Dermasil COCOA BUTTER Moisturizing Body Lotion
Suitable for dry to extremely dry and flaky skin
Loaded with ingredients that nourish skin, such as cocoa butter, sweet almond oil, sandalwood oil, sunflower seed oil, and fruit extracts
Soothe the skin and lock in the moisture for ever-lasting hydration
What we don't like: You get a small quantity of lotion in the tube.
3. Deeply Nourishing Body Lotion: NOW Solutions, Cocoa Butter Lotion for Dry and Flaky Skin
Features rich and creamy texture and works against environmental stress and aggressors
Nourishes and moisturizes dry and dehydrated skin
Repairs and restores dull and dry skin
Consists of almond oil, aloe vera, and allantoin
It is GMP-quality assured and lab-tested
What we don't like: It is expensive.
4. Refreshing and Revitalizing: Vaseline Intensive Care Cocoa Glow Body Lotion With Pure Cocoa Butter
The presence of pure cocoa butter helps in the deep nourishment of dry skin
Hydrates the skin and makes it radiant and glowing
Enriched with micro-droplets that lock skin moisture and keep it refreshed throughout the day
It is lightweight and non-greasy
What we don't like: It may clog pores and cause breakouts; therefore, not suitable for acne-prone skin.
5. 48-hour Moisturization: NIVEA Cocoa Butter Body Lotion with Deep Nourishing Serum
It nourishes the skin deeply with its pure cocoa butter and vitamin E
Offers intense hydration and moisturization.
Ensures skin stays healthy, soft, and supple
Helps get rid of irritated skin
It comes in a user-friendly pump design, making it convenient to use and travel-friendly
What we don't like: Pump design may malfunction if you don't keep it properly.
6. Dermatologist tested: PERSONAL CARE PRODUCTS Cocoa Butter Lotion
It is rich in cocoa butter and vitamin E, ensuring repairing the dry skin
Absorbs easily into the deep layers of the skin
Transforms dull, lifeless complexion into the one always glowing
Best to apply after tanning as it prevents sunburns and skin peeling
What we don't like: The runny texture of this lotion may not be liked by everyone.
7. Blend of Plant Extracts: Jason Hand and Body Lotion Cocoa Butter – 8 fl oz, Pack of 3
It is highly effective against extremely dry, sensitive, and sunburnt skin
Infused with natural oils like sunflower oil and chamomile extract
Rich in vitamins A and E
Contains chamomile that prevents skin breakouts
It is paraben-free, sulfate-free, phthalate-free, petroleum-free, cruelty-free
What we don't like: It comes with a hefty price tag.
Conclusion
If your skin has a gorgeous black complexion, but the dryness and dullness are taking a toll on it, it's time to move to body lotion infused with cocoa butter. With multiple benefits, cocoa butter is a holy grail for black skin, making it look more gorgeous than ever.
Pick any of the best cocoa butter lotions for black skin, and look fab!
You Might Also Like: