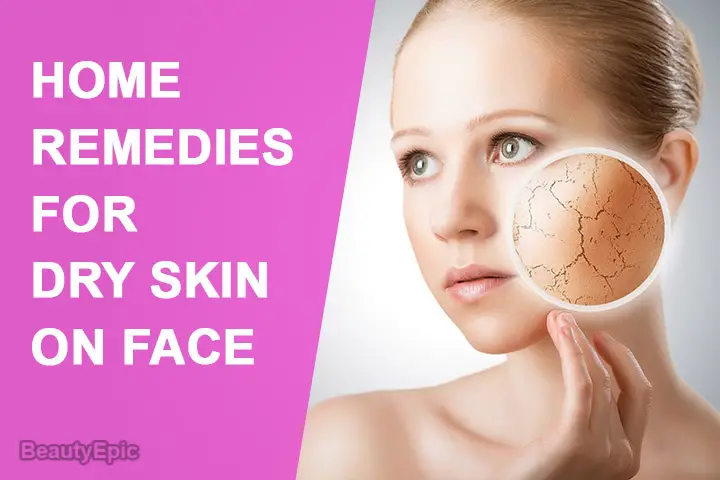 Yes, we know how hard it is to manage dry skin. Those dry flakes, patches, spots, and irritated skin are all the symptoms of dry skin. It feels itchy and uncomfortable living with dry skin and there are a lot of treatments available to treat it. Because the skin lacks moisture in outer layer, it gets dry and starts cracking. However, it is very important to provide proper moisture or else your skin might become infected to the environmental factors. Shall we go ahead and read the home remedies for dry skin because no cream or moisturizer will work in the long run? Check out the list of remedies here:
What Causes Skin Dryness?
When skin lacks moisture, it causes dryness that leads to flaky and patchy skin. Plus, dry skin can be due to skin problems like eczema or psoriasis. Here are the possible causes of skin dryness:
Harsh chemicals in soap and detergent
Excess use of skin cleanser
Weather changes
Dry air in arid and semi arid regions
Exposure to heaters
Hot bath showers
Chlorinated water from swimming pool
[ Read: Homemade Face Mask for Dry Skin ]
How To Get Rid Of Dry Skin
1. Coconut oil
Coconut oil has skin hydrating and moisturizing properties that get absorbed in the skin excellently. To get nice texture of the skin, coconut oil should definitely be used. Since it locks in the natural moisture, you will get wonderful skin ever.
Things you need: Virgin coconut oil
How to do: Apply virgin coconut oil directly on the dry and flaky areas. Massage until it gets absorbed properly. Wash off the next morning.
Best time to do: In the night.
Number of repetitions: Once or twice a day.
[ Read: Benefits of Coconut oil for Face ]
2. Oatmeal Bath
Oatmeal is good for skin and health as it contains anti inflammatory properties. To deal with dry skin, oatmeal provides nourishment and moisturizing properties. Plus, it heals the flaky skin and dry patches.
Things you need:
3 tbsp oatmeal
1 tsp honey
¼ cup milk
How to do:
Heat the milk in a pan and keep it aside. In a bowl, put oatmeal and add milk to it.
Mix well to make a paste and then add honey.
Apply it over the face and wait for 10 minutes. With circular motions, massage your face and remove the pack with wet fingertips.
Rinse off with cold water.
Best time to do: Use the remedy in the morning.
Number of repetitions: Once or twice a week.
[ Read: Oatmeal Face Mask Benefits ]
3. Honey
Honey makes the skin smooth, soft, and supple. To get baby like soft skin, honey is a great ingredient. Also, it keeps the skin moisturized while providing enough nutrients and radiance.
Things you need:
2 tbsp honey
2 tbsp melted cocoa butter
1 drop of tea tree oil
How to do: Mix all the ingredients well and apply it on clean and dry face. Leave on for some time and rinse off with water. You can also store this mixture for future use.
Best time to do: Use the remedy in the morning.
Number of repetitions: Repeat this daily.
[ Read: Honey Face Mask Benefits ]
4. Aloe Vera
Aloe vera is good for various reasons among which dry skin is on the top. To hydrate and moisturize the skin, aloe vera gel is amazing. Since there are a lot of products in the market containing aloe vera gel, it would be better if you use fresh aloe vera.
Things you Need: An aloe leaf
How to do: Cut the leaf diagonally and take out the gel. Apply it directly over your face and massage until it gets properly absorbed. Leave on overnight and wash off in the morning.
Best time to do: Use aloe vera gel at night.
Number of repetitions: Repeat this daily.
[ Read: How to Use Aloe Vera for Skin Lightening ]
Preventive Tips
To keep the skin moisturized and get rid of dryness, here are a few tips to follow:
Use gentle skin cleanser.
Use thick lotion moisturizer every day.
Take bath with a rich bath oil.
Use lukewarm or cold water on your skin. Avoid using hot water. Apply a body lotion immediately after drying your body with a towel.
Drink enough water to keep the skin moisturized from inside.
Eat well and exercise.
[ Read: Why Do Divers Shower After Each Dive? ]
Dry skin can be a curse because it further leads to many other skin problems. Properly moisturized and nourished skin adds to the glow and make you look radiant and glowing. To achieve tremendous results, make sure to add these home remedies in your daily regime and get nice skin you were always dreaming of. Would you like getting a perfect makeover and convert your skin into a new you? Get started and give your skin proper moisture, hydration, nourishment, and pampering so it looks good.
Hey beautiful, yes you!
You Might Also Like: